8 reasons you should head to Red Light immediately after dinner
Introducing your new favorite place to stop on 14th St: Red Light. Specializing strictly in dessert and cocktails, they've got a Komi & Marcel's pastry chef alum handling the former, and the esteemed mixology consultants Wilder Bros. for the latter. Here are eight reasons why you'll want to check it out…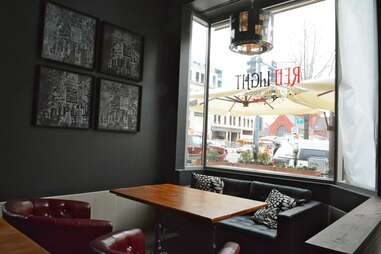 1. Its racy origins
The very name Red Light actually references the fact that it's located where some pretty scandalous action went down in the '80s -- think massage parlors, strip clubs, and girls on street corners definitely not trying to catch a cab. Given the theme, the designer showed tremendous restraint -- it now boasts a wood & slate-filled, industrially rustic look.
2. The dudes behind the bar...
These guys have about 29 years of booze-mixing experience between them (having designed menus for Pearl Dive Oyster Palace and Black Jack, etc.) and you can get everything from a draft Sazerac to a rum-laced red velvet Cake Shake via their cocktail program.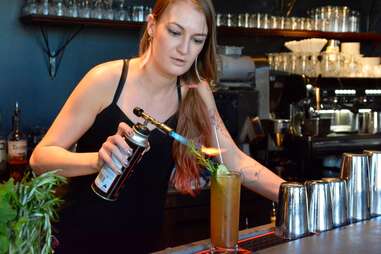 3. The Peep Show
Their signature drink? The Peep Show; it's genever (gin's older, cooler brother), Pimm's, cucumber, Darjeeling black tea, ginger, and charred rosemary, which is literally set on fire in front of you. No marshmallow treats involved.

4. The patio
It's big, like 44-seat big, and opening juuuust in time for the weather to not be completely terrible.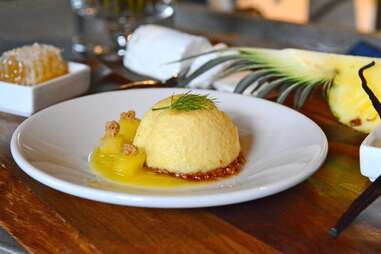 5. The desserts, duh
Head man Robert Underwood will serve an arsenal of ten desserts that rotate daily, like this goat cheese custard with Lake Anna honey, crispy quinoa, and pineapple three ways. He's also put together a cheese plate in case you have a mouthful of untreated cavities.
6. The boozy donuts
In case you haven't picked up on it, Red Light likes to put alcohol in just about everything, and the Black and Tan Donuts are no different. That's right. Pale ale beignets dipped into a hot tub of stout-chocolate sauce.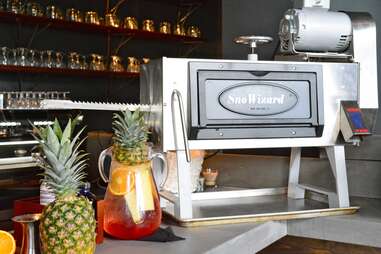 7. The adult slushies
When the weather actually does get hot (or before, whatever) prepare to get to know the Sno Wizard. This beast cranks out adult slushes made from fresh seasonal fruit and house-made nectars, plus tequila, gin, Riesling, or vodka -- they're also going to park it on the patio for easy access.
8. Their tribute to The Big Lebowski
Be careful, there's a beverage here man. It's called The Dude, and it's made from vodka, rum, cognac, egg cream, and mole cacao bitters. Pro tip: you get The Dude when you order "Milk" & Cookies off the dessert menu.
Some other important info:
Red Light (1401 R Street NW) will be in soft-open mode until April 26th, meaning you can stop in nightly from 4pm-close to try almost the full menu of drinks and desserts. Starting Sunday, April 27th, the restaurant will be full-blown open with regular hours: Mon-Thur 4pm-12am; Fri-Sat noon-2am; and Sunday noon-10pm.