Ranking the sausages at DC's newest meat emporium
Do you like meats? Do you like foods? PERFECT! You're going to love Meats & Foods, which recently started bringing handmade sausages and other, well... foods... to the masses from their Florida Avenue shop. It's the first retail location from the masterminds behind 13th St Meats, and they're serving up chili, soups, and most importantly, so many sausages. You can get 'em grilled right there or take a bunch home with you. We chose the former and plowed through the seven they had available that day (some varieties rotate in and out). Here's what we discovered: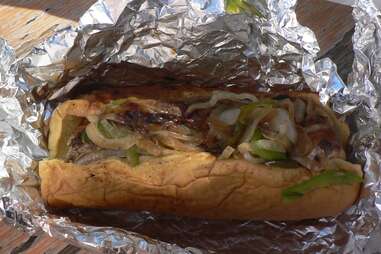 7. The veggie
Wait, the name clearly says "meats" -- what's this doing here? Though, to give it some credit, all who participated in this research said, "Well, for a vegetarian sausage, it's actually pretty good"... or something along those lines. So there you have it. Even vegetarians can enjoy "meat" here.
6. The cheddar brat
Mary Kong-DeVito of Girl Meets Food is a fan of the cheddar brat. She was tearing through one while the crew was doing the research. But this panel found the cheddar brat to be just okay. You could taste the cheese, but just ever so slightly, especially against the grilled onions and peppers that tastily top each sausage. Maybe take her advice and get this one naked.

5. The spicy chorizo
The panel was packed with fans of chorizo and spice, but this one was a kicker. When Meats & Foods says "spicy", they mean it. Thankfully, we chose nearby Dacha Beer Garden as the tasting venue and had plenty of cold suds on hand. Even the Catalan in the group, who is a Spanish sausage snob, appreciated the chorizo and its spice level. And so did the beer garden, as another round proved necessary to finish the tasting.
4. Lemongrass chicken
With an Asian flare that no one was expecting, this sausage had a nice hint of lemongrass without being overwhelmed by it it. It made us feel like we were back in Thailand enjoying some killer sausages served streetside, but without the fear that we were going to be curled up in the hotel bathroom later that night.

3. Lemon basil chicken
Usually, sausage lovers are purists – pork or beef are the only two acceptable meats in a sausage. But no joke, the guys at Meats & Foods can make anyone forget that these sausages are packed with poultry. Especially on an unusually warm October day, the lemon basil chicken sausage was almost refreshing, and it went well with a cold Hefeweizen.
2. The Italian
The Italian stallion sausage was definitely one of the crew's favorites. Just enough Italian spices to make you know that this sausage was channeling the boot, but not so much that it was overpowering. The bun held up well, the meat was tender, and everyone agreed that this one deserved another round. Too bad we only ordered one.
1. The half-smoke
This is DC, so it would be a crime not to have the half-pork, half-beef, all delicious sausage as the number one contender on this sausage fest list. The Ben's Chili Bowl half-smoke this is not. For one, it won't give you indigestion. Two, you won't be waiting in lines with middle schoolers and fanny-packed tourists. And three, you won't need to slather it in chili just to make it edible. It's perfect as is.
Sign up here for our daily DC email and be the first to get all the food/drink/fun in town.