People often talk about the fat cats in Washington, which always seemed odd because you look around town and most of the cats seem to be pretty regular-sized. The people, however, could be in trouble, given the amount of fatty deliciousness that inhabited the city in 2013. Here are some of our favorites from the last year. Hopefully you did not feed any of them to your cat.
Recommended Video
What to Do at Your Super Bowl Party If You Don't Like Football
Waffle S'more
Petworth Citizen and Reading Room, Petworth (obvs)
Approximate Calorie Count: 592
We've affectionately dubbed this beaut "the S'maffle" -- a half waffle topped with charred marshmallows and chocolate chips. Are you getting nervous yet, Honey Maid? Your grahams have gone unchallenged in the S'more game for far too long.

Foie Gras Push Pop
B Too, Logan Circle
Approximate Calorie Count: 658
So, technically they call it a Foie Gras Lollipop, but the mechanics of it will feel familiar to anyone who got down on those Flintstones numbers back in the day. The plate's also got foie gras terrine with lace cookies and pear, which are tasty but do nothing to induce childhood nostalgia.

Chick Chick
Woodward Takeout Food, Downtown
Approximate Calorie Count: 723
Not too far from the Commander In Chief, this sandwich would have Michelle making him stick to salads for a week -- if she caught him scarfing this pile of fried chicken breast, bread & butter pickles, bacon, Boston lettuce, cranberry relish, and mayonnaise on a toasted bun.

The Glazed Donut T.U.B.S.
Ted's Bulletin, Logan Circle
Approximate Calorie Count: 763
An acronym for "Ted's Ultimate Breakfast Sandwich" and a harbinger of your impending nickname, this off-menu glazed donut sando is stuffed with both fried AND scrambled eggs (because choices are hard), along with bacon, a sausage patty, and a couple of slices of melted cheddar.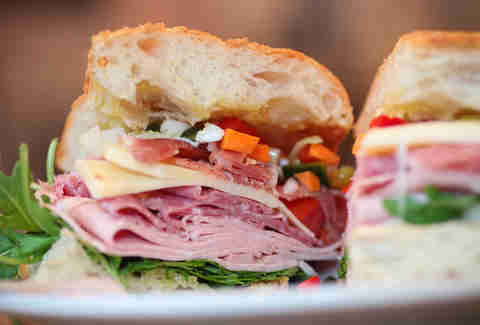 The Butcher's Choice
Duke's Grocery, Dupont Circle
Approximate Calorie Count: 855
Hopefully the butcher is also choosing to take his Lipitor, because this beast of an Italian sandwich comes stuffed with soppressata, jamón serrano (fine, also Spanish), mortadella, Gruyere (fine, French too!), pickled vegetable giardiniera, and marinated serrano chilis on a rustic ciabatta loaf.

18-Hour Short Rib
Bluejacket, Navy Yard
Approximate Calorie Count: 871
This awesome short rib's got everything but a Napoleon complex -- balsamic braised cabbage, Parmesan spaetzle, and butter-roasted turnips -- and it's almost illegally tender. Currency jokes!

Jean Louis Burger
TD Burger, NOMA
Approximate Calorie Count: 1127
Top Chef Timothy Dean created this hat tip to the fancified ways of his old boss (Jean-Louis Palladin… you should feel honored!), a griddled burger-size portion of foie gras stacked on top of a thick Angus patty with a bit of mache and black truffle aioli. Your bypass surgery is gonna be so, so classy.