While Baby Wale is actually named after a technical term associated with corduroy and not the birth of Olubowale Victor Akintimehin, Tom Power did open the sibling resto next to his famed Corduroy as a spot for "Pretty Girls" with "Ambition" to kick back w/ upscale bar food amidst vintage go-go posters, industrial decor, and a nearly 70ft marble-topped bar that, like the rapper, may be the biggest of its kind in DC. So take a trip down this outrageously long bar with us, and we'll tell you what to order.
Recommended Video
This 2-Foot Slice Is Covered in Donuts
Walk directly past the hostess and exchange high-fives, acting like you've been here before, and grab a seat at the front & an app like the Filipino Spring rolls w/ pork & veggies and a Thai-chili sauce.
Now that you've taken down that app, slide down a few chairs toward the center booths and order up the New Jersey-style hot dog w/ pork & beef in a "sheepskin casing" and a side of sauerkraut. Then make hilarious prophylactic jokes for THE REST OF THE NIGHT.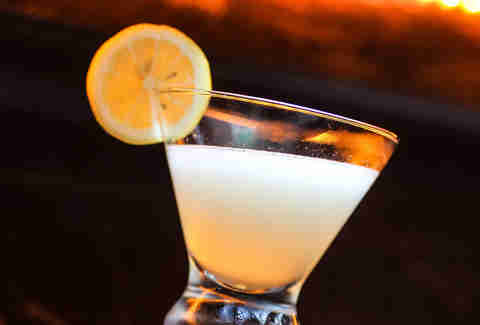 About 45ft down toward the back skylights, get under the lit bar w/ a Cadillac Martini (blanco tequila/Grand Marnier/Thai chili syrup). It'll be one of about five to six 'tails, many being of the "gin & juice" variety and carrying on the go-go theme.
By now, you've reached the end of the bar (by the tree chandelier) and, hopefully, met a lovely companion -- no doubt wooed by your condom jokes -- to join in on this roast chicken dinner for two.