Because even the firm, possibly soon-to-be-fired hand of Mike Shanahan can't shut down the DC dining scene, you have a hefty eating agenda ahead of you this Winter. From just-opened tastiness to big openings looming in the coming months, here's your guide to what you can look forward to feeding your scarf-covered face.
Recommended Video
Wine Workouts Are Just What We Need in our Fitness Routines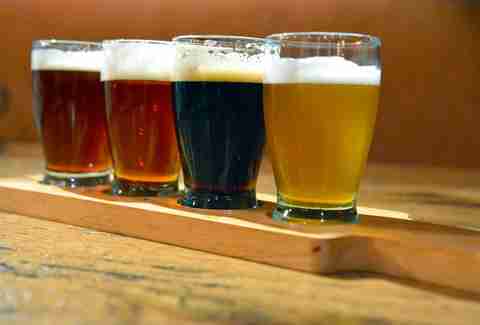 Name: City Tap House
Open Now
Why You Should Care: Look past the smug UPenn grads celebrating that their favorite college bar has reached the District and revel in your impending opportunity to chow down on duck fat fries and chipotle ribs. Andy Farrell's 60+ beer program shows brotherly love by bridging the gap between Bud Light loyalists and seasoned craft beer guzzlers, aiming to make craftier brews accessible to the masses. And there will be masses.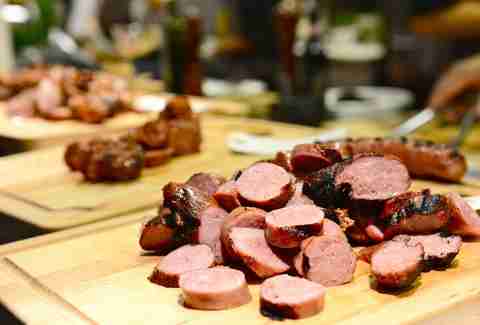 Name: Urban Butcher
Open Now
Why You Should Care: Silver Spring's Urban Butcher defines nose-to-tail dining with their super-sustainable, sharable plates of charcuterie coming from heritage pigs. The entire space was crafted around their "curing cellar", a glass-encased meat locker of sorts that will do nothing to cure your cholesterol problems. No hanging sausage is to be unwrapped before the date says it's good to go. Pro tip: suckling pig gets carved up at 8p nightly.
Name: Republic
Open Now
Why You Should Care: You're dying to consume a Fascist Killer, a zesty elixir of Bulleit Bourbon, and Green Chartreuse under refinished jet engine bar lamps. This cocktail belongs to the Black Group's newest restaurant in Takoma Park. These are oyster guys, so of course things get raw. But there's also a duck confit Cubano that's not to be missed. Warmer weather will mean hanging on a patio lit by a Video Americain sign, which had an 18-year run in the neighborhood.
Name: All Souls
Open Now
Why You Should Care: Most. Laid-back. Bar. Ever. This corner drinkery is committed to two things: being welcoming and not trying too hard. The game will be on, but it's not a sports bar. There's a sweet jukebox, but it won't be too loud. There are drinks other than beer, but it won't be pretentious. David Batista wants you to stop in on your way home or stop by on your way out for the night.
Name: Right Proper Brewing Company
Open Now
Why You Should Care: Drinking a dry-hopped pale ale next to DC's beloved pandas competing in a Battle Royale is a must. Shaw brewpub Right Proper boasts six beers from brewmaster Nathan Zeender, including a rustic wheat and pilsner-based Kellerbier that you can get in growlers. Food-wise, the chef describes his cuisine as white trash couture. Keep addictive personality types (Rob Ford?) away from their chow chow honey relish.
Name: Southern Efficiency
Opening: Saturday, December 21st
Why You Should Care: We shouldn't have to tell you that a threesome trumps a twosome, especially when you're drinking a smoked-Cola and white whiskey ON TAP. Derek Brown's trifecta of row home restaurants on 7th Street is now complete. The name? A nod to Mark Twain and later, JFK's sentiments that "Washington is a city of Southern efficiency and Northern charm." Get fried catfish or peanut soup with your whiskey.
Name: El Rey
Opening: Late December
Why You Should Care: You will take on taco Tuesday inside color-blasted shipping containers. The dining room, kitchen, and bathroom are all inside containers at this new taqueria by the Hilton Brothers. Can they nail the tacos and tequila thing the way they've nailed Marvin, The Brixton, and American Ice Co.? They're off to a good start with a cocktail called the Tequila Stiffy.
Name: Lupo Verde
Opening: Late December
Why You Should Care: A city that lacks a true Italian market will finally say "gratzi". In addition to dishing out rustic Italian fare in an intimate space, the 14th Street spot will also crush it at carry-out charcuterie. An in-house cheese shop prevents things from turning into a sausage fest. Restaurateurs Med Lahlou and Antonio Matarazzo are behind Ulah Bistro and Station 4. But for obvious reasons, Matarazzo says this is a passion project.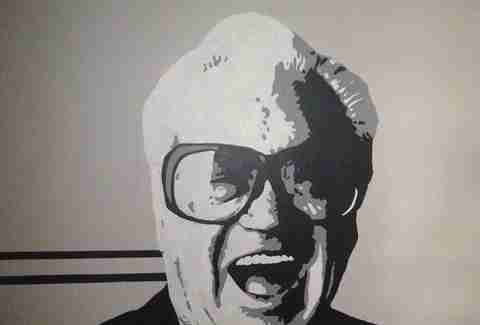 Name: Ivy and Coney
Opening: December
Why You Should Care: Uhh, because Lions and Tigers and Bears (and their Cubs) will be on. Shaw bar Ivy and Coney celebrates all things Chicago and Detroit by offering different styles of dogs, stadium snacks, and Midwest beers like Strohs and Goose Island. Need something stronger to dull a tough season? Open your personal liquor locker and pick up where you left off. Oh and BYOiTunes.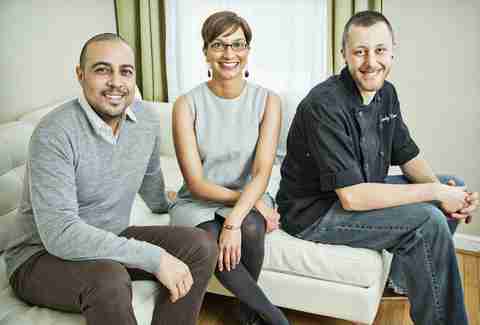 Name: Flight Wine Bar
Opening: Early January
Why You Should Care: Because there will be a wine bar that you don't have to be an oenophile or cork dork to enjoy. Wine speed-date by trying 30 wines by the glass, or commit to a fav at this Penn Quarter spot from NYC couple Swati Bose and Kabir Amir. They called upon Chef Bradley Curtis whose resume is a greatest hits list -- DGS Delicatessen, Zaytinya, and Graffiato. So, try his pumpkin dolmades or pulled-duck sandwich with your vino.
Name: Pinstripes Bowling Bocce Bistro
Opening: January
Why You Should Care: You EXCEL at playing simple games while drinking complex merlots. So roll turkeys and swirl away at Pinstripes, which hails from the Midwest. There will be 34,000sqft of space with 14 lanes, six bocce courts, a deep wine cellar, and Italian eats. Bonus: amorous guests can curl up near an outdoor fireplace overlooking the C & O Canal.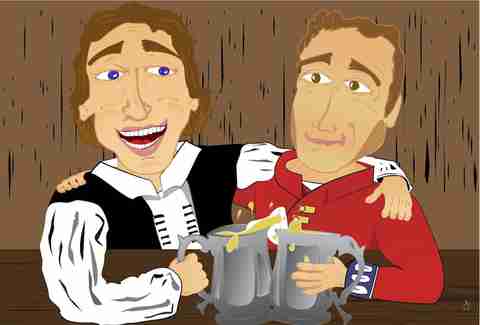 Name: The Alibi
Opening: Mid-January
Why You Should Care: Anglophile Americans with their corgi memes, British-flagged Mini Coopers, and cult commitment to Bond movies have a new spot. The Alibi, a British-American pub, will have homey meals like fish and chips, live jazz, trivia, and plenty of taps. There might even be an upstairs cigar den in the works. So drink enough Boddingtons to adopt an accent in the space that used to be My Brothers Place.
Name: Menu
Opening: Mid-January
Why You Should Care: Menu is a three-in-one dining destination. The first floor is Market -- a gourmet grocery shop with carryout for the lunchtime crowd. BistroBar, on the second floor, takes a new approach to menus by organizing food and drink by four price points ($8, $12, $14, $18). At the top of this bangin' food pyramid is Kitchen, where Belgian-born Chef Frederik De Pue can really show off with a venison strip, black truffle eel, and pheasant roulade.
Name: Meats and Foods
Opening: Late January
Why You Should Care: To the dismay of some Admo bars, Meat and Foods is jockeying to become DC's new favorite meat market. Formerly a pop-up, this sausage shop has grown some roots in Bloomingdale. The concept is basic -- lunch, dinner, and sausage for sale, with a few beers and wines to boot. For special occasions, they'll bust out half smoke pigs in a blanket.