10 New DC Bars & Restaurants You Should Hit in 2015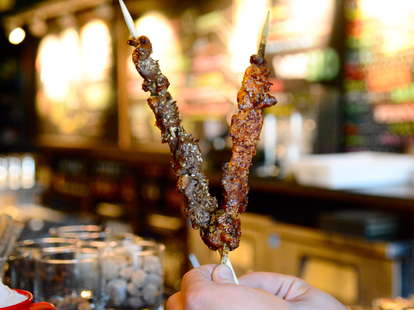 This ICYMI is crucial. Ten stand-out bars and restaurants opened at the tail end of 2014 while you were making lists, checking them twice, or at least too engrossed in "Serial" to notice what was happening around you. On top of these bars and restaurants we already told you about, make sure you hit up the ten below to make sure 2015 continues to be boozy and calorie-filled.
H Street NE
Bao down (!) to this new bar from Barmini graduate Devin Gong, because it combines craft cocktails with Northern Chinese snackage like pot stickers, skewers, and bao buns. The irony is not lost on us that a bar named CopyCat is refreshingly original. In addition to a permanent cocktail menu loaded with the classics, bartenders rotate through weekly (hand-drawn!) specialty menus featuring toddys, daiquiris, juleps, and more. Like a good student, they cite their source for each drink on the menu. CopyCat is spread out on two floors: the first floor is for a quick beer and bao, while the upstairs is cool and loungy (so stay a while).
U Street
A meal at Nonna's Kitchen is a trip to Italy, sans the seat reclining battle and line at customs. More specifically, it's a trip to a region in Italy. Every five weeks the restaurant changes its $90 tasting menu and accompanying wine list to capture the very best that a region has to offer. They started with Tuscany and will soon move on to Piedmont. You're supposed to feel like you're in a rustic Italian kitchen belonging to an Italian grandmother (hence the name). But, what you really feel is that you're in the capable hands of a young team fired up with the kind of passion that only leads to inventive cooking. Find the small dining room atop its sister restaurant, Alphonse Italian Market & Osteria.
Chinatown
It takes a little effort to find this bar that is seemingly in the basement of FUEL Pizza. But, it's worth it. Look for a light globe that reads "Denson" and climb down a set of stairs. Your feet slapping the metal will alert the doorman (BALLER!) to swing the door open and welcome you into a sexy, boozy lair. Cocktails like Sazeracs and Negronis are the go-to here (especially during happy hour, when they're $9 instead of $14). Along with your libations, there are snacks like steak tartare, Greek-inspired lamb meatballs, and even a green curry chicken pot pie.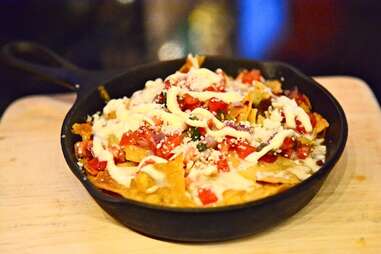 Bloomingdale
Every time a solid Mexican restaurant opens its doors in DC, an angel gets a Corona. Okay, maybe not, but nonetheless, it's a moment worth celebrating. Do so with a margarita or Mezcal Old Fashioned at El Camino in Bloomingdale. The hot spot comes from the team behind 1905. Order like a boss on your first visit by requesting one of every kind of taco, and tack on the chilaquiles — a cast iron skillet filled with chips, salsa verde, and gobs of smoked Gouda. Nothing vegetarian and gluten-free ever tasted so good.
H Street NE
The majority of the seats in this small, Peruvian dining room face the kitchen, because it's the heart of the operation. This set-up allows diners to watch Lima-born Chef Carlos Delgado crank out ceviche, grilled meat, and rotisserie chicken while sipping on strong drinks with even stronger names (like the "Tatted Rack," for example, with lime, truffle honey, cassis, brut, and La Diablada pisco). There's a lot more to come from Ocopa in 2015, including brunch, a lively drink-focused patio, and maybe even a tasting menu.
Columbia Heights
Thip Khao is really upping DC's street cred when it comes to awesome ethnic eats. The little Lao restaurant in Columbia Heights will bring you to your knees with their extra-hot "Let's Go to the Jungle" menu. Bring a sweat towel for this section of dishes. But don't worry, spicy naysayers: the rest of the offerings are well-balanced, like the crispy rice salad, grilled fish wrapped in banana leaves, and sweet sausage fried rice. The mustached man behind the drink program is none other than Jack Caminos, who makes a mean tamarind Old Fashioned.
Eckington
The Old Engine Company 12 building that's been converted into a restaurant and bar creaks in the best way possible, because nearly everything's original. In fact, many of the former firemen who called the firehouse home donated pictures of the building back in the day to pepper the walls. Try not to think dirty thoughts about the big brass fire pole that runs straight through the establishment as you nosh on Wagyu sliders, juicy burgers, mussel pots, and three kinds of lasagna. Also lovable: an enviable patio for when the warmer months arrive, and a generous happy hour.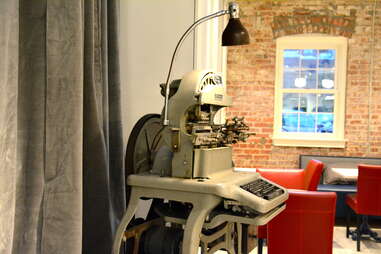 Georgetown
You can get a pastry and a coffee at any bakeshop, or you can support a place that has a lot of heart (and talent!). Dog Tag Bakery hires and trains wounded veterans. When the vets aren't making irresistible confections, sandwiches, and breads, they're taking classes at Georgetown University's School of Continuing Studies, to acquire skills to run a business. The cozy environment and cool touches, like an old-school dog tag-maker and a dog tag chandelier, make it the perfect place to plop down with a chocolate financier.
Union Market
There's a new option inside Union Market and it involves brisket, ribs, and pulled pork that people have been talking about in the 'burbs for quite some time. Chef Andrew Evans' first two BBQ Joint locations in Easton and Pasadena, Maryland have quite the following. There's even a dude that demanded The BBQ Joint be served as his funeral. And it was, according to Evans. Evans' background in fine dining, combined with secret recipes perfected over time, means a lot of tender loving care goes into his meats, and you can taste it. Load up your tray with as many lbs as you can, plus some sides, and four different sauces.
Adams Morgan
Pojangmacha. It may sound strange now, but this is a word you will come to know in 2015, thanks to the opening of BUL from the Sakuramen guys. It's the term for the street food stalls in Korea that people gather around for bites to go along with their beer. BUL captures this scene with a menu dazzling with Korean and Japanese street food and bar snacks, in addition to hot, steamy, comforting bowls of pork belly fried rice. But before you go wild with all that, start by selecting which meat-on-a-stick will make you the happiest. BUL, which means "fire" in Korean, serves dinner and brunch, and their hangover soup means business. Note: You'll have to wait until late January/early February to try their sake, soju, and cocktail menu. Right now it's just the soft stuff.
Sign up here for our daily DC email and be the first to get all the food/drink/fun in town.