8 Reasons You'll Be Spending Your Summer at Maketto
For a while there Maketto seemed like vaporware -- the Half-Life 3 of the DC restaurant industry. For the past three years, Maketto has continually been on "most anticipated" lists and scattered pop-ups have stoked the coals of our increasingly rabid anticipation for Erik Bruner-Yang's latest project. Fortunately, Maketto opened its door to H St last Friday, and it is a fantastic addition to DC.
Over the course of its multi-year gestation period, Maketto has evolved past the partners' original vision and into something fresh and unique for Washington. The project has grown to include a dream team of sorts with the addition of Chris Vigilante of Vigilante Coffee and Erica Skolnik of Frenchie's Artisan Pastries and Desserts. It's an example of mixed-use development done right, and somewhere you could easily spend an entire day. Here are eight reasons to make the trip.
1. It's Toki Underground's younger, bigger brother
Bruner-Yang is best known for revolutionizing the DC ramen scene with his other H St shop, Toki Underground. Its immense popularity notwithstanding, the small and focused nature of the shop inherently limits the scope of what Bruner-Yang and Chef de Cuisine James Wozniuk can do. With Maketto, the team has a much larger kitchen to play with and to flex more of their culinary muscle while exploring Southeast Asian flavors and cuisines. A self-described Cambodian-Chinese kitchen, Maketto is offering dishes like bao buns, Khmer sausages, and scallion pancakes. It's a tight, focused menu for now at just 15 dishes split between small- and large-format, but expect Bruner-Yang and Wozniuk to expand and experiment in the coming months.
2. You can score some homegrown fashion while you're here
Co-owner and Creative Director Will Sharp played a major part in the curation of Maketto, which is an admirable feat considering the juggling act the shop is conducting. One of the major components of Maketto is the apparel shop. Sharp's own urban fashion line, DURKL, is featured heavily, but he also curates a slew of other cutting-edge companies in the shop. From American-heartland made gear from Red Wing and Topo Designs to high-end raincoats from Stutterheim in Sweden, Sharp's goal was to create an experience that caters to everyone that walks in the door. The price and style variation is huge and there is sure to be something that will catch your eye.
3. It's serving some mad scientist coffee
After a series of pop-ups in recent years, Vigilante Coffee has found a home at the upstairs coffee bar inside Maketto. One of DC's premier coffee roasters, Chris Vigilante's shop is doing some of the most interesting things with coffee, not just in DC, but in the country. One of Vigilante's main features is its siphon bar, which is the first of its kind on the East Coast. Invented in Germany in the 1840s and then perfected in Japan, siphon coffee is a technique that involves brewing and filtering coffee through vacuum chambers and pressure variation. Siphon coffee produces richer coffee with even greater clarity. You'll probably want to learn more, so stay tuned, because Vigilante will be hosting coffee classes and cuppings soon.
4. So. Many. Pastries.
The fourth of the main pillars of Maketto is Erica Skolnik's artisan pastry outfit. Operating as Frenchie's since 2011, Skolnik has been supplying shops like La Colombe and even pre-Maketto Vigilante, but now she'll be supplying Maketto with all of its morning pastries, bread, and desserts. Initially, Skolnik will be starting off with standard offerings like croissants, cookies, and pies, but she hopes to start incorporating some of the Southeast Asian flavors coming out of the kitchen into her baking, which is a tantalizing prospect.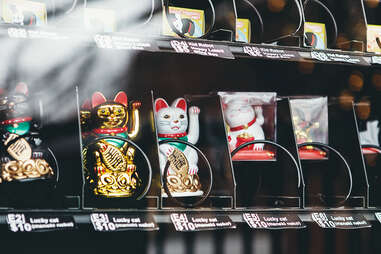 5. It has the coolest vending machine in DC
Lucky Cat figures, neon-colored ear buds, sesame crackers, and condoms -- all things you can find in the Guerilla vending machine on the catwalk above Maketto's courtyard. Buy something from every row in the machine and it'd probably make for a pretty rad evening. It'll be the first time you'll find yourself wanting to spend more than a couple of bucks at a vending machine since airports rolled out those ones that sell iPods.
6. It feels like nowhere else in town
One of the most striking things about Maketto is its atmosphere. With five distinct spaces -- including two outdoors -- stepping into Maketto feels being transported outside of DC. The prominent courtyard and floor-to-ceiling windows are more reminiscent of something you might find in Los Angeles or a boutique in SoHo (think Saturdays Surf shop). Sitting at the long communal table in the outdoor space between the bar and kitchen when the windows are thrown open is to bathe the senses in something that would feel at home on the streets of Phnom Penh. The bustling foot traffic of the sure to be massive crowd; the cacophony of voices from the bar; the wafting aromas of fish sauce, oils, and pickled vegetables from the kitchen... it's a little slice of Southeast Asian street culture on H St.
7. You'll drink like you're in Southeast Asia
Oh, and there's a bar, too. The beverage program from Colin Sugalski unsurprisingly incorporates ingredients from the same culinary regions. Expect cocktails like the Pink Kao, featuring the Taiwanese national spirit, Kaoliang. They're even mixing a Manhattan variant with Kaoliang in place of whiskey. And they're stocking Tiger Beer as well, which is basically the Bud Light of Southeast Asia.
8. It's more than the sum of its parts
Perhaps Maketto's greatest achievement is creating an experience that melds so many disparate parts into a cohesive and compelling whole. You could walk into Maketto at 8am for a coffee, have a Taiwanese breakfast, do some shopping and peck at your laptop in the courtyard, and find yourself ready for dinner and drinks -- all without realizing that Maketto is the brainchild of at least four or five proprietors that have already been well-established in their own rights. "It's not about me or Chris or Erica or Will," insists Bruner-Yang. "Maketto is its own brand and we're all sacrificing a little of our own brands because we understand that we will all be more successful under the umbrella of what this place will represent."
Sign up here for our daily DC email and be the first to get all the food/drink/fun in town.