8 new DC sandwiches you need to eat ASAP
Chefs have been really busy upping their between-the-bread game this fall, and all of DC is reaping the benefits. Let these eight meaty, melty sandwiches keep you warm this winter.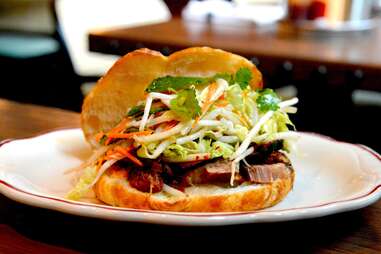 Croissant brisket bánh mì
Mama Rouge (address and info)
Georgetown
Imagine how'd you feel if you landed your dream job, got the apartment you wanted, got a directionally competent Uber driver AND got laid all in one day. Obtain that same level of satisfaction in sandwich form with Mama Rouge's brisket bánh mì on a croissant. Chef/Owner Aulie Bunyarataphan loads up the buttery baked good with layers of smoky, moist meat and veggies that provide the prescribed amount of acidity and crunch. If brisket doesn't rev your engine (what's wrong with you?), try it with coconut shrimp, crispy pork belly, spicy chicken sausage, or lemongrass pork, all for less than $10.
Slow roasted Wagyu brisket
Del Campo (address and info)
Downtown
Good news, you don't have to drop a Benjamin to munch on Wagyu. Just visit Del Campo for lunch and try this stack of slow roasted Wagyu brisket (mmm, more brisket!), coleslaw, smoked tomato, Manchego cheese, and smoked hollandaise. Get it with a side of steak frites or fried yucca for $15. Chef Victor Albisu, who can smoke anything that's made of matter, makes the hollandaise by smoking the egg yolks. This is a messy one; so if you're wearing a tie, do that nerdy shirt-tuck thing.
The Robert Lynch
Bub & Pop's (address and info)
Dupont Circle
To answer your first question, yes, those ARE mozzarella sticks the size of small burritos on top of a sandwich. And, like almost everything at Bub & Pop's, they're made in-house. Sandwich god Jonathan Taub stacks his mozzarella sticks on top of a pizza steak — a Philly cheesesteak swimming in marinara. Below that is Bolognese made with meatballs, sausage, and pork belly. Finally, the sandwich is dusted with Pecorino cheese and fresh basil. Order it and Jonathan will warn you, "it's stupid good."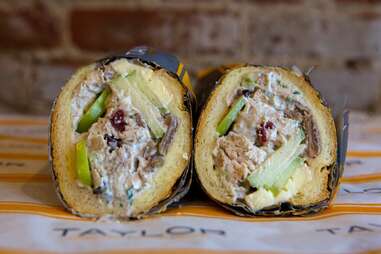 The Penn's Landing
Taylor Gourmet (address and info)
Multiple locations
'Tis pretty much the exact season to get excited about Taylor Gourmet's love song to Thanksgiving. They probably would have named it "God, I Love Fall", but it wouldn't jive with their Philly street name theme. Cranberry-sage chicken salad combines with Granny Smith apples, creamy Brie, toasted pecans, and bacon. For best results, get this hoagie delivered, because just like Thanksgiving, you're going to need an immediate nap.
The Den Den
DCity Smokehouse (address and info)
Bloomingdale
DCity Smokehouse gets high praise for their Meaty Palmer sandwich. But we're here to encourage you to stray and try their brand new Den Den sandwich instead. Crispy fried boneless chicken is tossed in their house-made hot wing sauce before being decorated with crispy fried onions, lettuce, tomato, and cilantro ranch. A hoagie roll is really the only option for this bad boy, because he's hefty. Fried on fried is always a good thing. And extra points for tang.
Mike Friedman's Sando
G by Mike Isabella (address and info)
14th St
Hopefully by now, you know about and look forward to the guest chef sandwich at G by Mike Isabella. It changes monthly, and gives big-personality local chefs a chance to make magic between two slices. For the rest of November, swing by to try The E Street Special from Chef Mike Friedman. You know him from The Red Hen. He's gone with a recipe that combines chili-braised brisket, crispy bacon, Fontina cheese, sauerkraut, and 1000 Island aioli on griddled pumpernickel. It's like the best version of a Jewish deli masterpiece — but with bacon.
Pulled pork biscuit sandwich
Mason Dixie Biscuit Co. (address and info)
Union Market
You can put jam on a biscuit and sprout a grin on your face. Or, you can pile pulled pork and jalapeño slaw on a biscuit and experience euphoria. So goes it at Mason Dixie Biscuit Co., located inside Union Market. The only work involved is choosing between a buttermilk, ham & jalapeño, or sweet corn biscuit. Ham & jalapeño seems like a no brainer. If you don't see it on the menu, don't worry, it'll be back (and their other options are bomb too, like lamb adobo). They rotate sandwiches often to keep things fresh. Visit Thursdays-Sundays.
The Uptown
Nage Bistro (address and info)
Logan Circle
This sandwich is so decadent that you'll say, "I'm just going to have a bite." Which turns into a half. Which turns into ordering another whole sandwich. Invites to the party include confit suckling pig, charred broccolini, confit garlic, and melted Gouda cheese. But there's one last thing that puts this ciabatta sandwich over the top: audibly loud crunchy bits of pork rinds. It tastes like something you'd hunt for in an Italian market. If you don't see it on the lunch menu, ask for it by name.
Sign up here for our daily DC email and be the first to get all the food/drink/fun in town.