How Baltimore's NiHao Became an Unlikely Pandemic Success Story
The shrimp dumplings and Peking duck might have something to do with it.
When Pichet Ong was a chef and dessert consultant in New York City, he would make frequent five-hour drives to visit his partner, Jase, in Fairfax, Virginia. A little over halfway to his destination, he always stopped at the same point. "Baltimore was always a stop for me to eat and take a rest," he remembers. "I became friends with many of the chefs there. Baltimore is still in that gritty phase that New York used to be in."
Little did he know that, in a few short years, he'd be opening NiHao on the corner of Boston and Wagner streets in Southeast Baltimore. The contemporary Chinese restaurant has received massive critical acclaim—including a spot on Esquire's list of Best New Restaurants—and, perhaps more importantly, has been so embraced by locals that dumplings and Peking duck sell out at least five nights a week. All this after opening on the brink of a global pandemic.
With decades of experience working in kitchens at Chez Panisse, Olives, Jean-Georges, Tabla, and Spice Market, Ong knows a thing or two about running a strong restaurant—no matter the circumstance. The original plan was for NiHao to open in November 2019 and they had all the managing members in place but, due to a construction delay, the opening got extended until March of 2020, one week before the COVID-19 shutdown.
"We saw what was happening in Asia and we were not optimistic," says Lydia Chang, NiHao manager and business partner of legendary DC chef and restaurateur Peter Chang.
Still, Chang and Ong knew that they'd open in whatever capacity they could, even if it was just takeout. And that's exactly what happened. The first night of service saw lines of customers out the door to pick up their orders, and staff brought out cookies and tea to ease the wait.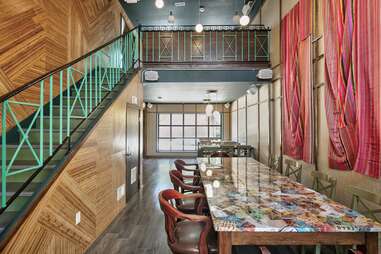 "We were so fortunate to get tremendous support right away from the Canton neighborhood," Chang says. "The minute we started construction, people were excited. If we were to do anything close to NiHao in DC, people would already come with the presumption of Peter Chang. Baltimore residents don't go by names, they're like, 'So what? Let me taste the food.'"
NiHao fills the city's void between a mom-and-pop spot and a fine-dining restaurant, providing a type of cuisine not overly saturated in Baltimore at a price point that city residents can afford. The food itself draws on flavors of central China with some modern twists, and was intentionally designed to appeal to the average diner.
Ong draws on his multifaceted heritage when conceptualizing dishes. Born in Bangkok to a Thai Chinese father and Singaporean Chinese mother, he grew up in a very food-focused household with his aunt in Singapore, who would whip up steamed custard, fried chicken wings, fried tofu, cold-smoked fish, and BBQ pork. For Chang, she is inspired by her grandmother, who was illiterate and communicated love through food, like her excellent fried rice.
"There are a lot of dishes I grew up eating in Singapore and Hong Kong and then the flavors from Central China are more balanced and not in your face." Ong says. "We liked the idea of opening a restaurant of things we like to eat, to bring it back to the basics of cooking. The first NiHao menu was very basic and Chef Peter said, 'Where's the lobster? Where's the salt and pepper shrimp? Where's the technique? Where's the wow factor?' I said, 'I like this, let's try this out.'"
Turns out that Ong's instinct was right and diners flooded the phone lines and online delivery platforms with orders—mainly for the whole Peking duck kits, pillowy soft shrimp dumplings, and signature savory desserts. Keeping up with demand became a good problem to have.
After being open for about three to four weeks, the restaurant added Uber delivery to keep up, then when COVID-19 cases decreased in Baltimore, it was able to add indoor dining. Next, NiHao got its liquor license and then, at the beginning of December, it was back to shutdown. Currently, the restaurant is back open and gearing up for Lunar New Year specials.
"Every month, we feel like we're doing something different," Chang says. "We understand we have to be flexible, but we have this dining room that is beautiful and built-out all occupied full of boxed containers."
With all of those pendulum swings certainly came learning curves and priority shifts. A big focus became sustainable packaging and trying to provide meals that would travel home well with customers.
"You want to deliver a restaurant experience because you're asking the customer to pay $30 for a meal they might have to reheat at home," Ong says. "We had to adjust portions, include instructions, give the food enough room to avoid re-steaming. Peter is well-known for his fried items so we wanted to make sure the fried chicken fared well. At one point, we were spending more on containers than protein. Thankfully, we've stayed busy."
While Ong oversees operations as managing partner, he knows it was important to hire local staff—like chef Antoni Szachowicz and bar manager Ashley Mac—who really know the neighborhood and could keep the place feeling close to the community.
"We needed them to be the anchors," Ong says. "We have chefs that don't live far from the restaurant. They're not trained in the style of Chinese food, but they know how to deep-fry, how to toss the wok, how to cook protein. The best compliment is to see chefs who grew up eating Chinese food tour the kitchen and whisper, 'Wow, I can't believe the cooks aren't Chinese!"
Ong and Chang agree that it's this blend of cultures—from Singapore to Baltimore—that makes NiHao the success story it is today.
"NiHao's menu reflects all of us. If I had to sum it up, this is the food based on all of our lives," Ong says. "You can't really describe anything as truly authentic, because food moves."
Jess Mayhugh is a Cities Editor for Thrillist, who got her hands on those shrimp dumplings as soon as she could. Follow all her food and drink cravings on Instagram.