Timothy Dean's new counter service-style joint in NoMa combines two things every football fan loves: Phil Simms tangents! TDs and burgers. So, to honor that, we took a bunch of sexy pics of things like Angus burgers rubbed down with a top-secret, 22-spice blend, which you should check out immediately, lest Phil start talking about his son again.
Recommended Video
Pizza Acrobatics Is a Real Sport, and You're Going to Love Watching It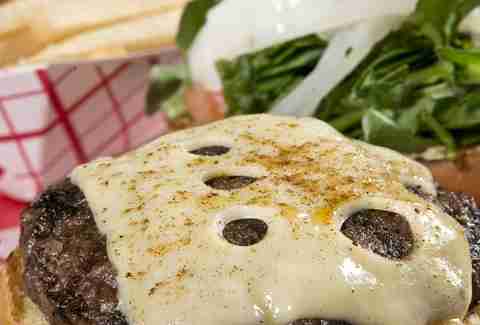 If you're feeling leader-of-the-free-world-y, opt for the Obama Burger smothered in Swiss & honey mustard and topped off with sweet Maui onions.
With a hat tip to the fancified ways of his old boss, the Jean-Louis has a griddled burger-size portion of foie gras stacked on top of a thick Angus patty w/ a bit of mache and black truffle aioli.
Thomas Jefferson was a glorious morning man, and his burger is no different, as it's topped by an American breakfast (fried egg, applewood bacon) on top of Muenster cheese.
Named after the building it's in, the Loree comes stacked with layers of organic blue cheese, maple bacon, and "vine ripe" tomato, so, apparently, it'll be the best 6.5 seconds of tomato you've ever had.
Though it's totally not because there's something fishy about his knee or OUR SEASON, the RGIII features grilled ahi tuna w/ fried onions, sweet chili aioli, and Thai basil.
Previous Venue
Next Venue
Venue Description
1. TD Burger
250 K St. NE, Washington, DC 20002
Top Chef contestant Timothy Dean is finally coming home to DC w/ his new counter service-style joint in NoMa that combines two things most football fans and players love: TDs and Burgers. And if you hate pictures of beefy Angus burgers rubbed down w/ a top-secret, 22-spice blend, then you should forward this email to a friend who loves the fourth of July, monster trucks, and being American.