The Partisan in Penn Quarter wants to make your meat dreams come true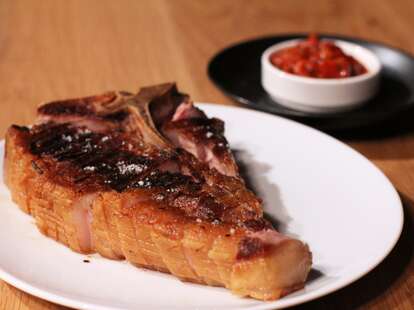 If Penn Quarter smells a little smoky, that's because there's a new spot serving up heavy plates of pork (and beef!). The meaty menu and killer bar program make the Neighborhood Restaurant Group's latest venture, The Partisan, something DC could actually use more of... in this case. Get it?! You'll find it sharing walls with Red Apron Butchery at 709 D St NW.
The restaurant is a hat-tip to the old school DC scene, where the country's future was decided over steak instead of small plates. Make it your new "power dinner" spot by discussing important things, like the merits of bresaola vs. soppressa, because the first decisions you'll have to make are charcuterie-based.
Before you graduate to the full menu, you must pass the aforementioned charcuterie course. Check some boxes under categories like "rich & smooth" or "herbal & floral" without having to pronounce anything in Italian. There are about 30 options with mixed meat-to-fat ratios. Rookies can order the Eternal Hamnation board.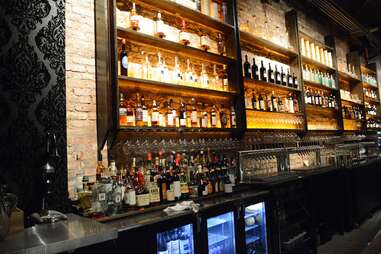 Drink-wise, you're in good hands. Actually, six really good hands: Greg Engert, Jeff Faile, and Brent Kroll. No matter what your poison, there's something awesome ON TAP. Taps spout 25 wines plus spirits as delicious as bourbon and as nasty as Malört. Engert likes things funky, so there are more than a handful of sour beers on draft.
After you've plowed through some charcuterie, date around the menu a bit before committing to an entrée. You've heard of pork belly. Well, how about corned beef belly? It's served with braised cabbage, grated pumpernickel, and pickled mustard seeds in a masterful deli sandwich deconstruction.
Whenever possible, the culinary team drops their signature bread on the side of the plate. They're called tigelles, and really stick it to Thomas' English Muffins. Instead of nooks and crannies, they're smooth and spongy and hail from Italy. Oh, and they're rolled in lard, which always helps.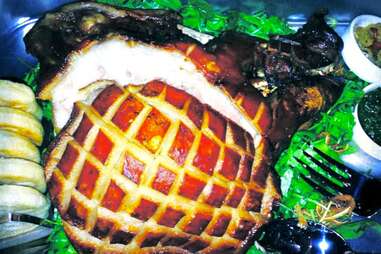 Pigs should straight up get over being afraid of the Big Bad Wolf and start worrying about chefs Nathan Anda and Ed Witt. They go through a ton of pork at The Partisan -- like their swine-tastic $75 entrée: a whole head is roasted for 13hrs before being served with tangy salsa verde, pickled peppers, arugula, MORE tigelles, and a pig ear salad.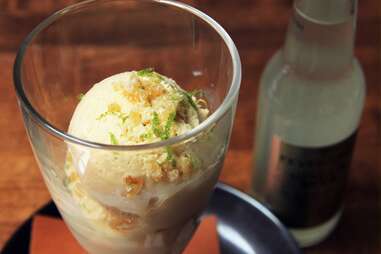 If you still have room (you freak!) have a Fernet Branca float. The liquor-flavored ice cream with floral notes of chamomile, cardamom, and saffron combines with ginger beer and lime zest. Cheers to Pastry Chef Tiffany MacIsaac for not making a Malört float instead.
Visit the bar starting at 4pm Monday-Saturday and the dining room 5-10pm Monday-Thursday and 5-11pm Friday and Saturday.