7 Things You're Ordering at China Chilcano
Laura Hayes/Thrillist
Laura Hayes/Thrillist
José Andrés opens China Chilcano. Drops mic. The Penn Quarter restaurant is THAT huge of an addition to the DC dining scene. Like a Peruvian census report, the menu has Peruvian, Chinese, and Japanese influences. These three types of cuisine are excellent on their own, but even better together (like The Beatles). However, unless you have Mario Vargas Llosa in your little black book, you're going to need a little help navigating all of the food and drink options. We've hand-selected seven dishes and drinks to get you started.
A souped-up Pisco Sour
China Chilcano offers macerados -- a boozy beverage made by infusing pisco with seasonal fruits and spices. You read that right. Little Peruvian abuelitas were making infusions long before mustached mixologists at the forefront of the craft cocktail movement got word. You can request that your Pisco Sour be made macerado-style, like this Guindas Macerado Pisco Sour made by infusing pisco with sour cherries. If you're not going next-level with your Pisco Sour order, chances are you're the boring one in your friend group.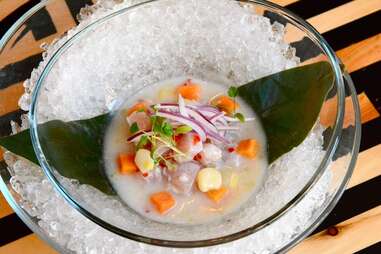 Start fresh
Ready your taste buds for the meal ahead by starting with ceviche. The chef tasked with the restaurants raw fish department, Koji Terano, knows his way around raw stuff, having earned his sushi stripes at Sushiko. He selects a market-fresh fish to star in the Ceviche Clásico La Mar dish, which features leche de tigre, sweet potato, red onion, cancha, and cilantro. Since you're wondering, leche de tigre refers to the citrus bath the fish is marinated in, bringing the majority of the zip and tang. If you think Leche de Tigre would be a good name for your band, it's already taken.
Tempting tam tam
Stop staring at those streaks on the porcelain bowl and focus on the blast of flavor in this hand-cut noodle dish. The pile of spicy pork and peanuts is salty in the best possible way, and Aji Panca (a mild Peruvian pepper) adds depth. Tam tam is kind of like Chinese dan dan noodles, but without the numbing quality that hijacks your mouth for days. Maybe you'll even dig this dish so much that you'll order it again for dessert.
Don't fly standby on this dish
In the "chaufa" section on the menu you'll find two stand-out rice dishes including "Aeropuerto." While there are no delays or jerk-face seat recliners involved, this is one dish you don't want to fly standby on. Order it for yourself and maybe, MAYBE offer your companions a bite. Airplane cut-outs top a bowl of fried rice mixed with egg noodles, 20 different vegetables, and soy sprouts. It's a texture experience you won't soon forget.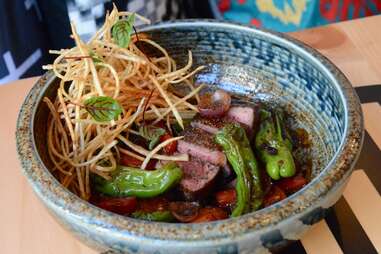 Almost Kobe...
China Chilcano uses prime strip steak in its bowl dubbed Lomo Saltado, but if you close your eyes, it tastes like rich and buttery Kobe beef, because it melts in your mouth (yay, meat fat). The nest of shoestring potatoes helps pull things back to the Americas. Moisten them until they're soggy using the rich sauce singing of ginger and soy. Also making an appearance are shishito peppers -- rumor has it, one in ten are extremely hot.
Try it straight
At some point in the meal, use the fact that you're at China Chilcano to learn a little more about pisco. They've curated quite a list, a favorite of which is Macchu Pisco (points for being archeologically clever). Order a little on its own to fully grasp the grape spirit that stands up well to food. Macchu Pisco's creator Melanie Asher is from the DC area, but bounces back and forth to Peru, where she still stomps grapes the old-fashioned way.
You'll never be able to make Ponderaciones de Kiwicha
So try it at China Chilcano. The crispy, fried spiral cookie is a bit of a lost art because so much work goes into it. For starters, it involves dipping a metal coil into oil at two different temperatures and a thin batter made from kowichi flour (a cousin of amaranth). The cool cookie is served alongside chocolate cream, caramelized banana, and Algarrobina ice cream. Algarrobina comes from the carob tree and is stirred into milk to make it more appealing to kids -- just like Hershey's syrup. You'll also find it incorporated into a China Chilcano cocktail.
Sign up here for our daily DC email and be the first to get all the food/drink/fun in town.