7 things to know about DC's hottest biscuits
Biscuits are having a moment right now, and everyone is trying to get in on it. But there may be no hotter biscuit right now (like, metaphorically hot, they aren't gonna burn you) than those from Mason Dixie Biscuit Co. -- a Kickstarter-funded outfit of Southern food enthusiasts, bringing seriously crave-worthy fried chicken & biscuits to DC. The biscuits have been known to vanish in a matter of hours. Here's what you need to know:
1. These guys can bust out a chicken & biscuit sandwich at the speed of light (almost)
During their insanely successful pop-up at Dolcezza (biscuit lovers were waiting as much as an hour), they were putting together a chicken & biscuit sandwich every 24 seconds.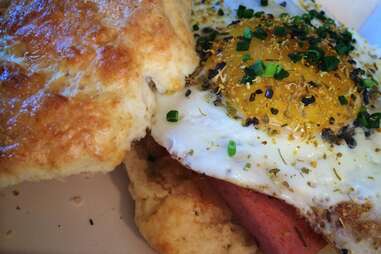 2. They don't limit themselves to one kind of biscuit
Because choice makes life sweeter (and savorier), they've created sweet potato biscuits, ham & jalapeño, garlic & herb, and a few other treats to mix and match for the perfect biscuit sandwich or platter combo. And the much-loved buttermilk biscuit is based off one of their grandma's never-written-down biscuit recipe.
3. Some dishes will be straight up redneck
Chef Jason Gehring was the doughnut mastermind behind Astro Doughnuts & Fried Chicken, and the pastry dude at Penn Quarter's Menu MBK, so he'll be bringing his honed skills to some traditional Southern staples. Be sure to look out for the Hummingbird Cake, made with pineapple, walnuts, and cream cheese icing, and the down-home and damn good tomato pie that's affectionately called "Redneck Pizza".
4. You can find them in two places at once
The operation will be in two parts of town. Monday through Friday, they'll be at Petworth's EatsPlace. The rest of the time, they'll be operating out of Edgewood's newest food incubator, Mess Hall, to ensure that the chicken & biscuits keep on coming.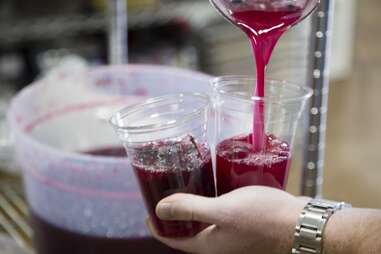 5. You can have your drink and eat some biscuits, too
EatsPlace will have a liquor license, so those seeking a Southern-style lunch can grab a chicken & biscuit sandwich without missing out on the mid-day buzz. A nice whiskey drink feels appropriate.
6. The sides and spreads are just as killer as the mains
While chicken & biscuits will be the stars at Mason Dixie Biscuit Co., the sides are not to be dismissed. Pimento cheese toast, coleslaw, collard greens, potato salad, mac 'n cheese, and plenty of other Southern comforts will be on the docket -- assuming you manage to leave some room for them. Oh, and did we mention you can also spread your biscuit with things like pork rind butter and three-pepper jelly? Now we did.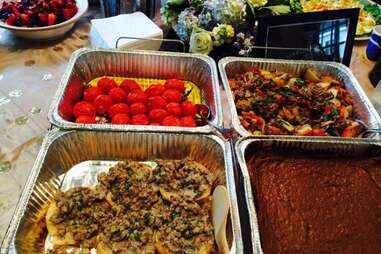 7. You can bring it all home. A bunch of it.
Mason Dixie Biscuit Co. is retailing some of their spreads from the EatsPlace location. And because one biscuit is never enough, buy a dozen (or more) of those bad boys, and take them home to share with only dear, dear friends. And if you want to throw a party that your friends will remember, ask these guys to cater. You won't regret it.
Sign up here for our daily DC email and be the first to get all the food/drink/fun in town.