11 reasons Plan B Burger Bar is your new DC burger destination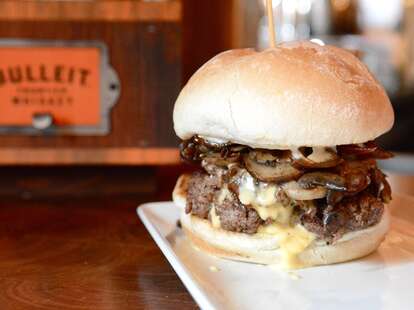 <Insert joke about this new restaurant's name>. Now that that's out of the way, let's move on to why we're fortunate that DC now has a Plan A when it comes to juicy Burgers, Beef, Bourbon, and Beer. Yeah, that's where the "B" in Plan B comes from. Here's what you need to know to make the most of your first meal.
1. Surf and turf, burger-style
The New Englander Burger is not only decadent and delicious, but also symbolic. Plan B Burger Bar is a small Connecticut-based chain, and the DC outpost is the first to open its doors outside of New England. Glad they recognized our major crush on burgers. The NE Burger combines a beef patty and Maine lobster, topped with smoked Gouda, caramelized onion, lettuce, and tomato-corn spread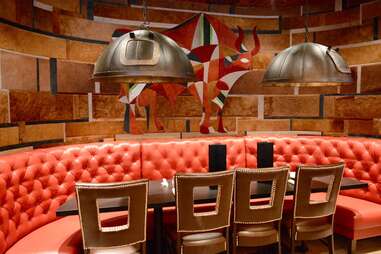 2. There's plenty of elbow room
The handsomely appointed space off Pennsylvania Ave is big and beefy — 4,800sqft to be exact. Saddle up to a seat in one of many cool red and brown leather nooks, like this sexy booth, for example. It's backed by an impressive cowhide installation from artist Kyle Bunting. The dude does seriously impressive interior design work using hide. Don't be afraid to give it a feel.
3. The space looks as good as the burgers
Look up from this table and you'll see butcher hook light fixtures. Try not to think of Upton Sinclair as you get down on your burger. Other cool touches to spot include a wall made of Maker's Mark, reclaimed wood as far as the eye can see, gorgeous hand-blown glass, and a couple of murals that are hat tips to early DC breweries.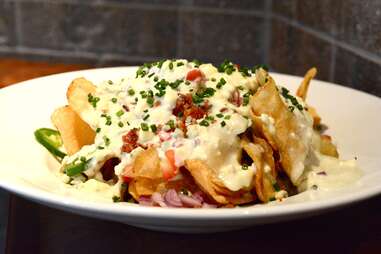 4. "B" is also for "Blue Chips"
The "B" in Plan B may stand for burgers, beef, beer, and bourbon, but they should also include their addictive "Blue Chips". Regular ol' nachos take a back seat to this pile of pleasure. House-made potato chips are slathered with warm blue cheese sauce, tomatoes, bacon, red onion, and jalapeños. You know Neon Boudeaux could demolish some of these. Other inventive bar snacks include beef Wellington bites, bourbon-baked Brie, and seven kinds of fries (disco fries!).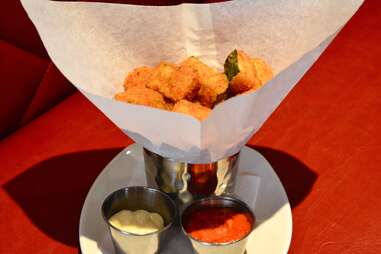 5. They're doing amazing things with tots
The seasonal tots are a shade healthier than your usual Napoleon Dynamite-type tots. The chef chooses seasonally appropriate veggies and crisps them up real nice in the shape of tater tots. These eggplant, zucchini, and squash "tots" come with dippers of roasted tomato vinaigrette and horseradish aioli.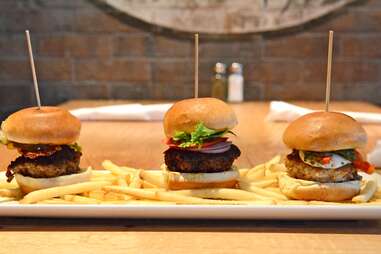 6. Oh right, there are more burgers. SO many burgers.
They're fresh, never frozen, wet-aged whole chucks (from the U.S.) that are hand-ground in house several times a day. That means you can expect your patty to be perfectly imperfect, because a machine didn't make it. There are about 20 different burgers to choose from, including a "Philisteak" burger, Cuban burger, pretzel burger, and West Coast burger. A favorite is the "3 Shrooms burger" (that beauty up top) with a heaping mass of sautéed mushrooms, portabella spread, truffle mayo, and Swiss cheese.
7. They make ordering extremely simple
After selecting from the long list of bunned options, there is one more choice you have to make: pink or no pink. This refers to the temperature of the burger, reducing the whole rare, medium rare, medium, well-done conundrum down to two choices. They're so fond of this system that they also use the pink/no pink system to gender the restrooms.
8. They're serious about bourbon
Of course there's beer (we'll get to that), but it turns out bourbon goes great with gourmet burgers. Plan B has close to 70 brown liquor options to choose from, and don't be afraid to go off-menu. Ask your bartender what else is available, because they get specialty bottles in all of the time for you to pull nips from. You can also dial up a "threesome" -- that's what it's called when the bartender hand-selects three bourbons for you. There are three themes: Kentucky straight bourbon whiskey, single barrel, and small batch.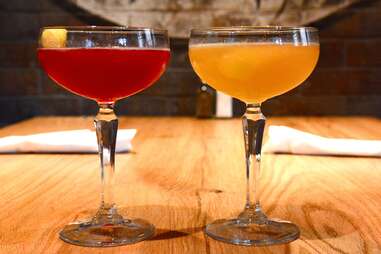 9. Also serious: the cocktails
If you prefer your booze incorporated into a cocktail, take a look at their mixed drinks. The menu is split between "The Classics" and "Future Classics". Get one of the only $10 Sazeracs in town, or a Moscow Mule served in a cup that's bound to get stolen. "Future Classics" include a tasty "Benjamin Button", with Buffalo Trace bourbon, orange blossom honey, and fresh lemon juice; and the "B-Berry", made with blueberry-infused Tito's.
10. Yes, calm down, the beer is ALSO serious
Suds options at Plan B include 14 draft lines that pour strictly American craft beer, in addition to 60 bottle and can options. Embrace their New England roots by ordering a $4 Narragansett Tall Boy. Sam Adams would be too obvious. They've also tapped into the local beer scene, so you can get your DC Brau, too.
11. This is one sexy dessert
Boobs are nice. So are Hostess CupCakes. Combine them and you get "The B Cup", a popular dessert pick for chocolate fiends. A flourless double chocolate cake is filled with white chocolate mousse and then dipped in chocolate ganache for the win. You'll also want the "Log Cabin Fever Roll" — house-made banana cake rolled with maple mousse and decorated with salted caramel sauce. Abe would dig it.
Plan B Burger Bar is located at 801 Pennsylvania Ave NW. Their current hours are Sun-Thurs, 11:30am-Midnight and Fri-Sat 11:30am-1am.
Sign up here for our daily DC email and be the first to get all the food/drink/fun in town.