Your Sneak Peek at Alfie's, DC's Next Big, Delicious Thing From Alex McCoy
The next big thing? It's a Thai traveler's bar called Alfie's from Chef Alex McCoy. Maybe you caught him impressing Giada and Bobby on Food Network Star, or maybe your love handles thank him for inventing the Proper Burger at Duke's Grocery. We got a sneak peek of what to expect from his Petworth restaurant, and you can too.
So, when can I try it?
You don't have to wait until spring to try Alfie's in its permanent home on Upshur St. Starting in December, Alfie's Test Kitchen will pop up where Mothership used to be (3301 Georgia Ave NW). Alex will serve five or six dishes that rotate daily including two standouts that have pièce de résistance potential: Tom Saap Kraduk Muu (a sour pork rib soup) and khao soi nuea (house-made noodles, coconut curry, and beef ribs). The dense, curly noodles left us lovestruck.
What do you mean traveler's bar?
Alex tells us: "Expat bars are these funky, fun, sometimes strange traveler's bars they have all over Thailand. They're owned by foreigners and Thais alike. You walk in and there are a bunch of British, Germans, Thais, etc. all telling stories and hanging out. No one knows each other, but at end of the night you're best friends. In a city like DC, which can be cliquey, we're going to be open and accepting of everyone, no matter where they are from." He further explains: "I'm not Thai so it would be disingenuous of me to try and create an authentic Thai restaurant. I don't have that family experience, so the best way to explain Thailand is how I know it, as a traveler."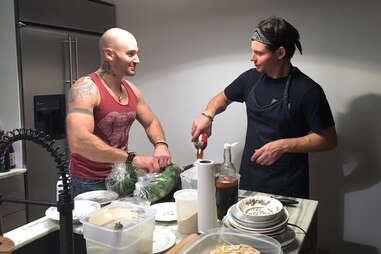 Surely Alex has a partner in crime?
Yep, his baby bro Nathaniel McCoy will be the sous chef. Alex really scored in the sibling department because Nathaniel, a L'Academie de Cuisine graduate, has a resume that includes Rose's Luxury. Heard of it? Tired of hearing of it? They're both so talented; cue up some "who's the real McCoy" jokes.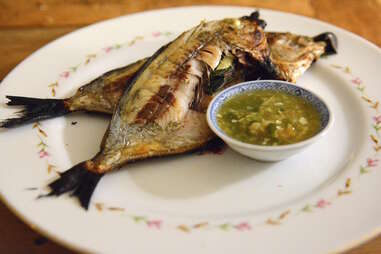 Is it going to be DC's 500th small-plates place?
Nope. "I don't want it to be a share-plates kind of place; basically Alfie's will have a mixture of different kinds of plates," Alex says. What titillates is that the menu will change daily. "There will be new dishes every single day because I want the food to be the way you'd find it on the streets in Thailand. You wake up, make a big pot of curry, and when it's done, it's done."
More on the food please?
The majority of the menu will be hard-to-pronounce Thai dishes primarily from the northeastern region of Isaan with a few central and Southern Thai dishes folded in. But given Alfie's traveler's bar status, Alex is going to have some fun. "We'll have an Australian burger, fried rice with sausages, a killer full English brekkie -- things usually found under the 'for foreigners' heading in Thailand," he says. "When you've been drinking and dive into a pile of our fried rice, it's going to be great, we're going to be playful, not necessarily hardcore authentic."
Speaking of drunchies, what's with the omelet?
Kai jeow moo sab is a rustic Thai omelet that won't win a beauty contest, but will steal your heart. "It's like the ultimate comfort food for Thai people. You eat it when you're broke, you eat it when you're happy, you eat it when you're sad, and you eat it to celebrate landing a dream job. It's cheap, quick, and hits that special spot," Alex explains. He recommends scooping some rice and eating it together.
Can't wait to dig in, where are my utensils?
Forks and knives are just décor. "We want people to eat with their hands and get dirty. With Isaan food, rice is the utensil. Use it to soak up the juices that puddle beneath dishes like this feisty beef salad called nam tok neua," Alex says. "We want to push people to be interactive with food. That's why you should always have a bag of sticky rice, that's your fork and knife."
Am I going to cry and sweat?
Possibly. "If a dish is meant to be hot, it's going to be hot. I won't be dumbing down any of the dishes because we want people to experience them like they would in Thailand. I don't want to give people a budget experience." The nam tok neua above left us playing seven minutes in heaven with the faucet. He'll also seek authenticity through fish sauce. "It's the best thing in the world; there will be fish sauce in everything, including some heavily fermented fish sauces and different grades of fish sauce for seafood."
Respectfully, how does a white guy know so much?
Alex has been to Southeast Asia a half a dozen times over the past few years (sometimes for months) including twice in 2015 alone for research. On one trip, he brought the whole Alfie's team. "It's no longer just me telling them how to cook, I took them so they could experience it on their own." He's also spent time in Indonesia, so expect Balinese & Javan dishes to make an appearance. The time he spent cooking with chefs from the Indonesia Embassy should help too.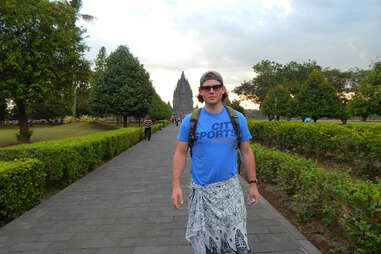 You're Alex, so who's Alfie?
An Australian buddy named Albert. "The Australians have nicknames for everyone, including my friend Albert. I thought it would be fun to name the restaurant a nickname because it downplays the formality." In sum, that's what Alfie's is, a relaxed atmosphere to eat explosive, playful food with a kickass cocktail program from a soon-to-be-announced mixologist.
Visit the Alfie's website for updates on the pop-up and permanent restaurant coming spring 2016.
Sign up here for our daily DC email and be the first to get all the food/drink/fun in town.
Laura Hayes is a DC-based food, drink & travel writer who also contributes to Washington City Paper, Food Network, Arlington Magazine, and others. She cried a little in the making of this story, but she wasn't going to let the nam tok neua win. Follow her on Twitter: @BTMenu.