Raiding the refrigerators of DC's top chefs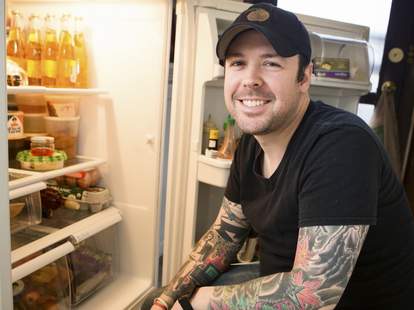 Because we're hungry AND nosy, we invaded the homes of seven of DC's best chefs to see what we could find in the fridge. We expected all sorts of gourmet goodness (and to be sure there was some), but you might be surprised to find out they have some of the same guilty pleasures as the rest of us.
Chef Aaron Silverman
Rose's Luxury
Chef Silverman hasn't opened his fridge for months (that'll happen when you're running one of America's best new restaurants). Without his roommate to stock it, the guy would go hungry. His foodie friend Sam Hiersteiner also helps by handing over homemade napa cabbage kimchee and fish pepper hot sauce. But if you really want to win over Chef Silverman, toss him some Frank's RedHot or Miller High Life.
Chef Mike Friedman
The Red Hen
The man behind the long lines at Red Hen can't live without OJ, capers, cheese of any kind, and most definitely ketchup. He says
Heinz
can improve every entrée except PB&J.
But more than anything, the man needs his mom's matzo ball soup. There are vats of it in the fridge and reserves in the freezer. Continuing the Hebrew homage are New York bagels, Bubbie's pickles and Duck Trap lox.
Laura Hayes
DC Brau is the chef's go-to light beer and he also goes local with Millstone Cellars' tasty cider from Maryland. Maybe he wishes we kept this confidential, but his favorite cocktail is a piña colada. This IS a step up from his dad's fav -- vodka on the rocks with onions.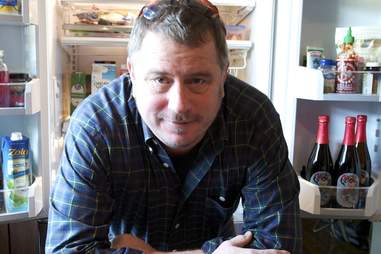 Polly Wiedmaier
Chef Robert Wiedmaier
Marcel's
,
Brasserie Beck
This badass chef is also a beer knight. He was enthroned into The Knighthood of the Brewers' Mash Staff, a century-old brewer's guild in Belgium. So one would expect to find a fridge full of beer.
Brasserie Beck
What you'll find is Antigoon, a Belgian double blonde ale brewed exclusively for him. When he's not drinking HIS beer, he'll pour out an Orval. Food wise, he can't get enough eggs, Sriracha, and hummus -- which he often eats together.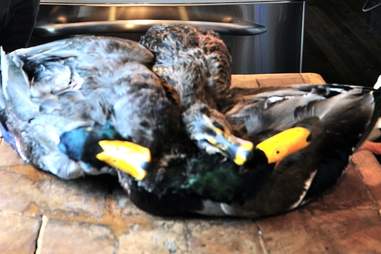 Polly Wiedmaier
Chef Wiedmaier is the furthest thing from a vegetarian. He's got a freezer stocked with the results of successful hunting trips, and as a result finding pheasant, duck, partridge, deer, elk, or goose in the freezer no longer surprises his wife.
Chef Scott Drewno
The Source
The man behind DC's best dim sum needs to have dumplings in his freezer at all times. Surprising, we know. You'll also find venison bologna and knoblewurst from Katz's Deli.
In an apocalyptic situation, Chef Drewno could subsist for months on his supply of Zweigle's White Hots and Red Hots from Upstate New York. His mom sends some home in his suitcase after each visit.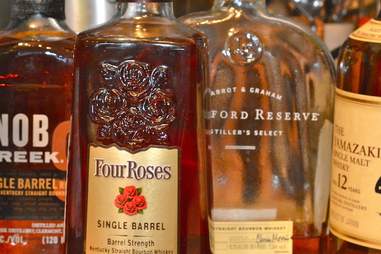 Laura Hayes
There's also some very smooth moonshine in the fridge for special occasions, but Chef Drewno's beverage of choice is bourbon.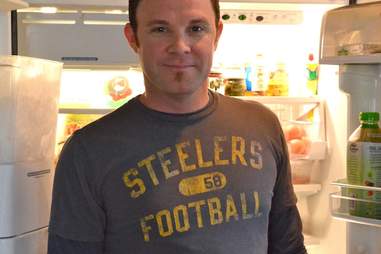 Chef Dennis Marron
Poste Monderne Brasserie
You will always find cheap Champagne and bacon in Chef Marron's fridge, along with a whole lot of beer. When he's not drinking his home-brewed porter made with hops from Poste's garden, he's tapping into the Anchor Brewing Christmas Ale he buys each year.
We busted the chef for having a drawer full of Pillsbury's finest. He's no Doughboy though. Chef Marron is currently training for a half marathon.
Laura Hayes
We also found the makings of Super Bowl Sunday supper -- coffee marinated short ribs. Though, we're willing to bet he'd rather have his other guilty pleasure, Stouffer's French Bread Pizza.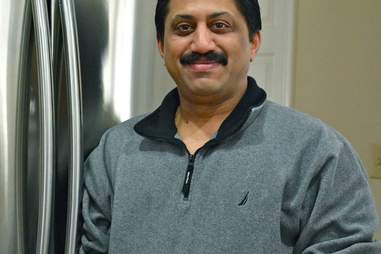 Chef Vikram Sunderam
Rasika, Rasika West End
The Palak Chaat King, Chef Vikram Sunderam, may have standard staples -- eggs, bread, and milk --but he kills it at condiments, many of which come from NoVa's Aditi Spice Depot.
His buddies should BYOBaguette when they visit so they can spread on the likes of fresh mango pickles, fig and cocoa spread, mango butter, and the less exotic but equally awesome chipotle-flavored Philadelphia Cream Cheese.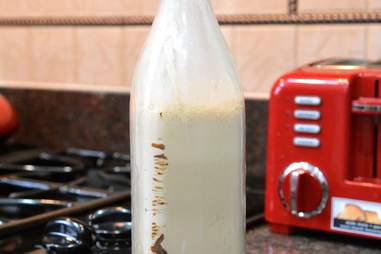 Laura Hayes
The homemade Baileys Irish Cream from a neighbor in his fridge, though tasty, is no match for the chef's favorite spirit -- McClelland's Single Malt Scotch. He drinks that, and a whole lot of his wife's homemade Indian tea.
Chef David Guas
Bayou Bakery, Coffee Bar & Eatery
Chef Guas's Louisiana country cooking and killer desserts have landed him spots on
The Today Show
and The Food Network, but is his home fridge hype-worthy? Well, he says he subscribes to the Southern rule that everything's better on a Triscuit. A favorite topper is cream cheese and Jamaican Pickapeppa sauce, or anything with the Velveeta cheese that's always in his fridge.
David Guas
The chef also needs his
Crystal Hot Sauce
, Coors Light (but only in a bottle), and Duke's Mayo, or "mynez" as they say in NOLA.