11 DC Restaurants Where You'll See Elected Officials
In DC, our "celebrities" spend more time on C-SPAN than the silver screen, but that doesn't mean we love star sightings any less. Make the most of your political people-watching and grab a meal at these 11 restaurants. But don't expect to see too many names named; these joints have risen to the top because of their discretionary skills. You can, however, expect to see steak. Lots of it.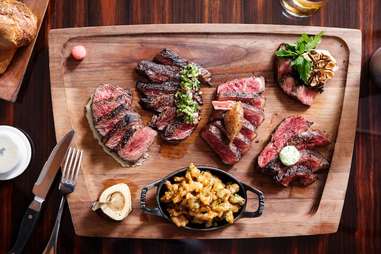 Downtown
Sometimes fresh GW grads land gigs behind the host stand at BLT Steak. Just when they thought their days of studying were over, General Manager Adam Sanders hands them SEVERAL manuals. Some are used to track VIPs' likes and dislikes, while another aids newbies in recognizing famous political faces so as to not commit a faux pas. "We've gone as far as getting those flashcards from the Hill that have every senator and representative," Sanders says. Popular picks among politicos include brown-spirit cocktails, like the barrel-aged Brooklyn, and Wagyu beef.
Downtown
Having a security detail onsite is a daily occurrence at Occidental, which was deemed "Where Statesmen Dine" in the mid-1900s. You'll be reminded of how much history this restaurant near the White House has when famous politicians and reporters who covered them (like John Scali) join you for dinner by way of mounted photographs. If you want to dine and drink like a statesman, the Occidental team says order steaks, crab cakes, and bold California Cabernets.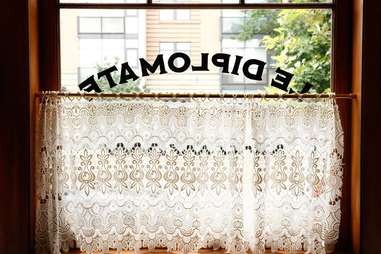 14th Street
Thank goodness John Kerry tapped James Taylor to sing "You've Got a Friend" to France, warming relations enough for elected officials to comfortably munch on fine French bistro food on 14th St. Unlike some spots, senators and the like enter Le Diplomate through the main door, but they do get a little help. "They can't stand in line the way other people can, constituents will come up and start asking questions," GM William Washington says. "We put a little extra energy into honoring their reservation requests." William also says they dig the noise: "Ironically, our noise factor, which I call energetic, allows you to have a degree of anonymity. You're not hearing someone else's conversation."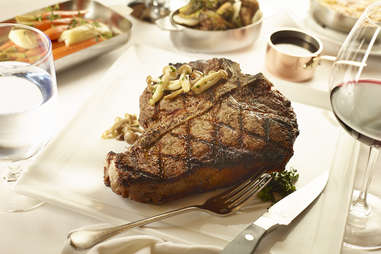 Capitol Hill
Higher-ups at Charlie Palmer Steak say the restaurant has been fondly dubbed "Congress' Dining Room," thanks to its location at the base of the dome. One thing that separates CPS from the pack is that it doesn't lean red or blue. "A study was done last year that shows we fit squarely down the middle," says General Manager Todd Salvadore. But, don't be bummed if you don't spot Senator Durbin finishing off his tuna tartare: much of the political crowd is attracted to the restaurant for private dining. It's there that the CPS staff gets oddball requests like "nothing from this state on the table, please." Perhaps elected officials also dig that the wine list is 100% domestic.
Downtown
The number one rule of Fiola is don't talk about Fiola -- at least when it comes to political diners. No one knows discretion better than the restaurant from Fabio and Maria Trabocchi because of its status as an authority on hospitality. "We know 'who's who' so we can set the dining room flawlessly to make everyone happy -- that includes understanding things like when they want a quiet table in the corner, as well as who sits next to whom," says co-owner Maria Trabocchi. She says they designed the restaurant specifically for power lunches. "There is nothing casual about a power lunch -- it's when important things happen." Who wouldn't like shaking hands over a big ball of creamy burrata or Wagyu beef short ribs? You guessed it, this where they come to splurge.
Georgetown
Business is done over eggs from 7:30-8:30am at this longtime breakfast mainstay inside the Four Seasons in Georgetown. There are a few choice tables that present only the backs of legislators' heads to the rest of the dining room. We imagine they're popular among top dogs who aren't experiencing premature balding. Those who need even more privacy book The Arbor Room that comes with a private entrance on the C&O Canal. Expect to see suits and ties (and Senate pins) dining on everything from chocolate croissant French toast to DC Half Hash made with half-smoke sausage. It's well known whose tables belong to whom, and "the usual," is the most common order.
Capitol Hill
You might not think of Bistro Bis as a breakfast joint, but that's when GM Sean-Patrick Applegate says the magic happens. "The power lunch doesn't seem to be the 'it' thing anymore. It's astonishing what gets done from 7-9am outside of the office and around our tables." That's not to say you won't see them having dinner and drinks. The restaurant near Union Station was thrust into the spotlight for political reasons when Representative Paul Ryan dropped $350 on a bottle of Pinot Noir. "We've actually seen him for dinner since," Applegate says. "So, it wasn't a turn off."
Barracks Row
It's impossible to spend more than $19.75 on food at Medium Rare. The price, which includes bread, salad, and steak frites, was a stroke of genius because it falls under the $25 limit that lobbyists can spend on the politicians they're wooing. Owner Mark Bucher explains that proximity to the Capitol Building also plays a role. "John Boehner was in Medium Rare when he got called back for the big budget vote. That's why they stay close, they have to move really fast while they're here," he says. Mark's current project is turning one of the walls into a giant Lite-Brite of America. He will ask congressmen to place their red or blue bulb on their district when they come in to dine.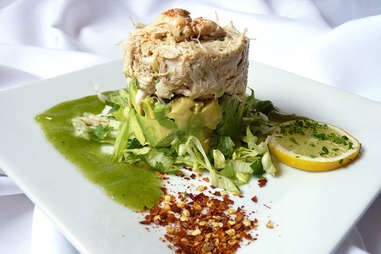 Capitol Hill
What's said at The Monocle stays at The Monocle -- so goes its discretion policy that's been in place since the doors opened when Eisenhower was president. The seafood and steak restaurant recently played host to Obama's entire cabinet, and other regulars include House Speaker John Boehner, Senate Majority Leader Mitch McConnell, and former Secretary of Labor Elaine Chao. When GOP presidential candidates Ted Cruz and Rand Paul aren't sucking up to swing states, they're also grabbing a booth at The Monocle to throw down soft-shell crabs and well-marbled steaks & chops.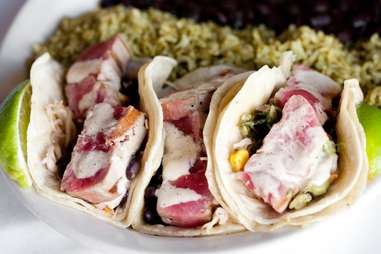 Capitol Hill
The Washington Postreports that during the 2011-2012 election cycle, House campaigns spent more than $200,000 on events at Tortilla Coast. With the 2016 election upon us, the restaurant can expect another boom. It's not a secret that the Hill taco-slinger leans red. Ever heard the phrase "Ted Cruz and his Tortilla Coast Republicans?" Yeah, we thought so. Then there's the fact that Representative Paul Ryan worked there as a server in his early days in DC (according to GQ). There's something so meta about legislators talking immigration reform a restaurant that serves both Mexican and Texas BBQ. Think about that over your next cheap marg.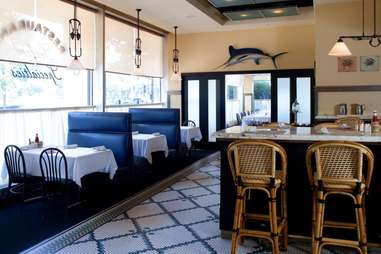 Capitol Hill
Johnny Fulchino doesn't kiss and tell. That's why politicians from both sides of the aisle have been going to Johnny's Half Shell on the regular since our sax-playing former president was in office. "I've seen some bi-partisan decisions happen across our tables," he tells us. Top picks among the politico crowd include the organic roast chicken and crab cakes. The close proximity to the Senate only helps your chances of seeing big names breaking bread. "They're here all the time hammering stuff out over lunch," Johnny says.
Sign up here for our daily DC email and be the first to get all the food/drink/fun in town.