Carla Hall and Jerome Grant Take Us Inside the African American History Museum's Sweet Home Café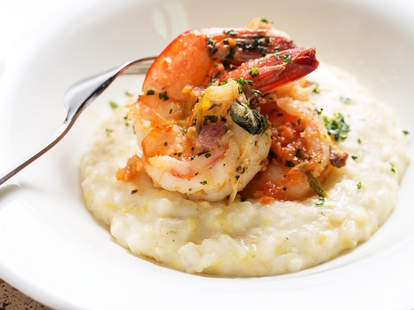 Courtesy of NMAAHC's Sweet Home Cafe
It's taken a century of fighting to make the National Museum of African American History and Culture a reality, but the historic institution will finally open to the public this Saturday, September 24th. One hundred years, by the way, is not an exaggeration; the idea for the museum was first conceived in 1915, when a Civil War veterans' organization called the Committee of Colored Citizens started the movement to create a national museum to recognize African-Americans' contributions to the nation.
This is about getting to know people through food.
What followed were decades of financial and legislative challenges, and it wasn't until 2003 that the museum was established by law. At that point, the museum had no acquisitions, no site, no architect, and only a handful of staff. Today, it stands triumphantly on the National Mall, and contains over 3,000 artifacts, including highlights like Harriet Tubman's hymn book, Rosa Parks' dress, Louis Armstrong's trumpet, Carl Lewis' Olympic medals, Muhammad Ali's headgear, and Gabby Douglas' leotard.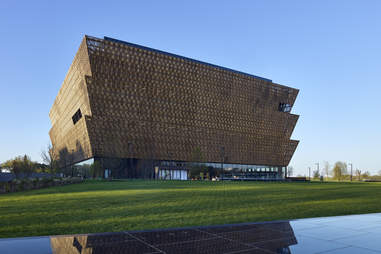 Alan Karchmer/The National Museum of African American History and Culture
The sprawling halls showcase African-American history, community, and culture, but the learning experience doesn't end where the exhibits do. The museum's restaurant, the Sweet Home Café, showcases historically accurate cuisine from four regions of the country, representing the migration of the African-American people: the agricultural South, the creole coast, the North states, and the Western range.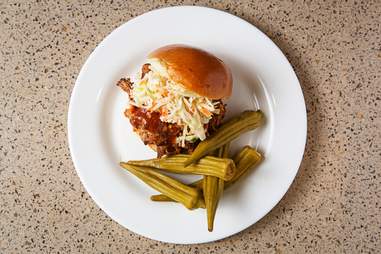 NMAAHC's Sweet Home Cafe
African food expert Dr. Jessica Harris contributed in-depth research to the menu, which is now overseen by the café's executive chef, Jerome Grant. Formerly of the Mitsitam Native Foods Café within the Smithsonian's National Museum of the American Indian, Grant helms the 14,000sqft kitchen that he expects will serve thousands on a daily basis. Chef Carla Hall, cookbook author and co-host of ABC's The Chew, serves as the café's culinary ambassador.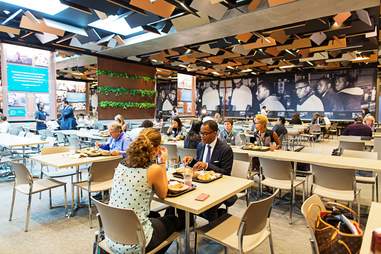 NMAAHC's Sweet Home Cafe
Hall sees food as one of the best ways to learn about people and cultures. "Talking to someone about the foods they love, you learn more about that person than if you were to say 'How are you doing?'" she says.
Hall wants people to see the café as a family gathering space. "The café isn't just an amenity to the people who visit the museum, but it's also a place where people can come and reflect, be at a community table, and share and talk about their experience."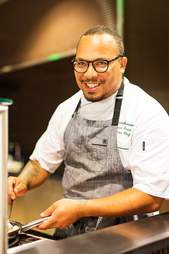 NMAAHC's Sweet Home Cafe
In anticipation of the grand opening, Hall and Grant sat down with Thrillist to talk about the momentous occasion.
How are you feeling now that Sweet Home Café is about to open after such a long time in the making?
Jerome Grant:
I'm extremely excited. Honestly, I'm really looking forward to getting past opening day. But I'm excited about opening day. I know that we'll be a fairly busy café for a good little while, and I'm really looking forward to where we're going to grow from here… we have a lot of awesome stories to tell, and we're going to tell them through food, and people will really enjoy them.
How did you get involved with this project?
JG:
I've had my eye on this project for the past five years. When I started working with Restaurant Associates, I wanted to be here when I knew that they were building it. In the between time, I was the sous chef at the American Indian Museum, and then I left and became the food and beverage director at the castle, and then went back as the executive chef at the American Indian Museum, and it really prepared me for this.
Carla Hall: I haven't been involved with this project as long; I came on board a couple years ago working with Thompson Hospitality and Restaurant Associates, and my connection was Benita Thompson, who is at Thompson Hospitality. We knew each other like 20 years ago, when I first got out of culinary school, and I did what I call a little internship with them. So that was a connection, and then we just sort of stayed in touch. And so after Top Chef and then now that I'm on The Chew, I think the powers that be were looking for not only an African-American to be a connection to the museum, but also somebody who was connected to DC. And honestly, I would have been offended if it was anybody else. No, I'm just kidding. It just made sense: my second cookbook is about showing culture through food; how we're all so different, but we accept those differences through food. And so that made me really excited about this project and to be the culinary ambassador.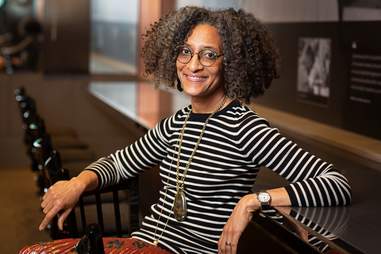 NMAAHC's Sweet Home Cafe
Carla, what is your role as the culinary ambassador?
CH:
I don't cook here. I was with the team when they were going over the menu and all the work that Jessica Harris was doing, the historical documentation and helping with that, but that was really the extent of it. My role now is to get people excited about coming here, and to draw attention to the café itself, and how it is an integral part of the museum, and not just an amenity. But the praises go to the executive chef, Jerome Grant, who has been unbelievable and amazing -- and whose food is so delicious.
What do you want people to learn about African-American food culture?
CH:
So before I got involved, I really didn't know a lot about the northern experience of African-Americans. I knew about the Great Migration, and I thought, being a Southerner -- being from Nashville -- that the African-American experience was all about the food that I was having. It wasn't until I got older and I started visiting people, I'm like, "What do you mean, you eat oysters," or "What do you mean, it's so beef-centric?" So I had a learning curve, and I think other people are going to have the same experience. Both within our culture of African-Americans, and of course outside of African-Americans, they're just getting to know people through the food.
I spoke to a German reporter and she was asking about coleslaw, a dish that she was connecting to Germany, and I said of course, but as African-Americans, we cooked for a lot of people, so we took influences from those cultures, but we made them uniquely ours by adding certain spices and cooking things a certain way, so this dish isn't German. Just because the primary ingredients may be German and it was brought over by the Germans originally doesn't mean this dish is German. So I think that's going to be really interesting and fun for people to see.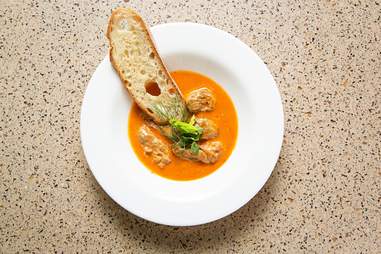 NMAAHC's Sweet Home Cafe
Would you tell us a little bit about the historical research that went into the menu?
CH:
I think when it comes to our knowledge of the foods of the African-American people, I think people immediately go to shrimp & grits, and okra, and all of the things that we've come to know as the African-American experience, when in fact, it was through Jessica and talking to all of these historians that we realized those were the foods that people had once a year, maybe twice a year. So I'm like, "OK, if they were only eating that once or twice a year, what were they eating the other times?" Those are the things that they're serving. It's a balance between celebration foods and some of the everyday foods.
JG: One of our awesome dishes here has a great tie-in story to it, which is the Thomas Downing-inspired oysters. Thomas Downing himself was a free slave from Virginia who migrated to New York City and became an oyster harvester up there. While he was harvesting oysters, he's like, "You know what, if I'm harvesting these, I might as well open up a tavern of some sort to sell them." So he featured oysters in various ways, from on a half shell to grilled to simply roasted in a pan. At the same time, his tavern doubled as a stop on the Underground Railroad. So the great thing is people came to his restaurant for a meal, but many were also there to find freedom.
Would you elaborate on the four regions that are being featured?
CH:
The creole coast, everybody knows gumbo, and I think that that would be expected in the creole. And then shrimp & grits. Everyone knows shrimp & grits, and so you couldn't leave those two things off the menu because it very much represents the creole coast. Part of that coast, and very close to Louisiana, is Alabama, and so they have a barbecue with an Alabama white sauce, which is... a vinegar and mayonnaise base, a little bit of cracked black pepper, and cayenne. But I feel like people know the creole coast and they know the agricultural South. I think that's where people live when they think of the African-American experience.
I feel like the place where people are going to get their surprises, if you will, are in the Northern states, with the "Smoking Hot," the Caribbean-style pepper pot. And I'm excited about that because Jerome's background is Caribbean and Jamaican, and that's something that's very close to his heart, and so you can kind of taste the love, not that you can't in the other dishes, but you can taste his connection to that dish… so that is delicious. There's also smoked haddock, which is amazing.
I'm excited about the Caribbean-style pepper pot… you can kind of taste the love.
The other thing that I think is going to be really interesting and special is the "Son of a Gun Stew" with the braised short ribs and those turnips, a meat-centric dish from out West. When I think about the Western range, I think about cowboys, but I never grew up thinking that there were black cowboys, and that's because you didn't see them on television -- a lot of times, what you see on television sort of informs your perspective.
Son of A Gun Stew

| NMAAHC's Sweet Home Cafe
What are some of the dishes that you're most excited about?
CH: The "Son of a Gun Stew." The Pepper Pot. The shrimp & grits are delicious because they're Anson Mills grits. I also think the Gullah-style Hoppin' John and the Carolina rice... that's going to be another great dish.
Pepper Pot

| Lani Furbank/Thrillist
JG: The Pepper Pot that we feature in the Northern states, which I think is pretty cool. The one that we're actually featuring right now is a Guyanese-style -- we kind of followed the migration of Guyanese through the Northern states. I also think the Gospel Bird's awesome. It's like Sunday dinner. Mac & cheese, greens, fried chicken. The great thing about that is people be like, "Oh, it's fried chicken," but for us, no -- it's done very cleverly. Our fried chicken's a three-day fried chicken. We do a salt-sugar brine for one day, and then we do a buttermilk brine the next day, then we dry it, and then we bread it and fry it, so that's three days.
What are the next steps for the café?
CH:
One of the things that we're really excited about doing is working with local growers, so that we're getting local produce and everything. There are actual African-American farms in Beltsville and places, but it's just about trying to figure out the volume for the museum. But that doesn't mean it can't be done. Because any way that we can get African-Americans tied back to the museum, that's always been the intention, to employ as many people and to make as many people feel a part of this experience as possible. This museum is definitely about the past, but it's also about moving into the future.
JG: We change our menu four times a year. We'll change our menu and focus on seasonal ingredients of the regions, so there will always be something new and exciting.
What do you hope the restaurant and museum will accomplish for the African-American community and the nation as a whole?
JG:
Awareness, understanding, and showing the stories, helping people understand what it's like to look through the eyes of an African-American in all aspects. Past history, present history, even sitting at this table and having a meal, we want you to see that. And that's what I know this museum will show.
CH: I think it's to tell our true story and to talk about the contributions that we have made, because for so long, people didn't even know that there were African-Americans behind the scenes building this amazing and great country. So with all the things that you see in the news with the violence and the drugs and all this stuff, it's like, that doesn't depict African-Americans, that's not the whole story, and I want people to see us in totality and to see who we are and what we are about, and not just the negatives. So I think a positive experience and view of African-Americans.
Admission to the museum is free, but timed passes are required for entry. They are available here.
Sign up here for our daily DC email and be the first to get all the food/drink/fun in town.