7 Things to Know About Swizzler, DC's Fancy New Hot Dog Truck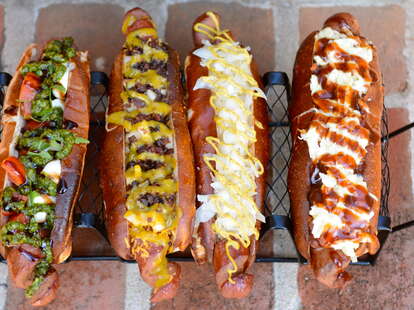 Laura Hayes/Thrillist
Laura Hayes/Thrillist
There's a new food truck roaming DC that you need to be paying attention to, as it will permanently change the way you feel about hot dogs. In fact, don't even call them "hot dogs"! Swizzlers are made from grass-fed beef, and stand out because of their signature corkscrew shape that resembles a swizzle stick. Their soft and sumptuous pretzel buns will have you cringing at the soggy second-tier franks you find at baseball games or (please no...) a stand on the National Mall. Get to know DC's new top dogs... err, Swizzlers.
1. These guys came up with the idea... in college
When you hear that college kids came up with the concept, you're probably picturing a substance-driven 3am epiphany over excessive amounts of pizza. However, the decision to hawk hot dogs was a little more sophisticated. Jesse Konig, Jack Zimmermann, and Ben Johnson wanted to fund a trip to Brazil for the World Cup, so they started to beef up (!) their cooking skills. Only Jesse made it to the Cup, but they later won a college competition with the Swizzler concept. Fast-forward, and you'll find they're out of college and running a DC food truck that places a premium on serving local and organic products.
2. The January Dog is for Lumbersexuals!
Flannel is pretty much a prerequisite to taking down the monthly special dubbed "The Lumberjack." (Though, this guy didn't get the message.) The special Swizzler is topped with locally sourced, nitrate-free bacon; organic apples; sharp cheddar; and maple-Dijon "sauzz." A fully composed bite reminds you of some kind of state fair that folds in amateur logrolling and sawing competitions. There's nothing like farm-to-truck bacon from Southern Maryland farms, especially when it's candied in bourbon.
3. Catapult caprese salad into your mouth
The Leonardo Dog Vinci, fondly called the LdV, is fine-dining disguised in tube steak-form, with its fresh mozzarella, sliced cherry tomatoes, arugula, and drizzles of balsamic glaze and pesto. The LdV Swizzler combines the best of Italy with the best of America for a final product that's sexy as a (newly single!) Giada De Laurentiis. This one's the messiest to eat, so don't order it while wearing your best (only?) pair of jeans.
4. The fries are a bargain bite
No one would expect you to eat a Swizzler sans fries, so do it up with Swizzler's $5 Parmesan-truffle fries. Guess who else serves truffle fries? The Capital Grille. They're $11 and would come in second place in a blind taste test. Swizzler uses truffle oil to blast truffle flavor into the fries, and the saltiness is spot-on.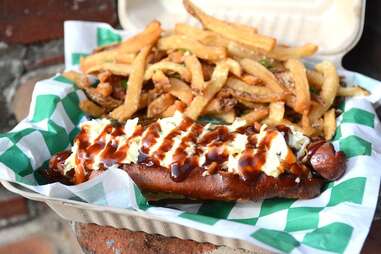 5. There's a shout-out to the South
The Swizzler Foods concept originated at Wake Forest University in North Carolina, where students and graduates, like Jesse, Jack, and Ben, call themselves "Deacs." Enter "The Deacon," a Carolina-inspired Swizzler. A dog is nestled under a pile of veggie chili, homemade honey mustard, coleslaw, and (of course) Carolina-style BBQ sauce (bring on the vinegar!). The veggie chili is none other than Motisola's Famous Veggie Chili, based out of Union Kitchen.
6. Celebrate like... Chris Christie in a luxury box?
The Jersey Dog is a hat tip to all of the good things about the Garden State, like never having to pump your own gas. So, on second thought, maybe America's least favorite Cowboys fan isn't involved. Each bite of this signature Swizzler has the right ratio of sauerkraut, raw diced onions, and spicy brown deli mustard.
7. Where to find them!
The easiest way to track down the Swizzler Foods truck is Twitter or Facebook. But, if you're a social media avoider, there's always the Food Truck Fiesta website. Their most frequent stops are Georgetown (37th and O Street NW), Foggy Bottom (25th and M Street NW), Farragut Square, Farragut North (20th and L Street NW), Union Station, and Capitol South. On weekends, you might find them slinging Swizzlers at breweries during tasting and tour hours.
Sign up here for our daily DC email and be the first to get all the food/drink/fun in town.