The 12 Best Bars & Restaurants in Charlottesville
Courtesy of Fleurie
Courtesy of Fleurie
Ask any Charlottesvillian for suggestions on what to do when you're in town and the first question will likely be "well that depends, how much can you eat?" Let these 12 bars and restaurants be your starting point to the best of this sneaky-delicious destination for food and drink lovers, and find out that you don't have to be a freshman to gain 15lbs here.
505 Preston Ave
When you wake up hungover and you need a sausage, egg, and cheese bagel more than the world needs peace, Bodo's is your saving grace. A staple amongst townies and UVA students alike, Bodo's is cheap, fast, and the combinations are endless. The bagels are served warm, so don't be a noob and ask for it toasted.
New kid on the block: Lampo
205 Monticello Rd
It may seem unreasonable to wait an hour just to get a seat at this tiny 21-seater for the pizza that only takes 90 seconds to cook, but you won't be disappointed. Lampo boasts truly Neopolitan pizza -- and there's an Italian organization with very strict rules, noted by a "Denomination of Control" seal of approval -- for what is considered to be officially Neopolitan. Not trying to argue with the Pizza Illuminati, so saddle up at the bar to wait it out and see what its take on the classic margherita D.O.C is all about.
102 14th St NW
To see and be seen, make your way to Boylan Heights. Whether you're plowing through its pork nachos intently watching the play-by-play, or passing the time playing shuffleboard pretending you know something about UVA sports, you'll have serious FOMO if you decide to take in the game from your couch instead.
826 Hinton Ave
Reservations are a no-go, but it does make the most mouthwatering homemade pastas in town. Perfect for date night or celebrating with a larger party, pull a Joey Tribbiani and put on your Thanksgiving pants because you'll want to order one of everything. If you don't even know where to start, sip a cocktail at its newly opened Cicchetti Bar while you decide between the pappardelle bolognese or the linguini alla carbonara -- both celebrated crowd-pleasers.
Best grab-and-go lunch: Feast!
416 W Main St
For when you're feeling bougie on your lunch break or want to grab a few things before you head off to spend the day wine tasting, Feast! Gourmet Market is a must. While on the pricy side, its sandwiches and salads are fresh, locally sourced and always hit the spot. The prosciutto & mozzarella sandwich (dressed with a roasted tomato spread and arugula on a fresh baguette) or its Famous Pimento Cheese sandwich (ask for it grilled!) are both fan favorites. If you're feeling budget-conscious, you can easily curb hunger by grazing your way through the seemingly infinite free samples they have scattered throughout the store.
904 Monticello Rd
So you just got back from your semester abroad and you're pining for some relics of your European dining experiences -- long, leisurely meals with good company and better libations: head to Downtown Belmont and settle in at MAS. Ignore the notoriously sub-par service and the not-so-subtle bulge of the matador portrait on the wall above the bar and sink right into the bacon-wrapped dates, the bocadillo jamon, and a pitcher of sangria and you'll instantly be transported right back to Spain.
108 3rd St NE
The incredibly talented culinary team at this contemporary French destination turns out showstopping tasting menus punctuated with creations like butter poached lobster over linguini with tomato cream and sweetbreads with black-eyed peas and pickled ramps. Definitely save it for date night though -- speaking from experience, a few bottles of rosé into a girls night out may or may not result in getting some serious shade thrown your way by the other patrons.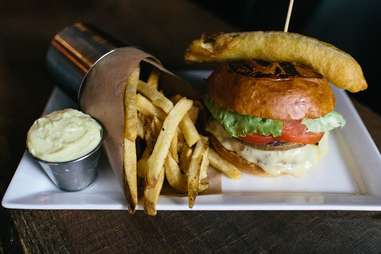 212 E Main St
Divine burgers and even better service, Citizen boasts hundreds of beers, an inviting atmosphere, and an all-star roster of burger options, including "The Executive": a grass-fed beef burger topped with bacon, onion, a fried egg, garlic aioli & foie gras (for a cool $25). Catch a game at the bar (there's no shortage of TVs or space for that matter), or catch up with a friend over truffle fries and a cocktail on its patio.
811 W Main St
You'll only find Cont D by its signature "Get in Here" neon sign in the window. Plan on housing at least one order of its goat cheese-covered "Red Hot Blues" nachos. Same goes for its margaritas.

502 East Market St
If you're looking for a standout meal but aren't looking to be seen, enter Charlottesville's hidden gem: Tastings. Its cult following would be horrified for their favorite spot to be discovered, but all the more reason to check it out. Ignore the underwhelming ambiance and focus instead on your oak-grilled duck breast with cherry Armagnac sauce.
422 East Main St
More known for its carefully crafted cocktails and killer dinner specials (think yukon & sweet potato pavé with house-made corn polenta and shishito peppers), Commonwealth is the spot to have your parents take you when they're in town. Don't fret if you miss out on its Saturday evening offerings; you still have Sunday morning to dive into its pork belly eggs Benedict. Its open-air rooftop counterpart, Skybar, is the perfect post-brunch venue to grab a drink and people-watch the Downtown mall on a nice day.
4916 Plank Rd
Ignore what anyone tells you about Crozet Pizza or Christian's or even Mellow Mushroom: Dr. Ho's Humble Pie is the best pizza in and around Charlottesville. It is worth the 20-minute drive out to North Garden for its house-made ranch dressing alone, but if you must have a vehicle for said sauce of the gods, its Bellissima pizza -- Margherita pizza topped with shaved country ham, arugula, lemon vinaigrette and aged Parmesan -- will do. You're welcome.
Sign up here for our daily DC email and be the first to get all the food/drink/fun in town.