The Best Dishes Under $10 at Eden Center, DC's Vietnamese Wonderland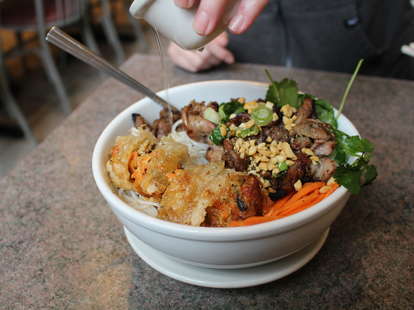 Logan Hollers/Thrillist
Logan Hollers/Thrillist
When you're searching for awesome ethnic food, always check out strip malls. The rent is low, and these spots usually cater to diners who grew up eating the food -- which leads to high standards and non-Americanized tastes. As the central food hub of one of the largest Vietnamese populations on the East Coast, Eden Center is the gold standard of high-quality strip mall dining.
If you've lived in DC for more than five minutes, you've probably already heard of it. Maybe you've already been. But you almost certainly haven't done what I did, which is hit up almost every single one of them (yeah, there are like, 120) to find the best dishes under $10.

Before starting this list, I'll level with you guys... there's no pho. Let me guess: "No pho? What the pho-ck?" Listen, if you live in DC and you're reading this, the odds are that you've already had really good pho. Step outside your comfort zone with these amazing dishes instead.
Bun thit nuong cha gio
Banh Cuon Saigon
$8.50
Bun thit nuong, which literally means "grilled meat on noodles," is a bowl of rice vermicelli topped with delicious char-grilled pork, tons of fresh herbs and vegetables, and chopped peanuts. Go with the option that includes cha gio (crispy spring rolls), dump the ubiquitous nuoc cham that comes on the side, mix, and boom. That's the sound of the flavor bomb that just exploded right in your mouth.
Com tam bi suon cha
Huong Viet
$10
This is what takeout fried rice wants to be when it grows up. The broken rice gets topped with a grilled pork chop, sliced pork skin, and steamed pork loaf (which is... way better than it sounds, promise), then the whole thing gets showered with scallion oil and nuoc cham. Mix the whole thing up together, and you have these incredible flavors that come together almost like a dry risotto. Amazing.
Goi ngo sen
Thanh Van
$6
Thanh Van is the Eden Center go-to for vegetarians, and this dish makes it clear exactly why that is. The lotus root salad offers a crisp, mild astringency of the lotus root stems; the bright freshness of the herbs; the tart crunchiness of the pickled vegetables; and the sour, funky umami hits from the fish sauce dressing. You get your protein hit here, too -- the kitchen mixes in faux pork and shrimp. Fair warning: the lotus root stems have these super thin filaments in them, so when you bite and pull away, it looks like there are a bunch of spiderwebs connecting the piece in your mouth and the piece on your fork. It's terrifying, but totally worth it.
Cha gio
Huong Viet
$5
Let's be honest: spring rolls are usually disappointing, and that's a damn shame, because Huong Viet proves they can be absolutely great. They wrap minced pork sausage, wood ear mushrooms, bean sprouts, and shredded carrot in rice paper, then fry them until they're crispy and golden brown, but also impossibly light, airy, and greaseless: the perfect vehicle for that nuoc cham dipping sauce. Pro tip: only put in one order at a time. Don't get me wrong, you should definitely get more than one order, but these need to be eaten ASAP -- the steam from the vegetables starts to make them soft after a few minutes.
Bo nuong la nho
Rice Paper
$9
These little guys are similar to Greece's dolmades, but the grape leaves are stuffed with ground beef, garlic, and spices -- then given the briefest turn on the grill. The rich meat is nicely offset by the soft texture and vegetal taste of the grape leaves. Be sure to ask for the trio of hot sauces, which just make everything more amazing.
Durian boba shake
Huong Binh Bakery & Deli
$3
Look, I'm a white dude. I was nervous about this one, partially because the ladies behind the counter kept asking me if I really wanted to order it, and partially because if you've ever heard of durian, you know that it's supposed to smell like a combination of rotten cheese and stank-ass feet. Fortunately, this shake like the exact opposite -- no, not unripe cheese and freshly washed feet -- just a slightly sweet fruit, with a little hint of savoriness. Highly recommended.
Banh cuon
Thang Long
$7.25
Thang Long is basically hidden -- you have to walk down a hallway over by the supermarkets, far away from the the main stretch, but the banh cuon here is top-notch. Thin sheets of steamed fermented rice batter are filled with either minced pork or diced shrimp (get the No. 1 special combo for both), then topped with pork patties, fried shrimp cake, bean sprouts, cilantro, and fried onions. "Yes" and "no" is the extent of the English spoken here, so just point to the top of the menu, and you're set.
Banh mi
Banh Ta Deli
$4
I love sandwiches, and I eat a lot of them. Banh Ta Deli's banh mi has got to be one of the best sandwiches in the DC area, full stop. To start with, Banh Ta has the most important part of a banh mi down cold: a perfect baguette that's light and crisp, not dry, like some of the lower-quality options in DC proper. They fill that bad boy up with pickled carrot and daikon, thinly sliced jalapeños and cucumbers, a bundle of fresh cilantro, and a swipe of mustardy mayonnaise, all atop your choice of protein. I'm partial to the classic No. 5: banh mi pate cha, which combines the bouncy springiness of sliced pork roll with the cool, creamy umami of pork pate. Oh, also, don't feel bad stocking up for the week by taking advantage of the "buy five, get one free" deal. They'll get eaten.
Banh xeo
Hai Duong
$9
Picture an omelet: now take that mental picture and just stretch it out... keep going... OK, when it's twice as big, consider stopping, but don't. Just make it bigger, thinner, and tastier: that's a banh xeo, a crispy Vietnamese crepe filled with shrimp, sliced pork, and bean sprouts. The version at Hai Duong is super crispy, and great on its own, but it's even better when packed full of the massive plate of leafy greens, herbs, and vegetables that come with it. Dump on the nuoc cham and tear off a hunk -- it's like a mini Vietnamese taco with a crunchy egg shell.
Goi du du
Banh Cuon Saigon
$7
This stuff is amazing. Smoky strips of charred beef (seriously, it's like the best seasoned jerky ever), paired with julienned papaya, and fistfuls of chopped mint and cilantro are all piled on top of a dark dressing bursting with lime, chilis, and fish sauce. This dish actually made me ask our cashier at Banh Cuon Saigon for the Vietnamese word for "delicious." (It's "thom ngon," fyi.)
Cha ca
Huong Binh Bakery & Deli
$3
The pressed fish patty at Huong Binh looked weird, sounded weird, smelled weird, and tasted goddamn amazing. Light, bouncy, peppery -- this is the perfect snack, plus $3 gets you a patty the size of your head. How long was it sitting under the heat lamp? What the hell is it made out of? Didn't ask, don't care.
Banh bao xa xiu nuong
Phuoc Loc
$1.50
Phuoc Loc is an outstanding bakery. The place is teeny, but offers so many options: sweets, savories, fruits, shakes, cakes -- if it's baked or blended, it's at Phuoc Loc. Their pillowy roast bao buns are the best of the bunch. It doesn't matter that these are actually of Chinese origin -- the folks at Phuoc Loc do them up right: soft, sweet dough enveloping rich roast pork, the perfect blend of sweet and savory.
Lemongrass chili fried tofu
Thanh Son
Four pieces for $1
I used to think tofu would never appear on a list of my favorite things, but then I tried the freshly deep-fried chunks from Thanh Son, which has caused me to reevaluate basically everything in life. Instead of drenching the tofu in a goopy glaze or sauce, the folks here marinate it in seasoning before flash-frying it, resulting in a crunchy, crispy golden square of amazingness. They'll offer you a bunch of sauce different options, but the lemongrass-chili is where it's at.
Sign up here for our daily DC email and be the first to get all the food/drink/fun in town.
Logan Hollers is an environmental lawyer in DC who also contributes food and booze articles to Thrillist and Brightest Young Things. He's oddly proud of always smelling like nuoc cham. Follow @lhollers on Twitter and Instagram.