There's never been a better time to eat in DC, because late spring brought us 10 gems worth visiting while they're bright, shiny, and new. Bao buns, inspired Italian eats, and New Orleans beignets will fight for the right to throw off your summer diet. Attention teleworkers, as an added bonus, half of these spots are open all day long!
Recommended Video
Here's Our Travel Guide to This Nation of Over 7,000 Islands
CityCenterDC
The Centrolina team can retire from daily window washing made necessary by eager Washingtonians smashing their faces against the glass to get a glance at the sleek Italian market and restaurant from Chef Amy Brandwein. Pop in some nights to pick up fresh pasta to boil at home, inevitably impressing the pants off of someone. Other nights, dine-in, treating yourself to a menu with brag-worthy dishes like rare tuna served alongside bone marrow or a fritto misto that shows Amy isn't afraid to fry lamb, chicken, or sausage. The market is open Mon-Sat from 8am-9pm and Sun 9am-9pm, and the restaurant serves weekday lunch, nightly dinner, and eventually, weekend brunch.
Adams Morgan
When you're done geeking out over Songbyrd Café's 1947 Voice-O-Graph, step up to the counter and order a Frankenfood of DC snacks dubbed the Mumbo Slice. The chef tops focaccia with mumbo sauce, chopped pork, pineapple, Provolone, shaved onions, and basil for a hearty bite. Though there's no beer to pair with pizza, there are all-day breakfast sandwiches, coffee and a stack of vinyl to thumb through and purchase. You can opt to plug into iPads made to look old-timey or take a seat in the "conversation pit" styled with seats that should remind you of Charles De Gaulle Airport. Expect to leave and immediately phone your coolest friend to say you've found a place they'll love.
Woodley Park
Murphy's morph into Bar Civita was most welcome in Woodley Park. One step into the space and you'll feel like you're in a well-worn European bar that's been welcoming locals for decades. The dark wood, fireplace, and vintage tap heads do most of the work adding character to the place -- the heart of which is 20-seat bar. "If I wanted to run away from the world, this bar is where I'd be," Chef/owner Liam Civita tells us. The chef who you know from Liberty Tavern put together a menu with familiar, comforting dishes with a twist like Ziti a la Vodka, a NY strip, and roast chicken, plus a really sexy charcuterie board. Pay close attention to the reasonably priced wine list divided into cutesy categories.
H Street NE
Even if you tell yourself you're just popping into Maketto to pick up gunpowder-scented candles or new kicks, you'll inevitably stay for a big Southeast Asian meal thanks to the smells wafting from Erik Bruner-Yang's kitchen. The new multi-purpose space combines retail, coffee, and feasting in a weird way that works, especially once you throw in the vending machine that spits out everything from Maneki Neko statues to condoms. If you want to go all out, visit during dinner when $32 get you an American Wagyu bao platter alongside house-made kombucha or cocktails.
Farragut North
You don't have to be a member of Mensa to guess this is a grilled cheese joint. But so much more goes between the bread at Melt Shop, like this caloric weapon stuffed with fried chicken, pepper jack, red cabbage slaw, and melt sauce. It does something similar with a burger to create an epic patty melt and even pairs these beasts with root beer floats and three kinds of tots. Management says visit on Monday or Tuesday when there's less of a line because Millennial worker bees made weekend vows to eat healthier that won't last through Wednesday.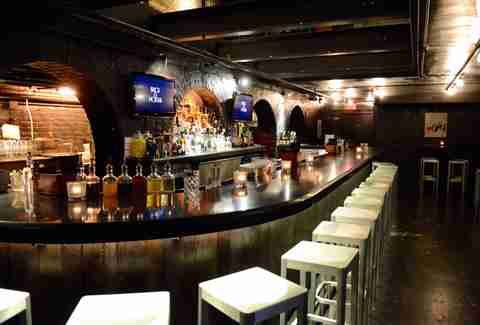 Chinatown
Don't let the black brick and sunken location fool you into thinking Brick & Mortar is a dank basement in which to drink away your summer sorrows. Rather, the bar serves beachy cocktails and playful bites like a BLT on focaccia, American mezze, and lobster rolls. One of the best sips is The Golden Age, which gets its hue from turmeric and combines jenever with lime juice, sugar, and club soda. Find it in the former Living Social building, though no one will approach you offering crappy deals. The multi-floor space is now home to Prequel from EquityEats.
LeDroit Park
A drool-worthy cocktail program and dishes backed by family recipes make LeDroit Park really lucky to have landed The Royal. Though it aspires to be a neighborhood joint, a few bites of cheese arepas and a choripan sandwich suggest people will travel to get a taste of wonderful. Owner Paul Carlson's Colombian heritage is responsible for the Latin influence found in many of the dishes. Drinks range from playful shaved iced to the more hipster-attracting vermouth on tap. The Royal is an all-day operation opening at 7am Mon-Fri and 8am Sat-Sun. Visit in the morning for Counter Culture coffee and pastries.
Capitol Hill
Say you live in DC and don't want to schlep to Courthouse to bang down some beignets at the original Bayou Bakery. You'd be in luck because Chef David Guas opened location number two just off Barracks Row. Find this new temple to Southern cuisine inside a 150-year-old carriage house making "having charm" the surest bet in Vegas. Sip on "NOLA Swingers," a bourbon-based cocktail alongside biscuits by day and everything from gumbo and "Muff-a-Lotta" sandwiches by night. Don't leave without those aforementioned beignets. They're worth it. You're worth it.
NoMa
DC has a cultish obsession with drinking beer under German-branded umbrellas. The latest spot beckoning cult members/beer garden enthusiasts is an open lot that's been transformed into Wunder Garten. The NoMa locale offers 10 beers, three hailing from Munich's Hofbräuhaus, plus grub from food trucks like DC Slices and Rocklands Barbeque. Wunder Garten will continue to evolve over the coming weeks, growing larger and more interesting. Specifically, the REI store going into the area will offer outdoorsy classes guaranteeing flashbacks to your Boy Scout days.
14th Street
The best part about Provision No. 14's Hot Pockets is that they come in pairs. It's kind of like when you get a massage and the therapist does something mind blowing on one leg and you know you'll get to experience the same pleasure on the other. These gourmet kid snacks are just one reason to be excited about 14th Street's newest hotspot. Here are nine more, many of which point to the restaurant's standout bar program.
Sign up here for our daily DC email and be the first to get all the food/drink/fun in town.