It's been a busy year for DC dining, but as the year draws to a close, it's a good time to take a break from eating (and more eating... ) and reflect. But not too long of a break, because you're going to want to get yourself to these places if you haven't already. Here they are, the 11 best new restaurants in DC for 2014:
Recommended Video
Proof That Iceland's Ring Road Is the World's Most Beautiful Road Trip
Penn Quarter
It's a good problem to have when you can't decide what's more exciting at The Partisan — the expertly crafted booze options, or the overwhelming number of perfectly executed meat dishes. The corned beef belly (pictured) remains a favorite, but only after a trip down their extensive charcuterie list that's set up like a sushi menu. Chefs Nathan Anda and Ed Witt aren't afraid to play with every part of a pig. You're either drinking wine from Brent Kroll, beer from Greg Engert, or cocktails from Jeff Faile. That's a win, win, win.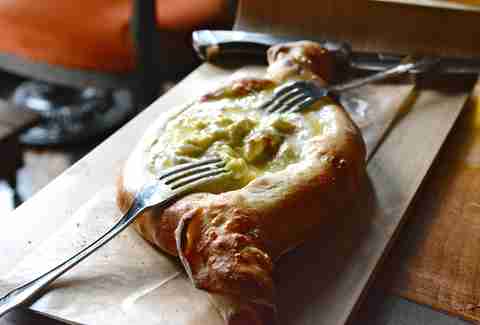 14th St
Sometimes one dish can catapult you to instant fame. That was the case at Compass Rose, with their bread canoe filled with cheese and butter, also called "khachapuri". The Georgian dish has caused a collective pudge within our city, but no one's complaining. Noshing on a global street food menu goes down in a charming brick row house you've probably pinned under "future home" on Pinterest. The bar program deserves a nod too, for being creative but not confusing.
14th St
Tacos (seven kinds!) and tequila (140 kinds!) are the stars at celebrity Chef Michael Schlow's first DC restaurant. But there's so much more: scallop ceviche with crispy rice, manchego cheese fritters with a sweet dipper, and a straight-up bacon cheeseburger. Brunch too is a booze-soaked blast in the restaurant's young, artsy atmosphere. As a bonus, Boston-based Schlow didn't swoop in and swoop out once the doors were open, like some food-lebrities do. He got himself a pad in CoHi and got to know the city.
Petworth
Take a former CityZen chef, a somewhat underserved neighborhood, and a small-but-magical space you're dying to spend time in and you wind up booked solid. That's what happened for Crane & Turtle, from the folks behind Petworth Citizen across the street. The New York Times article mentioning them didn't hurt either. Crane & Turtle's small, super fresh menu continues to evolve, but just one taste of the scallops paired with chorizo-stuffed tapioca dumplings will induce cravings.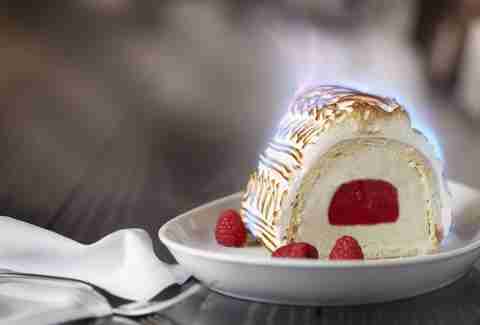 CityCenterDC
Only Daniel Boulud could bring back Baked Alaska — a serious blast-from-the-past that was fashionable in both the 1800s and 1950s. That's undoubtedly how you're ending your meal at the buzzed about French-brasserie-meets-American-tavern. DBGB was the first restaurant to open its doors in the newfangled CityCenterDC complex. Don't miss the sausages. All of them.
CityCenterDC
The only thing more American than one eagle, is two eagles in our nation's capital. Oh and maybe $160 steak and lobster for two. Fortunately, if you don't want to spring that kind of cash, you can make a fine meal out of their bar snacks, like cheesesteak eggrolls, loaded tots, and crab cake sliders. Not to be out done, Del Frisco's Double Eagle marked their CityCenterDC opening by delivering martinis to guests via ice luge. It was the biggest opening in terms of sheer volume, with its three floors, 400 seats, and secret entrance for VIPs. Very VIPs.
Georgetown
Waterfront view? Check. Fresh fish flown in daily from just about every ocean? Check. All the TLC that Fabio Trabocchi typically folds into his food? Also check. When Fiola Mare opened on the Georgetown waterfront this year, it completed a trifecta of Trabocchi restaurants: Fiola and Casa Luca coming first. It also provided an easy answer to the question, "Where should we celebrate?" Caviar, stacks on stacks of frutti de mare, simply grilled seafood (that you can select yourself off a line), and delicate pasta make for one hell of a meal. Try Fiola Mare for less during lunch, when a $22 deal is available at the bar.
Logan Circle
DC also landed a restaurant from Philly Chef and Restaurateur Jose Garces. The Argentinian steakhouse, dubbed Rural Society, has enough leather, rope, and wood accents to transport you somewhere rich vaqueros hang out. A cool vibe indeed, but you're also reminded you're in a hotel by all the solo diners and high price points. The steak worth giving up cable for is the "Bife de Chorizo" from Uruguay. Get the marbled slab after an appetizer of braised Wagyu beef belly and a sausage sampler.
Mosaic District
The wait for Chef RJ Cooper's edgy suburban spot was about as long as the motorcycle trip the chef took to plan the menu, but it was worth it... mostly for these chicken skin cracklins served with snake oil and rooftop honey. But, the man also knows how to make a mean mac & cheese, truffle-laden grits, and anything-pig. Expect the usual level of cocktail craziness from bar man Bryan Tetorakis, whom you know from his work behind the bar at Rogue 24.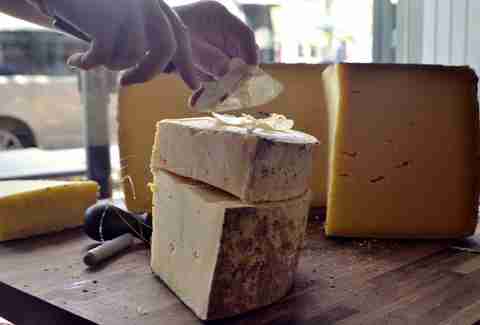 Eastern Market
The team at Sona isn't just innovative when it comes to making and aging cheese in house. They also have playful beer and cheese flights, seasonal small plates, and a lamb burger you'll need in your life. Weekly. It's topped with sun-dried tomato & black olive aioli, spiced feta, lettuce, and pickles Also, keep your ear to the ground for fun class opportunities.
Dupont Circle
Regardless of your thoughts on the Keystone State, this Pennsylvania-focused restaurant in the former Mighty Pint space is worth a visit. Primarily because of the rye-driven cocktail menu, including the "Second Statement" with Wigle rye, PA raw honey, absinthe, and aromatic bitters served on fancy ice. What you won't find on the menu is beer produced anywhere but Pennsylvania. They're not kidding about this theme. Bites include a foie gras-topped burger with caramelized onions and banana jam (available at lunch), cheddar pierogies, and a coffee-cocoa-rubbed venison chop. Also heed the sign posted in the bar: Enjoy your food, not your phone.
Editor's note: We're also eagerly awaiting the openings of José Andrés' China Chilcano, El Camino in Bloomingdale, and maybe even Maketto. Don't see you favorite spot? Stay tuned for our 11 best bar openings of 2014.
Sign up here for our daily DC email and be the first to get all the food/drink/fun in town.