Nine bar and restaurant openings are lessening the sting of winter. Especially the one willing to serve foie gras with duck scrapple (hint: it's Kinship). Another bonus? The bars that opened are diamonds in the rough (or diamonds in the sky, if you bow down to Rihanna) in that they step on all things status quo. Here's where you'll be spending your nights out when the mercury drops.
Recommended Video
The Most Overlooked Mediterranean Paradise in Europe
More From
Openings Cheat Sheet
Mt. Vernon Square
When CityZen shuttered, its kitchen commander-in-chief could have gone anywhere, but Eric Ziebold decided to stick around and inject a whole lot of culinary cool into DC at Kinship (soon be followed by concept number two, Metier). The menu at the whitewashed restaurant is stuffed with delicacies that say 'special night out,' like lobster French toast, white truffles, Japanese beef, and Ossetra caviar. Oh, wait, and the fact you can order an entire lobe of foie gras for the table. But there are more approachable dishes too, like corned beef cheeks, an entire roast chicken, and sticky toffee pudding, all done with elegance. After your fantasy of a meal, be sure to feel bad for Michelin for missing out.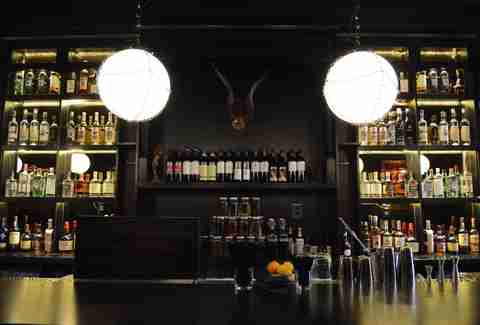 Petworth
The unicorn that greets you at the door at The Twisted Horn foreshadows what's to come: a quirky watering hole that balks at painting by numbers. First, the bar from the Hank's Oyster Bar team is housed in an old church, lending Jesus-is-watching heebie-jeebies, especially since the tables are constructed to look like confessionals. Adding to the eccentric atmosphere: a hand-drawn cocktail list that looks like a board game; trippy as Woodstock bathrooms; foreign snacks in the form of Japanese onigiri rice balls; and a late-night bubbly and vermouth happy hour. Drink wise, we're hanging our hat on the Sabateur Sling -- a take on the Singapore classic, but with ramp and jalapeño-infused gin. Come warmer weather, expect a bumping patio scene.
Shaw
If French food wore a leather jacket and rode a motorcycle, it would be the menu at Convivial. Chef Cedric Maupillier has taken his native cuisine and souped it up. He's frying the chicken in his coq au vin, dishing out a veal tartare with oyster leaf, wrapping escargot in blankets, and making beignets out of duck eggs. It's like Mintwood Place, but with a whole lot more razzle-dazzle in a Barney purple-hued dining room. Expect to sip on cocktails with a refreshingly small number of ingredients, Old World wines, and fresh juices.
14th St
Left Door is a sultry, polished, trapped-in-time kind of place. One where you could spot a 1940s "it girl," or at least that fly chick in accounting who gives off vintage vibes. Make said woman your work wife (at minimum) by bringing her to Tom Brown's cozy, amber-lit cocktail bar. You know Tom from shuttered, more casual endeavors like Hogo Bar and The Passenger. Now he's buttoned up and serving $100 cocktails (duh, Pappy) and $100 snacks (duh, caviar), all on what looks like grandma's no-touch china. Don't worry, those of us not on K Street salaries can sip on $12-$14 classics like a Sloe Gin Fizz, or originals like Pretty Things with green tea, sherry, lemon, and honey, served hot.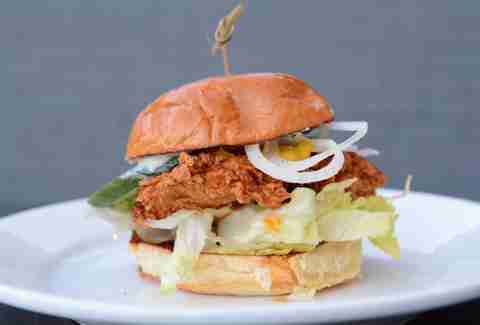 Bloomingdale
Descend the stairs at Crisp Kitchen + Bar and feel a little sting in your eye. That's the hot chicken bubbling in the fryer in the back, and it's nuclear. Try it on the "OG Chicken Sandwich" with cooling garlic mayo and all the trimmings, or on a platter with buttermilk ranch. If you have something against the city of Nashville and their chicken (say Marcus Mariota for example), score other all-American classics like a patty melt burger, poutine with roast duck gravy, or a grilled cheese. You're drinking clever cocktails like "Do You Have an iPhone 7 Charger" or cans of Champagne that come with bendy straws. Pro tip: head to the upstairs bar from 5-8pm DAILY for $5 happy hour.
Brookland
The darling of DC brewpubs, Right Proper Brewing, doubled down by opening its Brookland Production House in December. You know the original in Shaw for its cool atmosphere (laser pandas!) and good grub, but sometimes these things can detract from what matters (like a Daniel Craig Star Wars cameo): the beer. It's the beer! Focus on suds at the production house, as you taste your way through flights and pints in a cozy cherry wood tasting room. Find what you like, and fill a growler to take home, but not before you've taken a tour (Saturdays on the hour from 1:30-6:30pm). And, oh -- bringing in Menomale pizza to chow down on is encouraged.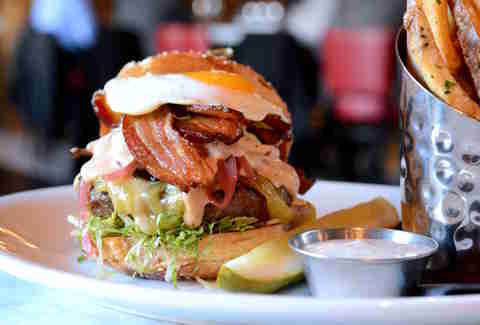 Downtown
It feels downright foolish to have a frivolous conversation at Pennsylvania 6. The décor is stately with velvet seating, impressive art, and a faux fireplace. You might even feel like you're in an old Hollywood hang or a racquet club for royals. But, Pennsylvania 6 is perfectly capable of being a laid-back hang -- especially when ordering the burger at the bar. Just LOOK at that thing. Before you fill up on that stack, dabble in raw bar offerings, the best beef carpaccio we've encountered, and the wild burgundy snails that come encrusted in bone marrow butter. Luxe, remember?
Shirlington
Two places love SPAM more than life -- Austin, Minnesota (home of the SPAM Museum) and Hawaii. That's why you can try the canned meat two ways at Hawaiian newcomer Hula Girl Bar & Grill, including SPAM musubi (pictured). But you're trying way more at this surfboard-ornamented escape that started as a food truck: the loco moco plate lunch with two super juicy patties; the ahi poke made from tuna flown in from Hawaii; and the North Shore shrimp. Suck down a few Mai Tais before moving onto Hawaiian beer from Maui Brewing and Kona Brewing Co. Hula Girl currently serves lunch and dinner, but we can't wait for brunch come spring because whole hogs are involved.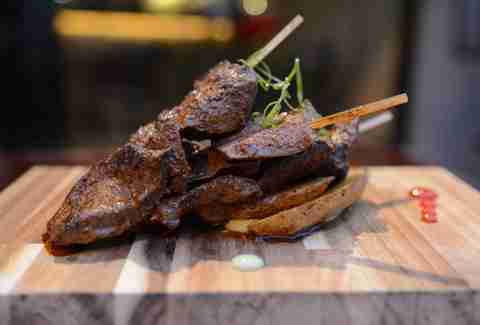 Dupont Circle
DC gained two Peruvian spots at once with the quiet opening of the bi-level Nazca Mochica. Mochica, named for an ancient Peruvian society, is a first-floor pisco lounge that looks like a scene from the IKEA floor (if IKEA were suddenly better), with its soft wood and potted succulents. There, you can take down piñaritas -- a margarita variation made with smoked pisco -- and bar bites ranging from Peruvian ramen(!) and veal heart skewers (pictured) to bright and citrusy ceviche. Upstairs is at Nazca, another ancient Peruvian society, you'll find a more formal dining room serving entrée-sized plates like traditional lomo saltado.
Sign up here for our daily DC email and be the first to get all the food/drink/fun in town.
Laura Hayes is a DC-based food, drink & travel writer who also contributes to Washington City Paper, Food Network, Arlington Magazine, and others. She's happy there are no new steakhouses. Follow her on Twitter @BTMenu.