An editor's guide to eating around town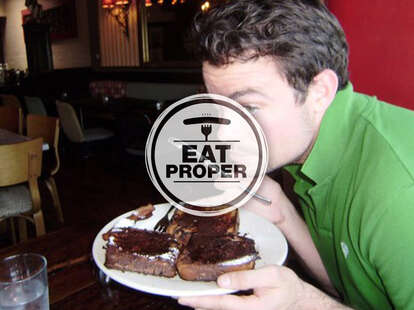 With the meat-and-potatoes crowd no longer dominating the DC restaurant scene, the main thing clogging up the heart of the city these days is traffic. Locally sourced ingredients and serious culinary ingenuity are the hallmarks of DC's food scene, so take a step back from Ben's Chili Bowl (just for, like, a day), and follow local editor Leo Schmid's guide to expanding your own beltway in the District's.
Best Italian: Fiola's lobster-filled ravioli in lobster sauce is the kind of date dish that ensures dinner will be followed by even more tail
Best Cheap Eats: The burgers at Shake Shack start at $4.75, and shakes at $5, which might be why New Yorkers spend hours in line at the Central Park location.
Best Chinese: What's the Source of the best Chinese in DC? Well, it's Wolfgang Puck's restaurant in the Newseum, where head chef Scott Dresnow kicks out crispy suckling pig with a black plum puree
Best Eats In A Gas Station: It's hard to believe that you'd stop at a gas station to fuel up on more than petrol, but Fast Gourmet's Cuban sandwich w/ pork butt and kosher pickles will seriously make you question what you were putting in your tank before
Best meal Just North Of The City: Wit and Wisdom in Baltimore would not only destroy me in Mad Libs, but also outclass my taste buds with a bison tartare w/ Heinz consomme & bone marrow
Best Late-Night Eats: New Big Wong. This Chinese restaurant is consistently graced with the presence of post-shift DC chefs filling their belly with curried noodles and crispy beef
Best Sandwich: From two hoagie fanatics, Taylor Gourmet does roasted pork, peppers, onions, and sharp provolone too perfection.
Best For Groups: Take your crew to the spacious bar at Robert Wiedmaier's Brasserie Beck, where raw bar oysters, moules frites, and Belgian beers will cover your delirium tremens
Best for Date Night: Women love Logan Circle and 14th Street. How do I know this? Because I've taken them to Cork restaurant & wine bar. Not only will they appreciate the real world wine descriptions, but they'll also swoon for the avocado crostini and goat-cheese cake
Best for Work Dinner: Perfect for grabbing a bite before hitting the company box with boss, Proof is known for their crispy Pekin duck breast and their collection of over 1,000 vinos. Just make sure the head honcho is picking up the tab
Best Mexican: If you have any room left after devouring table-side-prepared guac and house tortilla chips at Oyamel, you'll probably have to be thrown over a mule and carried out after finishing off their braised short ribs w/ tangy cilantro sauce
Best Tapas: Seated above all the other restaurants around it, for good reason, Boqueria sends out some seriously stellar tapas. I like to grab a seat at the bar and see how many spicey patatas bravas (crispy potatoes/ salsa brava/ roasted garlic allioli) and sea salted shishito peppers I can eat in one sitting
Best Drinking Brunch:L'Enfant Cafe & Bar's "La Boum" (which translates to "house party") locks the doors and blasts dance music while everyone sprays Champagne into the air like it was 1999, even though it's actually just 3 o'clock on a Saturda
Best Food Truck: Answering to lines that wrap around whole city blocks, the Red Hook Lobster Truck helps feed DC's never-ending addiction to lobster and shrimp rolls. Being from Maine, the owner has family connections that net him the freshest seafood on the coast
Best Pizza: The H &pizza bros may have gotten the biz down to simple counter service, but the made-on-the-spot 'zas are anything but ho-hum, especially my favorite: the Farmer's Daughter, w/ spicy tomato, hot sausage, and farm eggs
Best Indian: With two locations, Rasika is my favorite modern Indian here in DC. The West End version slings some serious young goat biryani w/ saffron & raita
Best BBQ: Disclaimer: I'm from North Carolina. When I'm looking for a good fix, I head over to The Standard, where I squeeze into a picnic table, hum Carolina In My Mind, and chow down on their pulled pork.