Ah, the Washington, DC steakhouse... nothing says "DC power lunch" like a bunch of lawyers and lobbyists housing 24oz, dry-aged porterhouses. While the steakhouse may be a bit... overdone (ba-dum), lately it seems like there's a new steakhouse opening every other month here. But a few of these steakhouses are simply a cut above the rest (OK, yeah, we'll show ourselves out). We've rounded up all the old standbys, and welcomed newcomers that really sear their steaks to perfection.
Georgetown
Executive chef Joe Palma offers one of the most extensive selection of steaks, including dry-aged, grass-fed, corn-fed, and Japanese wagyu beef. Be warned, though: it's the kind of steakhouse where a trio of steak cuts can set you back as much as three figures. For something a bit more reasonable, try the 35 day-aged, 18oz New York Strip with truffle butter.
Downtown
This place has one hell of a weekend deal: hit up Del Frisco on a Sunday, when the $55 prime pair Sunday menu includes an 8oz hand-cut filet paired with a crab cake, scallop, or shrimp dish, and a choice of a salad or sides like chateau potatoes, spinach supreme, and cajun corn.
Capitol Hill
At Charlie Palmer Steak, chef Jeffery Russell is just as obsessive about his garden as he is his beef. There are more than a half-dozen cuts available. Plus, this place is hyper-local: the chef sources many of his kitchen ingredients from a community garden that he manages in Alexandria.
Downtown
The Prime Rib is where your grandfather ate steak. It's also the place with dark corners, dramatic mood lighting, waitstaff in tuxedos, and a piano that is actually played by a human, like you see in restaurants in movies. If you're here, you're ordering one thing: the prime rib, which will take up the entire plate.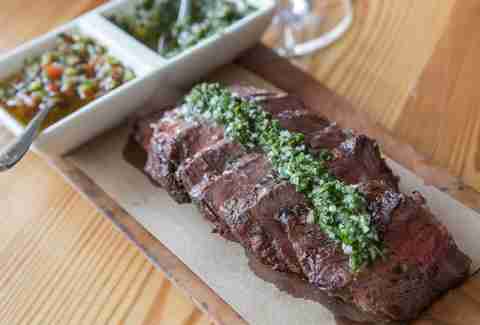 Downtown
For another parilla-inspired steakhouse, chef Jose Garces at Rural Society (inside the Loews Madison Hotel) serves up hunks of Uruguayan beef. Options include chorizo sausage, tenderloin filets, skirt steak, hanger steak, and dry-aged New York Strip... you really can't go wrong.
Downtown
There are six different cuts available at BLT, but for over-the-top extravagance, the steakhouse offers four cuts of American wagyu. It's not just the steaks that make this place great, though: chef Marc Hennessy changes the menu each season, and for this spring, he's added sides like fried green tomatoes with chili remoulade, as well as marble potatoes with spring onions, oyster mushroom, and bacon broth... that's right, bacon broth. Bacon. Broth.
Downtown
Joe's isn't just for stone crabs. The restaurant also takes steak and wine pairings seriously. This month, the restaurant is doing a special sommelier series featuring wines from California wine country. From April 18-24th, wine director Kevin Bratt is pairing wines from Joe's Fisher Vineyards. Pair them with the surf & turf: the filet Oscar with Alaskan king crab, asparagus, and bearnaise sauce. Old school classic.
Chinatown
The wood-fired parilla is one way to cook a steak, and at Del Campo, that smoke helps add another level of flavor to the meat. Go for the asado-style dinner, a traditional Argentine meal, and a sampling of meats: short ribs, chorizo, chicken, and flank steak. Dip each piece of steak in chimichurri sauce, provoleta, and salsa criolla.
Dupont Circle
The Palm prides itself on service to diners... and to many of the politicians and celebrities plastered on their walls. No dinner here is complete without a steak: try the bone-in rib eye with peppercorn sauce.
Downtown
Mastro's is one of the newest steakhouses to open in DC, and it brings an impressive size and scale to the steakhouse scene. Downside: this is the only place in town where goddamned mashed potatoes will run you $35. To be fair, these are lobster mashed potatoes, containing at least a pound of lobster, along with generous portions of butter and garlic.
Sign up here for our daily DC email and be the first to get all the food/drink/fun in town.
Tim Ebner is a food & travel writer based in Washington, DC. He'll have a 30-day dry-aged New York Strip with garlic butter, please. Follow him on Twitter.