These are DC's 8 best wings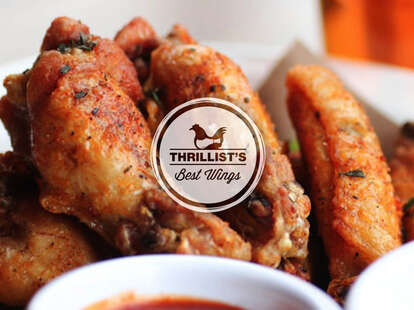 The Redskins season is about to start, so -- to celebrate definitely not starting Rex Grossman at QB -- we've decided to scour the city to find the eight best wings to eat while watching not-Rex lead the Skins to victory. Get some: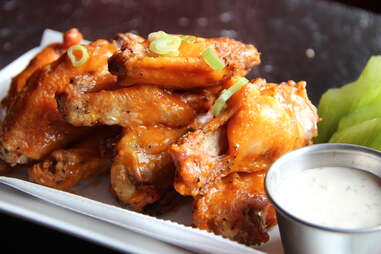 The Black Squirrel
Adams Morgan
It's hard to go wrong with twice-cooked, extra crispy wings dipped in your choice of homemade Sriracha hot-wing sauce or BBQ, and topped with their signature spice blend. Also, scallions!
Old Glory
Georgetown
Jumbo wings first get marinated in amber ale, Crystal hot sauce, and OG's secret BBQ rub, then are hickory-smoked on a wood grill and served w/ a Memphis BBQ or housemade Buffalo sauce.
Wingo's
Georgetown
Besides having probably the best website you've ever seen, Wingo's also does a darn-tootin' good wing; check out the "Double Trouble", and never, ever get them "Screaming Hot".
Hill Country
Penn Quarter
These're pit-smoked, rubbed down with cayenne pepper, and coated in their signature BBQ or a habanero hot sauce called "If You Can Stand It"... (You should try and stand it.)
Duffy's
Shaw
Yes, you start things here before a show at the 9:30 Club, so why not start a night here w/ them serious damn wings. And, for your girlfriend that hates wings, order the half-pound burger between two grilled cheeses, because she earned it.
Stoney's
Logan Circle
"Boss of the sauce since 1968." Folks, that's about it.
Meridian Pint
Columbia Heights
Here's what you do at Meridian: invite your vegan friend who clearly lives in Columbia Heights, pass them the celery & carrots from your plate, and then destroy these Buffalo-style birds w/ blue cheese.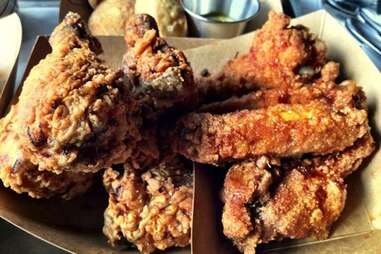 ChurchKey
Logan Circle
You already come here for the beer, but guess what, guy? They have serious wings that are prepared with Buffalo/Asian/jerk. Extra Bonus: Cloth napkins. LOVE CLOTH NAPKINS.