Inside The Block, Annandale's New Asian-Inspired Food Hall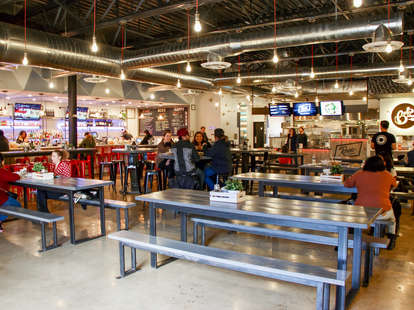 There's a hot new food hall in Annandale, Virginia, but you probably won't find it unless you're looking for it. The Block doesn't seem like much from the outside: The tiny storefront is nestled in a sparse strip mall, dwarfed by a giant parking lot and a towering Kmart next door. Inside, it's a different story. The 5,000sqft space houses six individual food, dessert, and beverage concepts, a spacious seating area, and a casual lounge. As its name suggests, the venue is meant to emulate the atmosphere of a neighborhood block party.
Arturo Mei, the founder and owner of SnoCream Company, is the catalyst behind the Asian-focused hub. After witnessing the growing popularity of his Taiwanese shaved ice (originally served out of a vintage school bus), he decided to expand. He saw a food hall as the natural next move, and a perfect opportunity for culinary entrepreneurs to offer unique cuisine without having to invest in their own brick-and-mortar. The idea is so promising that Mei has already been approached about recreating The Block in other Northern Virginia neighborhoods.
After about a year of development, The Block soft-opened in December 2016, with a grand opening set for the end of this month. Plans are already brewing for outdoor block parties, Asian-inspired street markets, and warm weather festivals. But before all that happens, acquaint yourself with the vendors who've currently set up shop.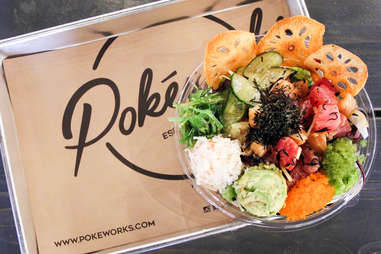 Poké, a marinated raw fish salad from Hawaii, is popping up all over DC right now, and with the wave not showing any signs of breaking, Concept Restaurant Group jumped on for the ride. Its Pokéworks franchise occupies a long stretch of The Block, with colorful proteins and toppings on display in a temperature-controlled counter. Poké is served in a bowl (with white rice, brown rice, or quinoa), in a burrito, or atop a green salad, then is customized with your choice of protein (salmon, tuna, tofu, chicken, and more), sauce, and add-ons like edamame, mango, and avocado. There's a host of options to add crunch, like the delicate (and photogenic) lotus chips. For those paralyzed by indecision, curated signatures like the Hawaiian Classic or Spicy Ahi are also available.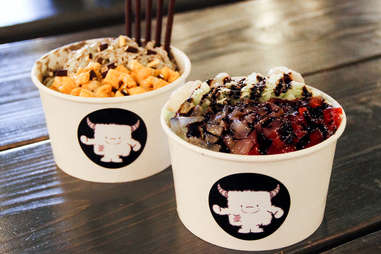 Mei's Snocream bus started it all, and now the almost-too-pretty-to-eat shaved ice is served daily out of a Block storefront. This food-nomenon is prevalent in Taiwan, where blocks of ice cream are rapidly shaved into paper-thin snow ribbons, and the serving size at SnoCream is fit for Americans. Pick a flavor or two (like classic green tea or the more adventurous taro) then choose from over 30 toppings, from Oreos and Frosted Flakes to passion fruit and mochi. Each massive cup of Sno is finished off with a drizzle of condensed milk, caramel, chocolate, or white chocolate. Wash it all down with another Taiwanese favorite: freshly steeped milk tea dressed up with boba, jellies, and more (we recommend the Thai).
Munch
This soon-to-open dessert shop will round out the sweet offerings at The Block with a menu of donut ice cream sandwiches, which are guaranteed to become the next viral dessert craze.
From Huy Nguyen, the chef and owner of PhoWheels food truck, this Asian comfort-food concept currently serves a mix of small and large plates, and eventually, pho. Expect shareable dishes like Taiwanese fried chicken nuggets, bacon frites, and grilled street bread plus larger rice and noodle bowls, and sandwiches with grilled chicken, crispy pork belly, or beef brisket.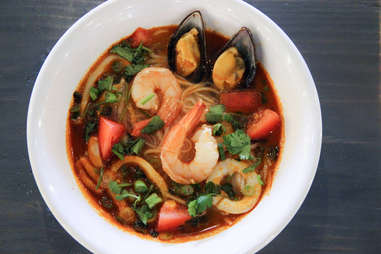 At Roots, owner Chef J (he prefers a modicum of anonymity) goes beyond pad Thai and emphasizes dishes that are typically served at food carts in his family's home country. He went on research trips to Bangkok and drew on his grandmother's recipes to create a menu featuring braised pork, green chicken curry, and grilled meat skewers. For now, don't miss the Boat Noodle Soup, an herbal brown broth that engulfs rice noodles, ribeye, and meatballs.
Block Bar
The only spot in the food hall that serves booze is the Block Bar, where you'll find wine, beer, and cocktails, plus Asian-inspired bar food like fish sauce chicken wings and fries with uni cream and furikake. Crafted by Chef Nguyen of Balo, the small plate options include a kimchee Hot Cheeto Pie, which pays homage to Nguyen's childhood favorite Frito Pie. Expect happy hour deals during the week and half-priced wine on Wednesdays.
Sign up here for our daily DC email and be the first to get all the food/drink/fun in town.