Rare and Wild Spirits You Can Try at The Imperial in Adams Morgan
Since Jack Rose Dining Saloon opened on the south end of Adams Morgan in 2011, it has become one of the most heralded bastions for whiskey in the world. Not only is it renowned for its bottle count (in the thousands), but also the caliber and discernment of its curation. Owner Bill Thomas has been on a feverish hunt for the most sought after vintages and obscure releases for more than 15 years to satisfy whiskey enthusiasts, curious novices, and veteran collectors alike, who all flock to Jack Rose in droves to tick off their bucket list.

"Jack Rose has been one of the major forces raising prices on vintage bottles nationally," he says, "And we're pulling tens of thousands of bottles out of circulation." That simultaneous pressure upwards on demand and downwards on supply of whiskey has been a defining part of Thomas' approach to the upcoming sister project just a few doors down: The Imperial.
The Imperial is slated to open in just a few weeks, after several torturous years of development, and Thomas is looking beyond the first year into five -- even 10 -- years down the line. Acting as a complement to the dark wood and intimate aesthetic of Jack Rose, this new spot is filled with bright light, white marble, and tropical green accents.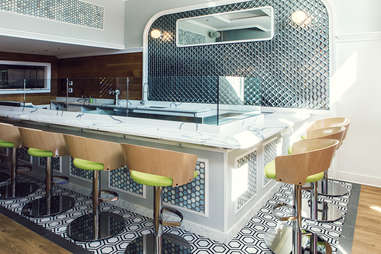 But, like its sister bar, The Imperial will feature an expansive list of vintage and obscure bottles, but take a more varied approach with spirits such as rum, brandy, and Chartreuse. Thomas hopes to continue and educate drinkers in the same way. "I think what happened with Jack Rose is going to happen again," he said. "Cocktails are an open calling card to other spirits."

Beyond the drinks, The Imperial will also feature a varied a set of service areas. The first floor will house the restaurant headed by Chef Russell Jones, who has crafted a seafood-forward menu that Thomas describes as "Mid-Atlantic through the lens of Southern France." The menu will include creative seafood options like lobster imperial, seasonal vegetable-forward plates, Koji-aged steaks, and handmade pastas. The raw bar will pull double-duty as a lunch sandwich counter during the day and a rooftop bar area overlooking the chaotic U St-18th St.-Florida Ave. intersection for the ultimate people-watching.
The basement will see the return of beloved cocktail bar Dram & Grain headed by Andy Bixby, which will have an expanded footprint and new tasting menu. The wine program, headed by Morgan Kirchner that Thomas describes as "more creative" than the list at Jack Rose, will incorporate a full complement of vintages that Thomas has collected along the way.
The Imperial is on track to open by the end of the month and spirits nerds would do well to check out the early menus to catch some of the most interesting bottles in Thomas' arsenal, but it is looking like there will be more than enough to warrant repeat visits.
Ten years ago, the idea of a massive saloon dedicated to a single spirit was not as much of a sure thing as it is today. Since then, both the whiskey boom and the cocktail revolution kicked into high gear. "Now, we are dealing with the most educated consumer of all time." said Thomas. "People began to find that they like other spirits, like gin or Chartreuse or rum, neat." It's this broadening of the collective palate that is driving the Imperial's beverage program.
The first year of the Imperial will be about stocking vintage bottles. Thomas has amassed hundreds of bottles of vintage spirits over the past 15 years (mainly from private collectors), with some dating back to the early 1900s. Each week, Thomas will curate a list of around 200 bottles, with the beginning lists leading with the best examples right off the bat. Take the 1930s Old Constitution brandy made with pre-WWII apples in California, yellow Chartreuse from the '50s, or bittersweet French aperitif Amer Picon that's rarely available outside of France. In many ways, guests will be able to drink through history.
"As we get into these old bottles, it'll be trial and error as we open bottles and determine what's good enough to serve." Like with a circa-1960s Apple Jack, Thomas understands enough about the history of producers to know when something is a good bet. "A lot of it will be us opening bottles and seeing what to do with it on a weekly basis. We're going to find some that are amazing neat, some that are better as a component of a cocktail, and some that simply aren't good enough to serve."
But following the first year or so, Thomas foresees the same phenomenon that occurred with Jack Rose. The market will react and the supply and demand of vintages will render it impossible to rely solely on sourcing out-of-production bottles. Thomas has been adapting to this in the whiskey market at Jack Rose by leaning heavily into cultivating other compelling products through private barrel picks, with acclaimed distilleries like Willett and Buffalo Trace. He intends to do the same at The Imperial with a project already underway with brandy distillers Copper & Kings.
"We have a lot of crazy collaborations in mind," Thomas excitedly explained. "These experiments could take a year or five years. The time and investment we put into the whiskey list at Jack is the same we'll do with our spirits projects at The Imperial. We're going to take all the friends we have and create the justice league of spirits."
Sign up here for our daily DC email and be the first to get all the food/drink/fun in town.