Call it a culture or a cult following -- &pizza is so much more than a squad of pizza shops serving oblong pie throughout the DC metro area. What started as just one shop on H Street NE has now blossomed into eight &pizza locations, with at least seven more planned for 2015. The secret to its success is in the details, so we dug deep and found 10 things you probably didn't know.
1. They know you're going to mess the name up
&pizza co-owner Michael Lastoria admits to picking a name that was bound to get bungled. Fortunately, he and his business partner Steve Salis get a kick out of folks trying to draw or say "ampersand." People are also tempted to capitalize the "P" in "pizza." "A capital P is far too aggressive," Michael explains. We vowed to get it right every time. Especially since Michael and Steve spent two years trademarking it. There were other contenders: three names of the restaurant's signature pizzas were also in the name hopper, but mum's the word on which ones. We're pretty sure "Gnarlic" wasn't one.
2. The very first & wedding will happen in March
Pie Day is a very big deal this year, because the symbolism doesn't stop at 3.14. It's 3.14.15! If you need further explanation, consult the person you cheated off of in middle school math class. Katie Hendrickson and her fiancé Michael Moyer are seizing the moment by getting married on March 14 in front of the & symbol at the &pizza U Street location. "For starters, it's Pie Day and we love pizza," Katie says. She is, by the way, a middle school math teacher. "But the & symbol is also a perfect representation of coming together." Hopefully their marriage will be full of Kiss & Fire (orders).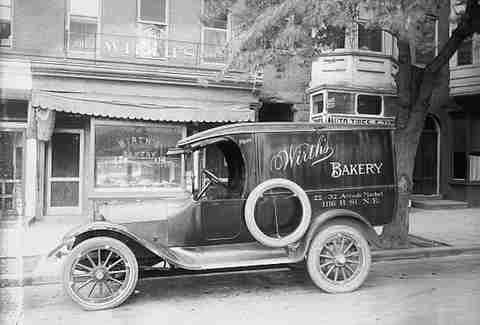 3. The H Street shop was a bakery
Steve and Michael are very serious about the spaces they transform into &pizza shops. While the menu and assembly line remain the same, each location is unique to its neighborhood's past and present. Take the OG of &pizza -- the H Street location. Back in the early 1900s, it was Worth Bakery. It seems cranking out dough at 1118 H Street NE is a bit of a tradition. Look for the picture hanging in the shop on your next visit and have a circle-of-life kind of moment.
4. They pizza bomb
Imagine you're at a concert or a wedding and all the sudden there are &pizza boxes as far as the eye can see. Things start to blur and unfold in slow motion as the crowd realizes free pizza just arrived. Michael and Steve refer to this habit of theirs as "pizza bombing." It started with a woman who had gone over-budget for her wedding, and was left a bit short on catering. &pizza delivered in the best possible way. Other pizza bombings have occurred at The Black Cat, when Macaulay Culkin performed with his band, The Pizza Underground, and at AT&T Best of Washington Happy Hour at Bethesda Row.
5. It took months to develop the conveyor belt
Assembly-line ordering may not be new (let's be honest, you've already had Chipotle this week). But &pizza's conveyor belt technology is a step towards cutting-edge. Steve and Michael discovered the machinery in Texas and then experimented with it in a West Chelsea art studio for months. "Picture us with a beer in one hand, and a stopwatch in the other as we figured out how to cook pizza in a timely manner to see if our business model would work," Michael says. Fortunately, members of the New York City-starving-artist community were the beneficiaries. Steve and Michael invited them in to eat their successes and failures 'til they got it right.
6. DC was a choice
Steve and Michael's business bromance began in New York City. Michael had a restaurant in Soho and Steve was running a restaurant consultant firm. They became buddies in 2006, and the &pizza idea was born in 2010. But, New York wasn't the answer. DC was. "We were blown away by the city, how emerging it was, both culturally and economically," Michael says. "The best decision we made was to come here." They were worried about the stigma of coming from the Big City Up North, but Michael says the H Street NE community was friendly because they weren't pricing people out.
7. There's a lot more than just pizza being made
Perhaps you're aware that &pizza makes its own cheese in-house. But, that's not all for these passionate overachievers. They also makes the clothes worn by employees, from button-downs and sweatshirts to beanies and beyond. In 2015, Michael and Steve will also roll out & Wine. The red will be a Paso Robles Meritage, and the white a Central Coast Chardonnay. Still more, they're working on leasing land in California to grow their own tomatoes to lessen costs and guarantee satisfaction with the crop.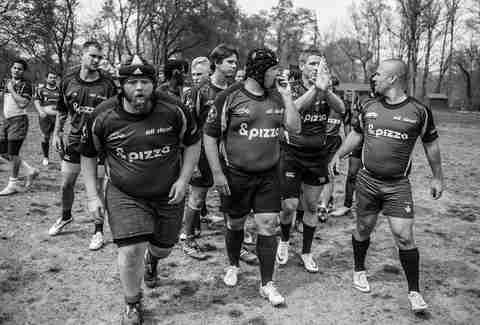 8. &pizza's charity efforts include some unique sports sponsorship
&pizza is so serious about supporting the community that it launched #andccharity, a multi-faceted philanthropic arm. Its very first sponsorship was Gallaudet University's all-deaf rugby team (the first one in America!). In addition, the "Buy One, Feed One" program is always up and running. Look for the starred signature pizza on the menu. Purchasing this pie means the value of the pizza will go towards &pizza's cause for the quarter.
9. &pizza will pay for your tattoo
You're pretty much out of the game these days if you don't have a cool customer rewards app. &pizza takes it to the next level. Use your phone to pay and you'll earn swag and unlock new levels of loyalty (yes, this sounds like Nintendo). Reach the highest level, "Maverick," by spending $1,500. At this point, &pizza will pay for your tattoo at British Ink Tattoo on H Street NE. Ideally, you're getting an ampersand tat, but &pizza will pay for anything that can be completed in a three-hour session.
10. There's a tribe called... &pizza employees
The first six people to get an & tattoo were members of the &pizza tribe (the vocab used for employees). Perhaps then, the only thing better than eating &pizza is working for &pizza. A plan is even in place to build &university: a one-of-a-kind pizza training facility that sounds much tastier than college.
Where to find &pizza:
Bethesda: 7614 Old Georgetown Rd, Bethesda, MD 20814
Brookland: 666 Monroe Street NE, Washington, DC 20017
E Street: 1005 E Street NW, Washington, DC 20004
H Street: 1118 H Street NE, Washington DC 20002
K Street: 1400 K Street NW, Washington DC, 20006
Springfield: 6801 Springfield Mall, Springfield, VA 22150
U Street: 1250 U Street NW, Washington, DC 20009
Germantown: 19823 Century Blvd, Germantown, MD 20874
Coming soon: Barracks Row, Chinatown, Dupont South, Gaithersburg, Rockville, Reagan Airport, and Dulles Airport.
Sign up here for our daily DC email and be the first to get all the food/drink/fun in town.