6 reasons to get excited for DC's first all-Lao restaurant
Pad Thai is dead... long live pad Lao! Okay, maybe pad Thai isn't going anywhere, but one of the more overlooked Southeast Asian cuisines is finally having its culinary moment with the opening of Thip Khao in Columbia Heights. Named for the basket that sticky rice – a Lao staple – goes into, Chef Seng Luangrath (of Bangkok Golden in NoVa-fame) is taking her much revered Lao dishes from the suburbs to DC.
1. Forget the dessert cart, here comes the papaya cart
Papaya salad is a must-have with any Lao meal, and Chef Seng wants to bring the experience tableside, as though you're walking the streets of Vientiane (that'd be the capital of Laos, Carmen San Diego). This cart is packed with green (read: young) papayas and pushed directly to you, so you can decide how sweet and spicy you want your papaya salad. Doesn't get much fresher than that.
2. They're respecting the neighborhood's history
Back in the 1980s and 1990s, nearby Park Road was a small gathering spot for Lao refugees fleeing their home country. Chef Seng wished she had planned it when she took over Thaitanic 2's former space, but she discovered that historical nugget totally by accident. But to her, that's a serendipitous sign that the neighborhood is ready for some Lao influence. How things come full circle.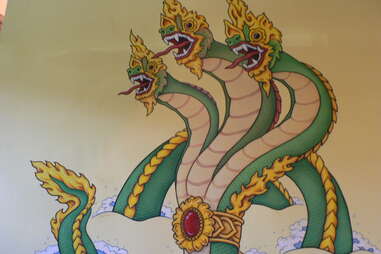 3. Three-headed snake!
The nāga is a multi-headed serpent with tremendous cultural significance in Laos. Friends and family were telling Chef Seng not to put it on the wall because it was "too scary"; she just thought it looked cool and went for it... because we can handle it.
4. Expect to be treated like a king
Yes, some of the dishes are inspired by what was served at the royal palace in Laos' old colonial capital, Luang Prabang. One of those kingly dishes will be awk lam, which is stewed eggplant & beef. And when was the last time you had purple sticky rice? Yeah, never.
5. A popular off-menu item is going full-time
The crowd-pleasing crispy watercress salad at Thip Khao is only available off-menu at Bangkok Golden. So, it's previously just been for those who are in "in the know", but now you just need to know how to read. This isn't a traditional Lao dish, per se; it's just something Chef Seng came up with on the fly using some leftover batter. She's as surprised as anyone about how popular it became.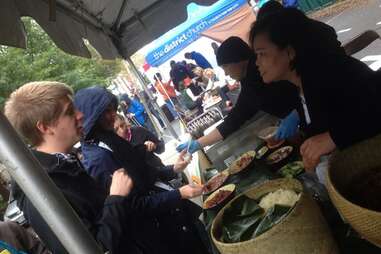 6. Jack Caminos is back
The mixology maven behind some recent DC ventures (including former Top Chef-er Spike Mendelsohn's speakeasy The Sheppard) is taking over Thip Khao's cocktail program. And while there will be some Lao-influenced cocktails (think sour & spicy), Chef Seng is excited about "beer Lao on the rocks". According to Seng, back in the day, Laos didn't have the most reliable power, so drinks were poured over delivered ice. Some beer snobs may not approve, but that's the authentic experience. And who's going to argue with Chef Seng?
Sign up here for our daily DC email and be the first to get all the food/drink/fun in town.