The Thrillist Awards: DC's Best Food & Drink of 2015
Courtesy of Bobby Spero
This year was big. Shaw sprouted faster than a Jayson Werth Chia Pet. We got a Momofuku. Duffy's came back from the dead. Fig & Olive poisoned people unapologetically. And RGIII lost his spot to Captain Kirk. But most importantly, we ate and drank really well thanks to newcomers and old standbys who've upped their game to keep up with what's bright, shiny, and new. These are the places that brought their absolute best in 2015.
Best restaurant
H Street NE
Day can turn into night at Maketto because, unlike any other restaurant in DC, this H St NE hotspot has a sense of place. You can shop, caffeinate, clack away on a keyboard pausing for bites from a bao, have a cocktail come 5pm, then stay for a Southeast Asian dinner under twinkling lights in a courtyard worth every penny of that $20 valet ticket. Maketto's genius is that it's both a destination and a neighborhood hub. And then there's the Taiwanese fried chicken, which deserves a bigger cult following than Chick-fil-A. Other creature comforts include fried oysters on a rolled egg omelette, wok-fried noodles, and a whole fried fish. Our deep dive on why we dig it.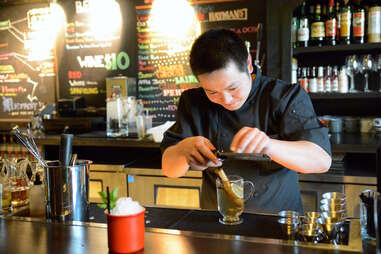 Best bar
H Street NE
Choose your own adventure at Copycat Co. Make it a laid back bar where you blindly trust the bartender to make you something apropos. Or, use the treasure map-like menu as a syllabus. In addition to making drinks so good they disappear in seconds, Copycat Co. gives helpful primers on classic cocktails from sours to mules to smashes and beyond. Not only that, but the professor (er, owner) Devin Gong cites his sources so imbibers know where his cocktails originally came from. We dig this transparency, and the dumplings, too. Yes, there are Northern Chinese potstickers, bao buns, and skewers all priced at $4 or less. How's that for drunchies? Sure beats soggy wings.
Best brewery
Alexandria
It's impossible to ignore the shipload of love Port City Brewing Co hauled in throughout 2015, starting with the beastly honor of "Small Brewing Company of the Year" at the 2015 Great American Beer Festival. The Alexandria brewery also won more medals for individual beers than Michael Phelps before he went off the deep-end, including Ways & Means IPA, Optimal Wit, and Monumental IPA. Pay attention to the brewery's fifth anniversary in February, because they'll be releasing Colossal 5, a British-style old ale. We're waiting with bated breath.
Best beer bar
Navy Yard
Bluejacket is the whole package, so excuse us for picking a brewery that doubles as a beer bar. They take 2015 for a six-pack of reasons: the dramatic space, the envelope-pushing beers, the sour program, the food, the new bottle shop, and the service. One of summer's great joys was sinking into cushy patio furniture with a full draft in hand. Beer director Greg Engert's racing mind is always making interesting concoctions, from a sour blond ale brewed with local plums to a cask ale called Coaltown. Start with the beers that stick around: Forbidden Planet, Lost Weekend, and Mexican Radio. Or, get experimental off the bat. You win either way.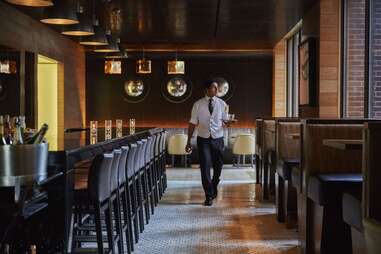 Best cocktail bar
Georgetown
We recently had a chance to sit in on an internal cocktail meeting at Bourbon Steak and can report it was as serious as whatever goes down at NASA. Every drink is next level thanks to new lead bartender, Torrence Swain. Eggnog? Oh yeah, that's coming in a National Lampoon's Christmas Vacation moose mug. Dirty martini? It has white truffles in it. Mule? They have six. You get the point. They're also doing a heavy amount of tableside showmanship. Order the Scotch-based "Monkey Business" with brûléed bananas and, in the words of Andy Cohen, watch what happens live.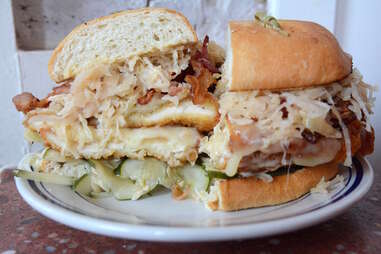 Best sandwich: The München Brötchen
Dupont Circle
If you prefer to dabble in dainty cucumber tea sandwiches, avert your eyes. In fact, go elsewhere because the sandwich of the year is a double-decker bus of chicken schnitzel with a one-way ticket to your stomach. The München Brötchen is a foreign passport with its Emmental cheese from Switzerland, spicy kraut made spunky with adjika hot sauce from Georgia, and Warsteiner mustard from Germany. Sliced garlic-dill pickles and applewood-smoked bacon complete the stack held together by a torta roll. Sure, every other plate flying out of the Duke's Grocery kitchen is a Proper Burger, but maybe it shouldn't be.
Best wings: Hog Wings
Bloomingdale
No brainer. Pork beats chicken as certainly as Rocky beats Drago in Rocky IV. The Prospect's hog wings are made from pork shanks that are braised for 24-hours before being flash fried and coated in some serious sauces: Thai chili (pictured), maple mustard, cognac BBQ, and beyond. They have the same stickiness brought by chicken wings, but with much more payoff. Each order comes with four hog wings; see how many you can plow through during a quarter on game day.
Best burger: The White Label burger
Navy Yard
Why would you order a burger at one of DC's best Italian restaurants? First, it tastes how victory feels. Second, it's an off-menu special, so you'll look like an insider in front of your friends when you order it. The secret is the wood-grilled patty made from a blend of short rib, chuck, and brisket. What goes on top barely matters because of the rich, gamey experience you're already having, but just for good measure, Chef Matt Adler adds Emmental cheese, fennel, onions, whole grain mustard, and rosemary aioli.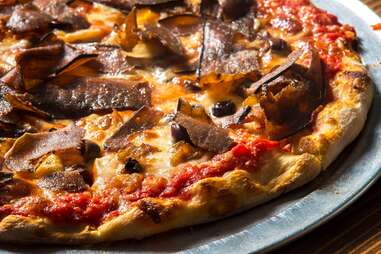 Best pizza
Multiple Locations
"You either like us or you don't -- you can go on Yelp and see," Pete's owner, Joel Mehr, tells us. Joel, dude, we love you, and anyone worth a damn does, too. Traditional New Haven-style pizza calls for a charred crust, which gets mistaken for being burnt. But Joel would know: his wife and business partner Alicia Mehr hails from the Connecticut town that brings together Yale students and working-class Italians from Naples (hence the a-beets pronunciation of Apizza). That's why all the pies are named for something New Haven-related, like the Boola Boola, named after the Yale fight song. The ingredients, along with that contentious crispy crust, make Pete's special. If Joel wouldn't feed it to his kids, it's not going on your pizza. Quick tip: eat it from the crust instead of the front corner.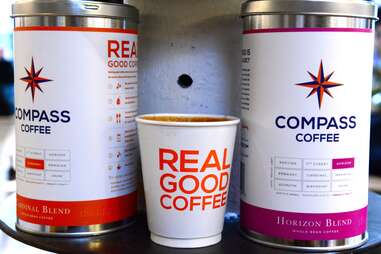 Best coffee
Shaw
Two Marines had a dream to put the motor oil coffee they drank during deployment behind them and bring the world the good stuff. Well, at least DC (so far). The consummate coffee shop now has two locations in Shaw (where else?) attracting DC's creative class on dates, working, or just reading tweets. Nothing beats drinking a fresh cup of coffee or an espresso drink while taking in the sights and smells of the brewing and grinding process in the background. Speaking of beans, they offer nine blends in light to dark styles, plus three single origin coffee varieties from Guatemala, Ethiopia, and Brazil. And the food comes from Glen's Garden Market -- a match made in hip DC heaven.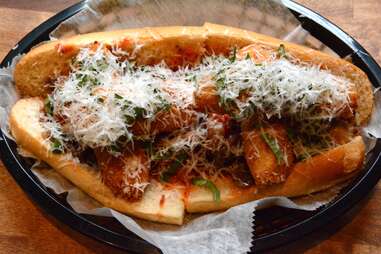 Best cheap eats
Dupont Circle
If Arlene Wagner is working the register, expected to get greeted like you're arriving at the Four Seasons instead of a sandwich shop. It's that kind of embrace that sets up the magic of Bub & Pop's. Every visit brings a new surprise. Oh, the pickle of the day is dragon fruit? Sure. The Pop's beef brisket has five-year aged Gouda from the actual Netherlands? Give it to me. The fried PB&J is dipped and fried like funnel cake and served with crème Anglaise? Why not. And those are just the usual suspects. Chef Jonathan Taub puts out crazy new specials every week like the Robert Lynch (pictured).
Best restaurant worth leaving the District for
Ballston
YOLO, so you might as well commit to an all-ramen diet. Yona can help with its four styles of Japan's greatest contribution to the culinary world: miso porky, tonkotsu, veggie, and umami-rich ja-jang. Each has its merits, so it looks like you'll be making four trips across the river. Before you start slurping, get some small plates from Chef Jonah Kim including a simple mound of apples and radishes with roasted sesame miso butter, dry-fried wings, an uni waffle, and smoked hamachi. The drinks are simple: four cocktails, sake, six Japanese beers, and a handful of wines (because it's Ballston). Take a look at your classy surrounding and you judge whether sake bombs are appropriate. (Please, no. Don't.)

Sign up here for our daily DC email and be the first to get all the food/drink/fun in town.
Laura Hayes is a DC-based food, drink & travel writer who also contributes to Washington City Paper, Food Network, Arlington Magazine, and others. Her favorite story from 2015 was about how to get a taste of home in DC. Follow her on Twitter @BTMenu.