You need to check out these delicious, meaty sandwiches from Mike Isabella's new shop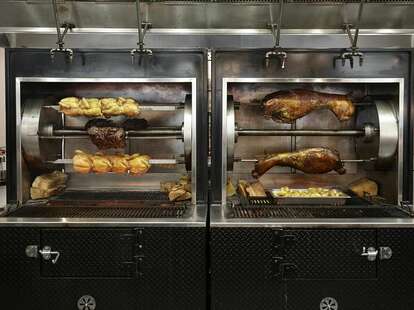 In the very near future, you're going to end up pointing at a sandwich and saying that it "ain't nothin' but a G thang, baby", because you'll be at Mike Isabella's G Sandwich Shop, eating one of his gloriously jaw-dropping hoagies packed with meat spit-roasted next door at Kapnos. Don't believe us, or the vocal stylings of Dre and Snoop? Well then, feast your eyes and mouth on these:
If you don't get it to go, take a window-booth seat. Or, if you eat like one of the animals you're about to devour, just maybe hide in the corner.
Piled up w/ pork collar, Swiss, pickles, and prosciutto cotto, the Cubano Panino is finished with the wartime French's favorite mustard: yellow.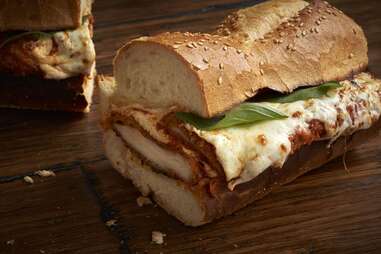 That's the Chicken Parm -- breaded cutlet with fresh mozzarella, tomato sauce, Thai basil, and a train of gravy made from chicken thighs.
It's not in a hoagie, but that's not a problem, as the Spring Lamb Gyro gets covered in tzatziki, romaine, pickled onion, and dill.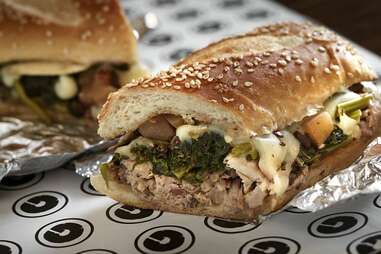 Editor's Favorite* -- Suckling Pig w/ mustard greens, spicy apple mostarda, and Provolone.

*Editor is a sucker for suckling pig.
One of the few things from Jersey you want to wake up to, the Jersey Mac is all duck egg, house-made Taylor ham, Muenster cheese, and duck fat English muffins.
Not unlike Sylvester Stallone in every movie he's been in, including that one from the '70s he doesn't talk about, this Italian Hero is pretty meaty, thanks to salami, coppa, and prosciutto.
Meatball Sub: Beef and pork meatballs, fresh mozzarella, Thai basil, and a pork gravy made from the collar will cause pretty much anyone to fall back on that couch with a hellified gangsta' nap.