Kapnos, which translates to "smoke", is Mike Isabella's ode to Northern Greece's smoking habits -- but before you go all TRUTH campaign on us, just know you'll be inhaling the sweet smell of charred & wood-fired meats while surrounded by drapes, cushions, and millwork panels, all creating an atmosphere reminiscent of mountain homes & gypsy caravans. Wait. Didn't you have your wallet a minute ago?
Recommended Video
Stay Classy This Winter With a Spiced Pear Tom Collins
Fill your lungs with glorious smoke from the hickory-fired rotisserie grills while at the 10-seat chef's table, where you'll also be able to watch Mike's team slice and serve whole animals, ranging from suckling pig, to baby goat, to lamb.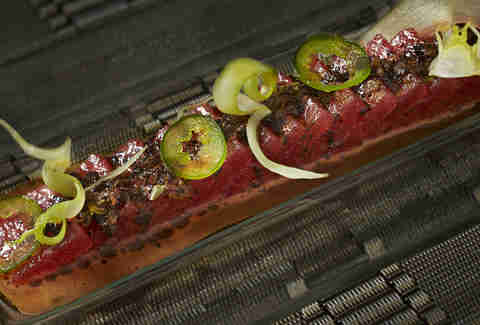 The mezze menu -- Greek- and Mediterranean-influenced shareable plates -- is divided into spreads, raw, cold, garden, and ocean. This here is the cold watermelon (urfa chili/ rind/ fennel granite).
You'll enjoy eating the spread of melitzanosalata (smoky eggplant/ roasted peppers/ walnuts/ feta) a lot more than trying to order it out loud.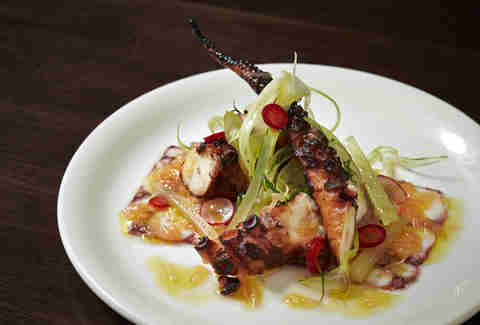 Succumb to the peer pressure of ordering this ocean mezzo -- charred octopus w/ grapefruit, fennel, and cucumber -- but just be warned: that adorable child tugging on your shirtsleeve is actually removing your watch.
Previous Venue
Next Venue
Venue Description
1. Kapnos
2201 14th St NW, Washington, DC 20009
Chef Mike Isabella's 14th Street Corridor restaurant is a go-to for upscale but reasonably priced Greek food. Open for dinner nightly and brunch on the weekends, Kapnos serves a small-plates menu of spreads, mezze, phyllo pies, and whole roasted meats like lamb, goat, duck, chicken, and suckling pig. There's plenty of seafood as well, given that wood-fire grilled octopus is the house signature. The wine list is stacked with red and whites from Greece and kegged lemonades.