Mt. Pleasant
The difference is in the details at this Mt. Pleasant neighborhood pizza joint. Matt Culbertson smokes his own brisket and makes his own pickles, which thankfully both ended up on this pie. He gets inspiration from Google image searches, but who are we to judge when his New York-style pizza is creative and made from fresh ingredients? We dig the Adams Mill (pies are named after nearby street names) with mozzarella, house-cured bacon, Gorgonzola, and spinach. Visit with friends on a Wednesday when a pitcher and a pie are $30 and never pass up a $10 Sazerac.
Adams Morgan
With a name that screams laid back, you won't find much unnecessary fuss at Mellow Mushroom. You will, however, find pizzas with names that remind you of that summer when you traded a meaningful internship for concerts. We're referring to the Kosmic Karma and Magical Mystery Tour pies. Those are tasty, but we really like the Red Skin Potato Pie with roasted red potatoes, bacon, caramelized onions, two cheeses, and drizzles of sour cream and spicy ranch dressing. Lots of craft beer will help you wash down all that pizza (and all those music festival memories).
Downtown
When most people heap praise on City Tap House, it's for its 40+ craft beers on draft plus about the same number of bottles and cans. But what about beer's long-time best friend? The pizza at City Tap House deserves some attention, especially the Three Little Pigs with chorizo, fennel sausage, guanciale (pork jowl), broccoli rabe, and slightly stinky fontina cheese. The house-made dough proofs overnight before being stretched into an oblong shape and topped with tasty treasures like truffles.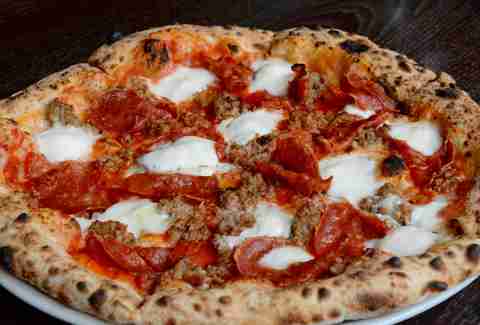 Logan Circle
The wood-fire oven at Posto acts as the restaurant's heart and soul. Located in plain sight, eaters can inhale the embers and ogle the exiting Neapolitan-style pizza. The crust has just enough bubbles that you'll be tempted to play Whac-A-Mole while you eagerly wait for your pie to cool down to a devouring safe temperature. Chef Massimo Fabbri uses only mozzarella di bufala straight from Campania, Italy as the base for all six of his pies, including the Piccante with tomato sauce, spicy salami, and Italian sausage. We also dig the Bismarck because runny egg plus truffle oil equals excellence.
Dupont Circle
Mariah Carey's "Always Be My Baby" is playing and you couldn't be happier because a really hot pizza and a really cold Peroni just arrived at your table. Even though the song makes you think of breakups one, two and three. Throwback playlist aside, this little charmer is an easy weeknight meal. Pizza No. 17 stands out because it takes the unconventional approach of hiding toppings underneath the cheese, keeping everything nice and warm until you finish your 8- or 12-incher. Outdoor seating also helps. Though a little salty, we like the Spicy Prosciutto and The Huxtable.
14th Street
Pizza at Piola can be delightfully simple or as luxe as a Brie-and-beef-carpaccio-topped pie, but nothing tops the Ragusa pizza. We're guessing the masterpiece topped with bacon rolls and filled with Gorgonzola cheese is a hat tip to Tony Siragusa. Try the Ragusa or any of Piola's 43 thin-crust pizzas on the roof deck, or get a good deal during "pizza time," when 12in pizzas are discounted to under $8 Mon-Fri from 4-6pm.
Chinatown
Mom-and-pop shop enthusiasts who dig Neapolitan pizzas will find a happy home at Ella's Wood Fired Pizza -- especially before or after a Verizon Center event thanks to its super-central location. Choose from 18 signature pizzas like the Genovese (pictured) with pesto, Parmesan, potatoes, and prosciutto, or build your own from a list of toppings that would make Giada jealous. The crust is slightly smoky thanks to the wood-burning oven, and pies are offered in 10 or 16in sizes.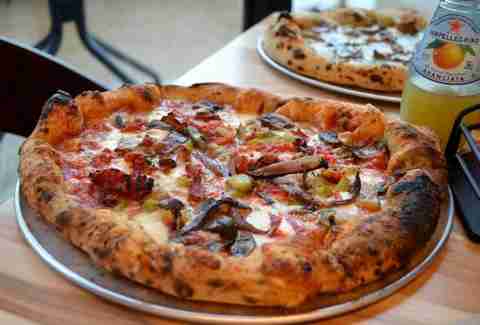 Foggy Bottom
Someone's been keeping a new restaurant at the Watergate a secret. Dare we say Deep Throat style? Campono from Bob Kinkead offers 16 creative pies divided into two categories: Pizza Bianca and Pizza Rosso. The Levante brings a bite of the Eastern Mediterranean with its spicy ground lamb and lamb sausage, plus scallions, tomato sauce, and mint. Traditionalists can stick to the well-executed Margherita or build their own pie. Since you're going to want a nap afterwards, you should probably toss in an affogato -- two scoops of gelato with espresso and whipped cream.