DC's 10 Most Underappreciated Restaurants
Laura Hayes/Thrillist
Laura Hayes/Thrillist
Things that are repetitive: Lil Jon's song "Turn Down for What," playing the slots, and the constant noise about the same new restaurants. What about places that are a little older (wiser?) or less buzzed-about? They deserve some love too, especially because you might actually be able to get a table there. Bypass the line by including these 10 spots in your plans.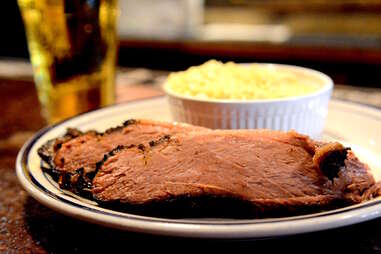 Adams Morgan
While you were been reading rave after rave about DCity Smokehouse, another BBQ giant was flexing its muscles under Chef Logan McGear. Smoke & Barrel is the complete package: it smokes the hell out of brisket, chicken wings, pulled pork, and duck, and boasts 24 rotating craft beers and 170 whiskeys (primarily bourbon). Venture downstairs where flat-screens abound and Mortal Kombat is an option. "There's even a Nintendo, but you have to blow in it," Logan says. Finish your meal with his grandmother's sweet potato donuts served in a brown paper bag. Pro tip: draft beers are half-off on Wednesdays.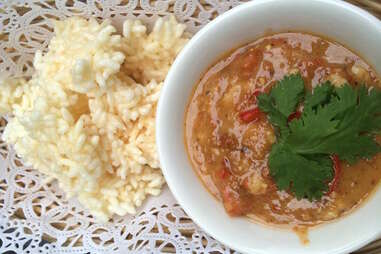 14th Street
If you drew a Venn diagram of all the Thai menus in DC, Baan Thai's would overlap with others the least. It dares to go where others don't in terms of heat and tang, yet it hasn't landed in GQ like Little Serow. The concept, housed inside Tsunami Sushi, evolved out of staff meal where more authentic dishes were devoured by Thai employees. Leading the charge is a chef whose name is as awesome as her food: P'Boom. You need to try her crispy rice cakes with chicken and shrimp (pictured); chicken stuffed in tapioca skin; stir-fried pork picnic; and coconut griddle snacks for dessert. Oh, and Baan Thai's chicken wings give Bonchon true competition.
Chinatown
Nopa nabbed a new chef at the start of the year and he's had time to settle in and procure a menu that has such wonders as a diet-annihilating smoked pork & fried oyster po' boy. Chef Matt Kuhn's culinary roots stem from Charleston, SC, positioning him perfectly to warp the menu from a little French to a little Southern -- all for the better. His basil-hued deviled eggs, spicy lamb meatballs (pictured), and burger topped with house-made pimento cheese whiz are can't misses before a Verizon Game event.
14th Street
You could join the tortoise shell glasses-wearing, skinny jeans-sporting masses fighting with the passion of Braveheart for a table at nearby pizza tossers (cough, Etto and Ghibellina, cough). Or, you could snag a patio table at Posto with relative ease and have a civilized meal of wood-fired pizza and inventive pasta. A step into the threshold of this more-casual sibling to Ristorante Tosca and you're hit with the smell of smoky embers and tomato sauce that's been building flavor all day. The picante pizza and spugnole pasta featuring morel mushrooms and ramps are the best bets.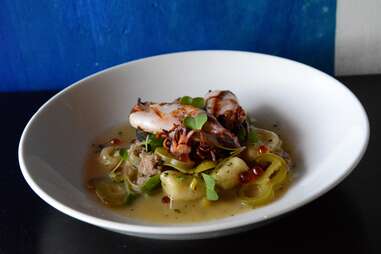 U Street/14th Street
Bar Pilar gets a lot of limelight for its cocktails and unbeatable make-out corners, but what about the food? It can keep up with the competition on 14th Street, and the prices won't have you financially weighing ordering dessert (get The Elvis!). Sure, there's bar food like "Crackaroni n Cheese," but there are also refined plates like grilled calamari with veal sausage, tuxedo gnocchi, fumet, and salmon roe. The Hemingway hangout keeps cocktails at a cool $10 despite exotic ingredients, like the "Plethora of Pinatas," made with gin, yuzu, and Thai basil.
Foggy Bottom
Let's face it, no amount of Peruvian nuevo sol slipped discretely to a host at China Chilcano can help you land a table at José Andrés' latest thanks to all the buzz. Enter El Chalan -- a downstairs den buzzing with authentically accented servers who've been bringing ceviche, aji de gallina, and cinnamon-topped Pisco Sours to tables since 1981. A meal among black-and-white photos of Lima, Cusco, and Machu Picchu begins with dense, warm bread and hot sauce, before accelerating into soul-satisfying entrees like Peruvian seafood paella or lomo saltado. After the traditional Pisco Sour, try something more adventurous like the Chicha Sour made with the syrup and juice from purple corn. Only three dishes surpass $20.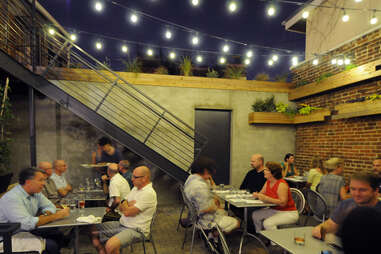 Columbia Heights
The lamb ragu alone makes Maple worth a visit. Co-owner Lori Robertson says customers would riot if the dish ever vanished. The neighborhood restaurant's rustic Italian menu is reminiscent of The Red Hen, and also has a few surprises like a gourmet panini bursting with short ribs, Fontina, and pickled onions. Spend date night on the Maple patio sipping on build-your-own flights of wine or an "Italian Shandy" made by spiking Port City Optimal Wit with Aperol and lime. Pro tip: bottles of wine are half-off on Tuesday.
Dupont Circle
A few paces into Firefly and you'll feel like you're entering the woods that serve as the backdrop to a fairytale (only without Meryl Streep in a desperate role). That's because of the tree in the center of the dining room and charming back-to-nature décor. This American comfort food spot that doubles as a date night no-brainer gets creative with cocktails and is about to get an enlightened new menu thanks to its newly appointed chef, Matt Hagan. One of his plans is to take the restaurant's rooftop garden to the next level -- possibly by growing corn.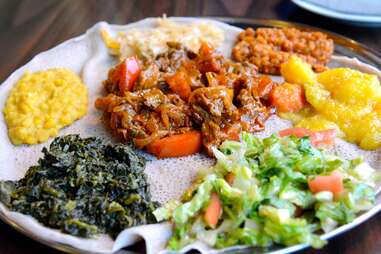 Adams Morgan
Dukem, Meskerem and Ethiopic get a lot of love when it comes to showing off DC's "Little Ethiopia" side. But they're not the only shows in town. The house is always packed at Keren, and for good reason. It might be the happiest restaurant in DC -- everyone is smiling, even those eagerly awaiting a table so they can chow down on the Keren Special or a piping-hot bowl of ful (a pile of mashed fava beans topped with garnishes reminiscent of American chili). Breakfast is served so long as its open, and delivery is an option if you can't make it in.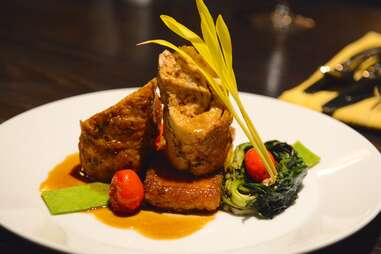 Georgetown
There's another white-tablecloth restaurant down the street from Marcel's that's quietly producing farm-to-table food. Unlike some spots that broadcast their local philosophy as prominently as a full-back tattoo, Chef Nate Lindsay at Jardenea does it because it feels right. Start dinner with a bacon Old Fashioned (made with espresso Simple Syrup) or a maple Manhattan before trying the pork belly BLT, lump crab & avocado tian, airline chicken (pictured), and lobster ravioli that clocks in at $20 more affordable than Fiola's version. The service is warm and the food is fine-dining, yet unfussy.
Sign up here for our daily DC email and be the first to get all the food/drink/fun in town.