The 12 most surprising places a vegetarian can eat at in DC
Screw making a meal out of sides and stealing the celery sticks off your buddy's wing order. Vegetarians are people, too (really!), and they deserve better. Surprisingly, some of the most meat-centric restaurants in the city also crush it when it comes to from-the-garden goodies. Because these spots showcase the best of both worlds, groups of friends with herbivores and carnivores can happily coexist, like inThe Land Before Time.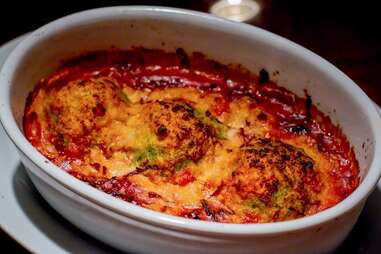 Eastern Market
Known for: Fresh pasta and hand-carved steaks
Number of vegetarian dishes: 31+
Highlights: Fresh ricotta and spinach balls baked in tomato sauce with cheese (pictured); risotto with Gorgonzola and dry vermouth; fusilli with a vegetarian ragu
The majority of pastas at this cozy Florentine restaurant are vegetarian, making multiple trips necessary to sample through them all. If you can wrangle a companion, opt for the tasting of five vegetarian pastas for $15 per person. Two or more people must participate. The sampler is an RX for leaving fat and happy.
Adams Morgan
Known for: Sushi, donburi, and Japanese small plates
Number of vegetarian dishes: 24+
Highlights: Vegetable tempura; hot udon noodles with sansei mountain vegetables; shigi yaki eggplant; oboro tofu
Too often vegetarians aren't privy to a table-side show — like a dramatic filleting of Dover sole. At Perry's, vegetarians can get in on the action by ordering oboro tofu. The warm, silken tofu is prepared right in front of you, and is the ultimate vegetarian comfort food.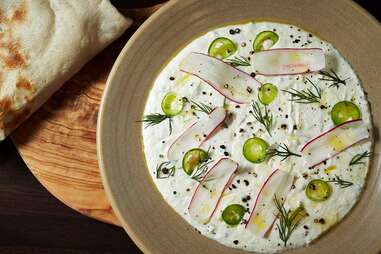 14th Street
Known for: Wood-roasted goat, lamb, and suckling pig
Number of vegetarian dishes: 22+
Highlights: Greek fries; Winter squash phyllo pie with kale, chestnut, and cranberry; falafel; dips and spreads
Go ahead and order the winter squash phyllo pies for an appetizer and dessert — you won't be the first, or the last. Those parcels of love are worth it. As are the nine different garden mezze that make seasonal vegetables the star.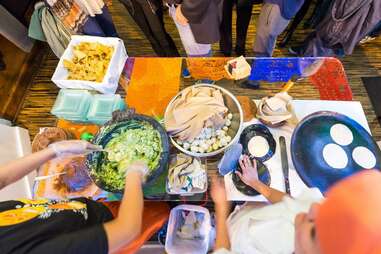 Penn Quarter
Known for: Tacos, mole, tequila
Number of vegetarian dishes: 20+
Highlights: Plantain and butternut squash fritters; fries coated in mole poblano topped with Mexican cream and queso fresco; wild mushroom tacos
Look WAY past those famed grasshopper tacos to find a myriad of veggie treats utilizing cool ingredients like grilled cactus paddles, Roy Burns Farm Mexican corn truffles, and wintery fruits & nuts. Oh yeah, then's there guac for days.
Cleveland Park
Known for: BBQ and burnt ends
Number of vegetarian dishes: 16+
Highlights: Fried green tomatoes; tofu lettuce wrap tacos; smoked tofu satay
Real talk — this restaurant is as brisket-y as it gets, but bear with us. They manage to capture smoky flavor in their tofu dishes, which is no small feat. And, this is the one time that you WANT to make a meal out of sides, because they're that good: goat cheese and smoked poblano hushpuppies; candied yams topped with mini marshmallows; Hondo's Mom's secret recipe potato salad; and tangy collard greens.
Chinatown/Dupont Circle
Known for: Dumplings for days
Number of vegetarian dishes: 16+
Highlights: Spicy basil dumpling; edamame and truffle dumpling, vegetable bun; mixed vegetable sticky rice
They make it real easy for vegetarians to make a killing (sorry!) at this dumpling authority. There are almost too many choices, so to narrow it down, just order fluffy vegetable bun after fluffy vegetable bun until you have to tap out.
Capitol Hill
Known for: Farm-to-table dining, oysters, and their porchetta-studded OMFG Dip
Number of vegetarian dishes: 14+
Highlights: Anson Mills gold rice with winter squash puree, Morning Frost Camembert, Vincotto, and green apples; beets with cashew "cheese"; fried green tomatoes
Usually taxidermy isn't a good sign for vegetarians, but look past the beasts and keep walking. You'll be in for a treat. The entire Markert's Market section is enticing, from fried green tomatoes to sautéed spaghetti squash with local honey, feta & pine nuts. Bolster your meal with snacks and a cheese board.
Mt Vernon Square & Adams Morgan
Known for: Sizzling hot bowls of bulgogi, dolsot bibimbap
Number of vegetarian dishes: 13+
Highlights: Egg-dipped tofu and eggplant; tofu dolsot bibimbap; Vegetable mandu dumplings
Give the Mandu menu a close look, because many of the dishes that contain meat or seafood in the ingredient list can be made vegetarian -- like the chap-chae noodles or rice cakes simmered in gochujang. But let's be honest, you're getting the tofu dolsot bibimbap, because you don't have to be a meat-eater to love sizzle.
Columbia Heights
Known for: Burgers and BBQ
Number of vegetarian dishes: 13+
Highlights: Veg & Egg; butternut squash dip served with warm pita & sweet potato chips; falafel platter with two sides
KBC's elevated bar food includes great options for veg-heads, but the clear winner is the "Veg and Egg." The dish combines a local duck egg, bok choy, quinoa, a seasonal vegetable stir-fry, and a red wine reduction. If you want something fried, there are falafel bites and big bowls of... fries.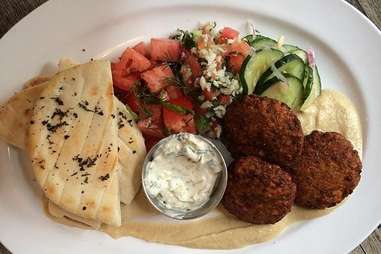 Dupont Circle
Known for: Hooking DC up with legit Jewish deli classics like towering, melty Reubens
Number of vegetarian dishes: 12+
Highlights: Potato Latkes with apple preserves & sour cream; falafel platter with hummus, cucumber salad, pickled cauliflower, quinoa tabbouleh & warm pita; mushroom pierogies with French onion dip
Okay, maybe your Jewish grandmother doesn't understand your vegetarian ways, but fortunately, when she comes to visit you can take her to DGS. She can load up on lox while you take down latke after latke.
Penn Quarter
Known for: Charcuterie and creative cuts of meat
Number of Vegetarian Dishes: 10+
Highlights: Baked fermented paccheri with kabocha squash, walnuts, sage brown butter, and ricotta salata (pictured)
Pass that charcuterie checklist along and head right for the page of the main menu marked with a cute little vegetable. This is your WHEELHOUSE of deliciousness: Brussels sprouts slaw; pickled celery root with shaved matsutake and tamari butter with shiso and scallion; roasted mushroom + kale salad with salsify, shallots, goat cheese & Pedro Ximenez vinaigrette.
14th Street
Known for: Tacos, ceviche, and tequila
Number of vegetarian dishes: 9+
Highlights: Crispy Manchego cheese with spicy pomegranate-honey sauce; crunchy edamame tacos with tomatillo salsa and spiced yogurt (pictured); roasted cauliflower with chipotle, crunchy favas, and Cotija cheese
Celeb Chef Michael Schlow gives his vegetarian-friendly dishes a lot of TLC. Sometimes, when diners overlook the cauliflower, waiters will send it over anyway just to create cauliflower converts. It's that good. So are the Manchego cheese fritters that you'll be talking about the next day.
Editor's Note: Dish numbers are based off the dinner menu and discussions with the restaurants. The plus is there because menus always change and chefs can get creative and make additional vegetarian dishes.
Sign up here for our daily DC email and be the first to get all the food/drink/fun in town.