The 12 Best Restaurants in Virginia
Sera Petras Photography
Sera Petras Photography
Virginia is having a banner decade -- the craft beer scene is going full tilt, wineries can't plant enough vines to keep up with demand, and restaurants are reeling in national accolades while winning the hearts and stomachs of locals and visitors alike. Here are a dozen restaurants that are helping the Old Dominion State dominate.
Staunton
Chef Ian Boden and The Shack lay on the charm thicker than the schmaltz that finds its way into many items on the Southern- and Appalachian-inspired menu. Part of the warm and fuzzies comes from the fact that the 400sqft restaurant asks strangers to share tables and they inevitably leave as friends. Visit on Friday or Saturday to try Ian's three- ($45) or four- ($55) course tasting menu that changes more frequently than your sheets. You'll drink VA beer and wine as you plow through dishes like smoky ribeye with fried hominy, turnips and ramps & morel gravy. When Ian's next restaurant opens, the tasting menu will also be available Weds and Thurs. For now those days are a la carte. The late Josh Ozersky really dug The Shack, and his word is as good as grits.
Lovettsville
The Restaurant at Patowmack Farm is like coming up for air after your first kiss: you've never had anything like it before and you HAVE to do it again. No one is conceptualizing, cooking, or plating food like Chef Tarver King (except maybe that René Redzepi guy who also likes to forage). Tarver asks diners to select from three tasting menus: grown, raised, and found. Each start with "snacks" that contend for the best amuse-bouche selection you'll ever put in your bouche. Also in Patowmack's favor? The outdoor tented seating has a view stretching out like a scene from The Land Before Time. Dinosaurs not included.
Washington
Fine dining isn't slipping away any time soon if Chef Patrick O'Connell and The Inn at Little Washington continue to dazzle diners in a dollhouse setting. Granted a trip to The Inn is typically reserved for whatever step is above special occasion. The presidency? Ascension to the (iron) throne? Patrick's finesse can be felt in everything from truffled popcorn to one of his signature dishes -- lamb carpaccio with Caesar salad ice cream. Dinner tasting menus range between $178-$208 depending on the day of the week, and don't leave without a tour of the TV show-worthy kitchen.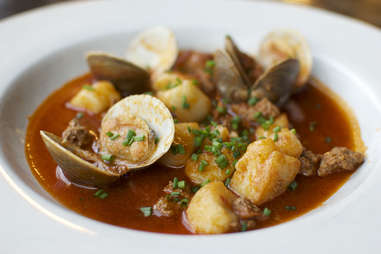 Richmond
What if someone squirted the South into the best dish coming out of Canada? Chef Lee Gregory succeeded when he created Southern poutine with pimento cheese and sausage gravy. The dish is a must-order at his 48-seat restaurant that serves sexed-up comfort food. Cocktails are an equal attraction, and one look at the prices will remind you of fondly recalling gas prices in the '90s. Only one elixir on the extensive menu surpasses $10, and it happens to be a Booker's Manhattan "stirred with Stonewall Jackson's magic wand." Finish a gut-busting meal with foie gras pound cake served with gelato. "We substitute butter for foie gras, it works the same way -- it's all fat," Lee tells us. This kind of creative thinking helped him earn a James Beard nomination.
Richmond
Heritage is the total package. The food and the drinks keep trying to outdo each other, which is probably why the restaurant is rolling around in local and national accolades like a pig in fresh mud. Chef/owner Joe Sparatta puts together playful dishes like bourbon barrel-smoked pork belly served with kimchi, veggies, and peanuts that you'll likely order again for dessert. He's also a "pasta-making machine" according to a local food editor. Start with Joe's pork "fries" or don't bother coming, and wash them down with a Dr Stanley Goodspeed. The liver tickler contains LINIE Aquavit, Monkey Shoulder Scotch, and Amaro Montenegro. Three final words: black forrest cake.
Clifton
You're not leaving Trummer's on Main any skinnier on account of Chef Austin Fausett's BBQ bone marrow, bourbon-glazed sweetbreads, or smoked BBQ pork cheeks. But every bite will be worth that extra SoulCycle class (maybe even cheaper). Austin is obsessed with seasonal, like this spring special of soft-shell crab and ramps. Another difficult decision is what to drink, as the wine and cocktail programs are both standing ovation-worthy. The wine cellar will take your breath away, but how could you pass up a Pain & Pleasure? Bar man/co-owner Stefan Trummer stirs tequila with Imbue vermouth, hibiscus, jalapeño ice, and micro cilantro. The restaurant reeled in three RAMMY nominations this year.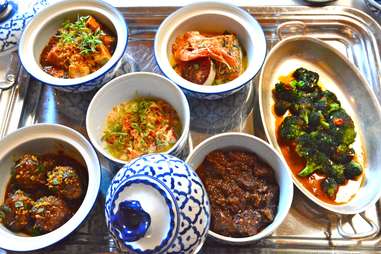 Alexandria
Eve may be the name of Chef Cathal Armstrong's daughter, but it's also the perfect label for a restaurant backed by an enchanting garden and tables studded with Adams and Eves on date night. There's no poison apple though, just really strong cocktails from Todd Thrasher. Recently, the Old Town hideaway catapulted away from the norm with a family-style Filipino feast (pictured) that stars one of the best pork belly dishes on the planet. Sticking to the chef's tasting menu or a la carte menu are also strong moves, especially if you're brave enough to order the line item that reads, "WARNING: You must be brave to have this dish." No other sentence better captures Cathal's lighthearted approach to fresh, fine food.
Charlottesville
Mas gets más attention than anyone else in C-Ville, but a quiet gem is making the right kind of waves in an old one-bedroom apartment, especially with speakeasy super-fans. The Alley Light, a 2015 James Beard Award semi-finalist for best new restaurant, boasts an unmarked entrance, a lounge atmosphere, and French-leaning food that definitely shouldn't be kept a secret. On top of signature dishes like bone marrow served with braised escargot, The Alley Light messes with 18 weekly specials (overachievers, we know). You're sipping on cocktails from local bar legend Micah LeMon, like the Bee's Knees with gin, local honey, and house lavender bitters. Pro tip: if you're trying to hold hands, ask for the table tucked in the wine room.
Fredericksburg
Ordering pan-seared scallops from a counter may not come naturally, but roll with it. The best buds behind FOODE (pronounced like that word we all find annoying) have deftly mashed quality and casual together. After ordering, diners grab seats and wait for a runner to bring out amazing plates like the Fredricksburger made tasty not by its toppings, but by the quality of local beef. You know the chef, Joy Crump, from Top Chef. What you didn't know is that she cooked for the Atlanta Hawks, and thus knows a thing or two about feeding hungry men. Go for dinner and return for brunch to try the chicken & waffles -- it's her mother's recipe. Relax, even though FOODE uses counter service, there's still beer and wine.
Falls Church
Don't count out a French chef when it comes to making pasta. Chef Bertrand Chemel nails it, especially when it comes to celebrating what's in season. Take his spring cavatelli, for example, with English peas, morels, rosemary-spinach cream, and hickory-smoked olive oil. If you don't want a white tablecloth experience, plop down at Jonathan Schuyler's bar. He makes the best gin & tonic in Virginia, subbing Champagne for soda when he's in a good mood. The bar is also where you'll find five burger offerings. Opt for the Daffy made of duck and foie gras. It's available in full or slider size. Wherever your seat in 2941, the view only adds to the experience.
Portsmouth
Head to Stove for hearty eats from Cowboy Syd (he hates that chef word) whose specialty is house-cured meat he calls Smoochie Bear ham. It should remind you of tasso ham but with added spices and brown sugar. Find it in the "pork o rama" plate which also features house-made sausage, black pig pork belly, and city-aged ham on top of rutabaga and oyster mushrooms with D-Lish sauce. "It's the Maker's Mark of sauce," he says, because it goes with everything. The quirky restaurant has two personalities -- a bar area that looks like the set of American Stuffers and a softly lit, relaxed dining room. Wherever you saddle up, try the spicy etouffee or shrimp and grits. You're drinking bourbon, no buts about it. Stove serves dinner Tues-Sat, brunch once a month, and offers cooking classes.

Virginia Beach
Eat on Atlantic Avenue is slinging the best food in Virginia beach, proving an ocean address doesn't mandate mediocrity or worse yet, salt water taffy. It's not afraid to tap into luxuries like A5 Wagyu beef and Portuguese octopus while at the same time offering a standout burger so good you could eat it off the floor. In fact, that's why the Wagyu patty topped with truffle mayo and fancy cheese is called The Hasselhoff. You saw that viral video, don't lie. Bar man Chad Cruea is the antithesis of lazy -- he makes his own EVERYTHING including Death Star ice cubes and has even figured out to make a vodka tonic with no tonic thanks to a SodaStream apparatus. That's right kids, carbonated vodka.
Sign up here for our daily DC email and be the first to get all the food/drink/fun in town.