11 DC spots we hope tourists never ruin
Tourists are the worst (here's why). Lets team up and spray these 11 spots with tourist repellant, so they can keep their standing as local spots oozing a certain kind of cool that would take a hit if frequented by matching-teeshirt-wearing, paper-metro-card-carrying folk. (Tourists, if you're reading this... these places are super lame, go somewhere else!).
Laura Hayes
Capitol Hill
Can you imagine how badly tourists would mistreat Trusty's badass bus bar (complete with hanging lunchboxes and thermos chandeliers)? They'd surely break something while taking selfies strapped into seatbelts. The Potomac Ave bar is a true Hill-rat haven with cheap beer that comes in mason jars, board games, and Big Buck Hunter. What else do you need? How about a half-smoke or a cup of chili on a sweet patio equipped with a game-watching TV? Yea, definitely keep this on the DL.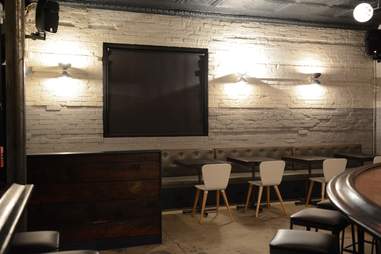 Laura Hayes
Shaw
It won't be long until out-of-towners accidentally discover Shaw on their walk from the National Mall to whatever hotel room they snagged for the night. The least we can do is keep All Souls under wraps. This is your bar on a good and a bad day, because of its unpretentious pours and laid back atmosphere. Beer, wine, a handful of cocktails, and a couple of snacks sum up its well-executed simplicity.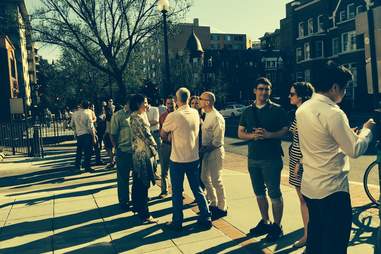 Laura Hayes
Dupont Circle
"What's that line for?" asked every tourist ever while walking past the queue that forms daily at 4pm outside Little Serow. "The best Thai food in town" is not the right answer. Ebola shots? Cavity fillings? Local election? That's more like it. Just don't take it too far by telling them to walk into Komi next door and ask for a table. Little Serow brings heat and exoticism that only we can handle. And charm. Lots of charm and quirk.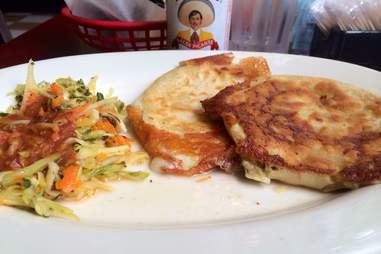 Laura Hayes
14th Street
For twenty years, Judy Restaurant has been slapping down perfect $2 pupusas unbeknownst to museum-goers. You'll want to climb the tallest mountain and declare your love for them, but please don't, because tourists will hear you. If you're a grammar nerd, you'll also want to shout a lesson on possessives. Most importantly though: these cheese-or-pork-stuffed flying saucers are Salvadorian food at its finest, so shhhhhh.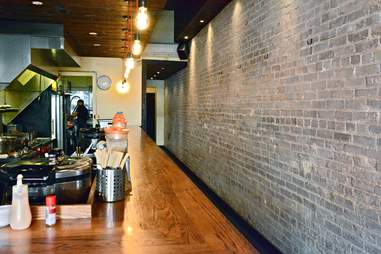 Laura Hayes
Adams Morgan
There are about as many stools in this Japanese comfort food joint as there are epic samurai movies (nothing with Tom Cruise counts). So mums the world, got it? It's hard enough as it is fighting against local crowds. All the hype is over the namesake dish, donburi, which means "mind-blowing rice bowl". Toppings include panko-coated fried shrimp or pork, fresh sliced salmon sashimi, and warm slivers of sweet unagi.
Showtime
Bloomingdale
Fortunately, when tourists trot by Showtime (probably wondering why their maps failed them), they'll say, "look at this velvet rope strip club in a quaint little neighborhood." What they don't know is inside is a dive with dirt cheap Natty Boh, a free juke box stacked with funk and soul and on Sundays, and a band called Granny & The Boys, which features a legit grandmother. They're so welcoming that you can even swing by while the sun's out for coffee and free Wi-Fi.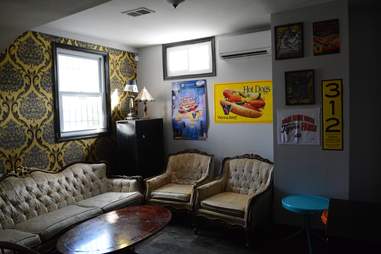 Laura Hayes
Shaw
The only out-of-towners who would understand Ivy and Coney are those visiting from Chicago and Detroit. But they didn't hop on a plane for a shot of Jeppson's Malört, now did they? When locals are tired of celebrating the fact that we've become a "cool food city" (thanks Forbes!), they head here for a Chicombo: $10 Chi-dog & a shot of Malört. Dirt-cheap food and drink & the apartment you wish you had in college makes this the perfect tourist-free zone to watch a game.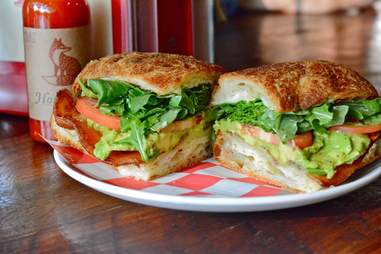 Laura Hayes
Chevy Chase, DC
Little Fed Fox's BLT put them on the map. But, hopefully not a tourist map. The sando is brimming with the obvious ingredients plus avocado and garlic aioli. You'll find next-level hipsters holed up here over strong coffee, from-scratch cooking, and local beer & wine. On every table is a bottle of Little Red Fox hot sauce that they sneak into everything, including mac and cheese, and while you're there you can stock up on goodies from some of the DMV's best local producers. If tourists find this mecca, those market shelves will be empty in seconds.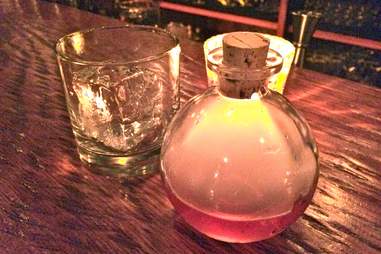 Laura Hayes
Adams Morgan
Deep in the inner sanctum of Jack Rose Dining Saloon is a cocktail den serving inventive drinks with cool stories. While tourists probably picked up on national buzz about Jack Rose's status as a top whiskey-slinger, they probably don't know that a few floors down is something even better. Let's keep it that way. Fortunately, the fact that you have to text a burner phone to get a reservation acts as a natural barrier.
Domku
Petworth
The only thing more seemingly out of place than a pink restaurant with adorable Matryoshka dolls in Petworth is you at a One Direction concert. Hopefully this juxtaposition will fool tourists, because you're going to need all of Domku's Slavic and Scandinavian grub to get you through the winter. Rumor has it, it's going to suck. Eat all the pierogis, especially the ones stuffed with potato, twaróg & bacon, plus their heavenly Kotlet Schabowy — a more fun way to say pork schnitzel.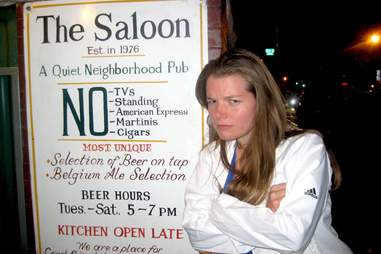 Courtney May
U Street
Washingtonians LOVE rules. We can't get enough of them. Tourists on the other hand will grind their Segway right through a red light. We should probably work together to keep them out of The Saloon, because they say it straight: No standing, no martinis, no American Express, and so forth. You gotta love them, both for their Belgian beer selection and because a portion of bar tabs go toward building schools abroad.
Sign up here for our daily DC email and be the first to get all the food/drink/fun in town.