The 10 Best Deals You Can Score During DC's Winter Restaurant Week
Indulge in meals at DC's best restaurants for a fraction of the cost.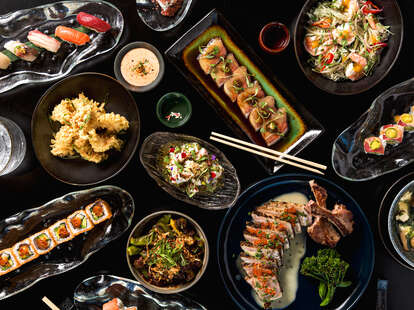 Photo courtesy of Nama Ko
Photo courtesy of Nama Ko
DC's annual Winter Restaurant Week is back, and it's a great excuse to skip cooking for a night and try some of the newest and most exciting restaurants in the DMV region.
Hosted from January 16-22, the Restaurant Association Metropolitan Washington's Restaurant Week includes brunch, lunch, and dinner promotions at restaurants, inviting diners to enjoy a cozy, warm meal during some of the coldest days of the year. Participating restaurants are offering three-course meals at brunch and lunch for $25 and at dinner for $40 or $55 per person. Many restaurants will also offer takeout deals with cocktail pairings, giving more variety for diners who want to partake in the program at home.
You can't go wrong at any of the more than 175 participating locations, but to help you narrow it down a bit, we rounded up a few brand new spots and acclaimed eateries with unbelievable deals to check out this year.
Ellington Park Bistro is one of the newest restaurants to open in West End. It's a buzzy cafe located inside the St. Gregory Hotel and has two menu options for restaurant week with a range of choices. The more economical $40 per-person menu includes dishes like steak frites, a wagyu smash burger, or coq au vin. The more expansive menu for $55 per person adds on a fourth course and includes dishes like roasted escargots, Amish chicken, or seared sea scallops.
This red-hot new brasserie from chef Nicholas Stefanelli brings classic French fare to a sleek space located just off the lobby of The Morrow Hotel in NoMa. Think of this restaurant week booking as a safe bet for glam dining paired with plenty of bubbly and extravagant seafood towers. The $25 brunch includes a pastry basket, choice of an omelet, croque madame, or eggs benedict, plus dessert. Meanwhile, a dinner deal for $55 offers starters like French onion soup, plus mains like baked cod or duck confit. Both meals finish on a sweet note with desserts like fruit tart or Paris-Brest.
How to book: Via Tock
It can be tough to find a table during restaurant week, but Nama Ko is increasing your chances by extending deals for a second week (through January 28). The menu is carefully crafted by executive chef Derek Watson and chef Michael Schlow. The three-course, $55 offering features Japanese favorites like crispy shrimp tempura, koji aged pork chop, and sashimi or sushi. Save room for dessert because pastry chef Alex Levin's mouthwatering honey miso black truffle soft-serve ice cream is a highlight.
Looking for a romantic dinner for two? Head to Annabelle, a farm-to-table restaurant with a special three-course menu showcasing chef Frank Ruta's most notable dishes. The three-course menu is priced at $55 per person and includes braised and roasted pork belly, bavette steaks with potato pavé, and wild striped bass with green lentils, shaved fennel salad, and butter sauce.
Beer nerds will want to beeline it to Birch & Barley for restaurant week. This three-course, $55 menu offers the option to pair local craft beers (including Bluejacket beers which are brewed in Navy Yard by Neighborhood Restaurant Group) for an extra $20 per person. Dishes to order here include an indulgent lobster risotto served in squid ink and orange-miso butter, or the tomahawk pork chop that comes loaded with bacon, brussel sprouts, and apple compote.
You don't have to sweat a reservation for restaurant week at Wiseguy. While it may not be the fanciest option to celebrate, it is a belly-filling and accessible option offered at three locations in Navy Yard, Arlington, and Downtown. For $40, get dinner for two that includes your choice of a pie, plus garlic knots and two sodas.
New to restaurant week this year, Yardbird is offering $25 lunches and $55 dinners filled with Southern comfort hits. From shrimp and grits to a fried green BLT and deviled eggs, you'll find something for everything, plus the option to add on a bottle of wine for $45. Given its location near K Street, it's perfect for larger groups, like a lunch break or post-work meal with coworkers.
For an intimate bistro with the coziest food courtesy of the French Alps, look no further than Le Sel. The dinner menu includes savory tartiflette with Raclette cheese, lardons, and potatoes, or pick from two different bistro offerings: steak frites served in a buttery champagne bearnaise sauce or rockfish with sage butter and parsnip puree. Dessert wraps up the meal with creme brulee, and the restaurant is offering a three-course wine pairing for $35 per person.
For some of the best Mexican cooking in DC, book a table with chef Alam Méndez Florián for a $55 three-course menu through January 23. Top picks include colorful ceviche and tacos, like the oyster mushroom pastor, accompanied with pineapple and celery purees, guacachile sauce, and a tomatillo and carrot salad. Or try the grilled sweet potato salad with feta, pistachios, orange, and house-made sesame dressing. For dessert it's a toss up between the buñelo (a Mexican fried cookie) or the meringue with apples and apple cider sorbet.
For another option with an extended restaurant week special try Daikaya. Chef Katsuya Fukushima has once again built a restaurant week menu around food, film, and pop-culture, this time honoring Francis, the beloved pup who passed away last year and was the star of the popular YouTube channel "Cooking With Dog." For $40 per person, the five-course menu will feature the poodle's greatest recipes like sugaki (oysters marinated with ponzu sauce, daikon oroshi, and ichimi) and spicy tebasaki chicken wings that are deep fried and tossed in a slightly tangy ginger-soy sauce.