The 12 Best Deals You Can Score During DC's Summer Restaurant Week
Savor meals at DC's best restaurants for a fraction of the cost.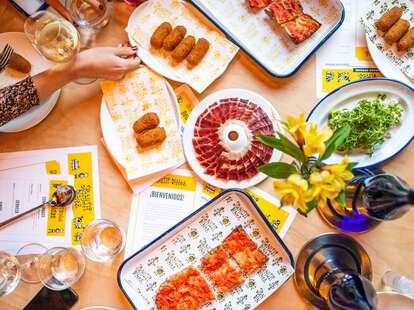 Photo courtesy of Spanish Diner
DC's annual Summer Restaurant Week is back, and it's a great excuse to get out of your toasty apartment and skip cooking for a night.
Hosted from August 15-21, the Restaurant Association Metropolitan Washington's Restaurant Week includes brunch, lunch, and dinner promotions at restaurants around the DMV area. Participating restaurants are offering three-course meals at brunch and lunch for $25 and at dinner for $40 or $55 per person.
Whether you opt for lunch with an award-winning wine program or grab a seat at one of the city's most historic restaurants, you can't go wrong at any of the more than 175 participating locations. But to help you narrow it down a bit, we rounded up 10 brand new spots, highly anticipated reopenings, and local favorites with unbelievable deals to check out this year during Summer Restaurant Week.
Café Riggs is making its summer restaurant week debut with a modern Euro-American menu, including provincial dishes like sweet potato gnocchi and a farm chicken with peas, asparagus, and pancetta. A slate of wines by women makers pair nicely to the dishes and are served by the glass. For dessert, the palet d'or is a work of art with its gold foil flourishes.
A family-friendly option in Arlington, this family-owned tavern has been known for providing gracious hospitality since 1935. Sample some of the "hot oil" bar-style pizzas, a thin crust pizza cut into six slices and drizzled in "hot oil" with one complimentary topping. Two beers can be added on for $22 per person.
This may be the first and only restaurant week menu inspired by Netflix. Restaurateur and chef Katsuya Fukushima has created a themed-dinner menu, called Midnight Diner, inspired by the cult-classic show. The dinner menu is reflective of favorite dishes beloved by the cast, so you can sample dishes that include a Japanese egg sandwich (tamago sando), curry ramen, and pork belly wrapped cherry tomatoes.
Seafood and steak lovers will want to check out Silver Spring's latest dining destination—just in time for restaurant week. J. Hollinger's is the namesake restaurant for chef Jerry Hollinger—featuring a raw bar, Chesapeake Bay seafood, and hyper-seasonal produce. The restaurant is offering a $25 lunch menu, and it's a value-driven option considering you get decadent options like shrimp toast with slow cooked pork belly, Maryland rockfish filet, and steak frites. But hurry, at these prices, reservations won't last long.
With a distinguished address right across the street from the White House, this swanky French brasserie will turn heads and satisfy stomachs during restaurant week. The dinner menu prepared by chef Michael Fusano includes seasonal starters like a smoked Cavaillon melon salad with watermelon. Order up the Parisian gnocchi with ratatouille, heirloom tomatoes, and charred eggplant puree for more peak produce flavors. And for dessert, serve room for a blueberry tart with maple and meringue kisses.
On Capitol Hill, La Collina is a new family-style Italian restaurant with antipasto, hearty pasta dishes, and a memorable grapefruit Aperol spritz. For restaurant week, the dinner menu, priced at $40 per person, allows you to start with a salmon crudo, then try the cacio e pepe or cauliflower romesco. For dessert it's toss-up between silky smooth olive oil cake or a taster of homemade gelato in a few flavors.
Tucked away in the Palisades, this neighborhood Italian restaurant has a low-key vibe, which may also make it easier to score a restaurant week reservation. Lupo Verde Osteria is offering a $40 menu with three courses where highlights include fried artichoke hearts or a salad to start, cacio e pepe or lasagna, and tiramisu. For $55, diners can upgrade their main course to branzino, a pork chop, or eggplant parmesan.
Mandu, one of the best Korean restaurants in DC, is featuring Baekban Jungsik, a fixed meal served all at once with portions that include rice, banchan, soup, and typically a grilled or hot item. The restaurant week dinner menu offers three versions with a choice of beef, fish, or a vegan option served with mandu, salad, doenjang jjigae, and banchan sides.
Sushi lovers know that the cuisine can be pricey, but during restaurant week, Nama Sushi Bar & Restaurant is presenting a great deal. Start with your choice of miso or seaweed salad, then move through four pieces of nigiri, a lovely sashimi plate, two maki rolls, and dessert for just $40.
Whether you crave jamón ibérico or classic Spanish-style flan, this Spanish-American diner has you covered for restaurant week. Spanish Diner is serving a wide selection of its standard menu options for dinner at $40 per head. That includes starter snacks like croquetas and a selection of Manchego cheeses, and mains like pork meatballs and sauteed shrimp. Chef José Andrés also has restaurant week deals at several of his other restaurants including Zaytinya, Oyamel, Jaleo, and China Chilcano.
At Unconventional Diner, chef David Deshaies will be offering a three course dinner for $40 per person, with an additional discount for takeout and delivery options—including $70 for two and $140 for a group of four. The menu includes vegetarian dishes like a falafel gyro and classic diner favorites like a dirty Caesar salad or a double-stacked cheeseburger. Round it out by adding on a nice bottle of wine for $35 or $40 and some chocolate mousse, and you have quite the satisfying meal.
For the 9-to-5 crowd looking for a lunch deal, try the curated three-course menu at Via Sophia. This sleek Italian restaurant has both a lunch and dinner option, and both menus feature dishes like gazpacho, chicken paillard, and a glass of wine for $5, a must-try following the restaurant's recent Wine Spectator Restaurant Award which celebrates the world's best restaurants for wine.