All the Ways DC's Food Scene Absolutely Destroys New York's
Coke vs. Pepsi, Army vs. Navy, Capulets vs. Montagues, Kanye vs. Taylor, Microsoft vs. Apple, vampires vs. werewolves, Man vs. Wild, white rice vs. brown rice… history's greatest rivalries have been the subject of debate for centuries. But there is no greater rivalry than the war between the food scenes of DC and New York. OK, that might not be true. But you can't deny that we spent years hearing our food scene negatively compared to the one in New York. And for a while there, we maybe even deserved some of the shade… but not anymore. To settle the score, we asked some of the top industry pros what makes DC's food scene so special.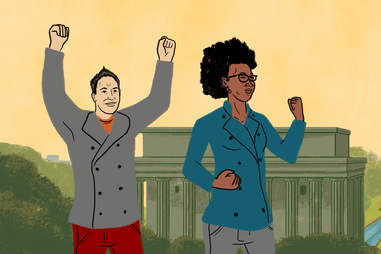 Daniel Fishel/Thrillist
DC chefs are really invested in their city
"What I love about the DC food scene over New York's is the sense of ownership people have in their restaurant and level of pride you see in everyone from the bartenders to the cooks to the chef. People really invest themselves here in one place, whereas in New York they tend to bounce around. It really shows in the food and experience. NYC can feel a little impersonal and cold." -- Marjorie Meek-Bradley, executive chef, Ripple, Roofers Union, and Smoked & Stacked
We've been the underdogs forever, and now's our time to shine
"I feel DC is making its mark with food nationally right at this moment, whereas New York has had that identity for a very long time. I think the chefs, restaurateurs, distillers, etc. are all compelled to innovate in a way that is different from a more established city that doesn't have that same drive because they don't need to. It's that underdog effect, and DC has been the underdog for too long, but sometimes that leads to greater heights." -- Tim Ma, Tim Ma Restaurant Group (Water & Wall, Chase the Submarine, and Kyirisan)
"Washington, by and large, is comprised of local restaurant owners and chefs focused on what they do best, and we have been that way for generations. Our number is growing as chefs mature and leave their mentors to open their own places, and chefs from other cities are now flocking here to secure a stake in the marketplace. We are the young, hip, new kid on the block, so to speak. The racehorse to put one's money on with the greatest odds. The big cities [like New York, Los Angeles, San Francisco, and Chicago] were the trendsetters we all looked to, but now our nation's capital is a place all the bigger-name concepts and talents are looking to because we are flourishing. Our dining audience has grown more adventurous and international. Those from the major culinary centers now want a piece of Washington's pie." -- Ashok Bajaj, Knightsbridge Restaurant Group (The Bombay Club, 701 Restaurant, The Oval Room, Ardeo+Bardeo, Rasika, Bibiana Osteria-Enoteca, Rasika West End, NoPA Kitchen+Bar, and Bindaas)
"New York has long been established as a food mecca -- and with good reason -- but DC has come into its own over the last few years. Being the new kid on the block, we've had to be creative and carve our own collective path. Chefs like Jeremiah Langhorne, Aaron Silverman, Eric Ziebold, and Tom Cunanan are putting out food every bit as exciting and fresh as any chef in the world. The rise of high-quality food in DC has been paralleled by tremendous development in the bar scene. From cutting-edge experimental cocktail bars, to dives, to exceptional beer bars, the variety of drinking options available in DC is of the highest order." -- Jeff Coles, bartender, Vieux Carre
The Fainting Goat

| Laura Hayes/Thrillist
We're overcoming stereotypes
"I believe that there are a lot of chefs who wanted to change the perception of what DC restaurants had to offer. The dark-wood steakhouse has always been synonymous with DC dining and while we still offer that, now we also have a very cutting-edge dining scene as well. With a lot of young professionals moving back into the city, they now have a lot more options to explore." -- Nathan Beauchamp, executive chef, The Fainting Goat
We're growing rapidly and constantly evolving
"New York offers the best of the best. Inspiration wherever you look! It was very good to me. DC, however, offers an amazing array of international influence and growth at every point. I have found that as a New Yorker I was excited by the overwhelming amount of existing inspiration, but as a Washingtonian I am excited by the overwhelming amount of new opportunities." -- Aaron Silverman, chef and owner, Rose's Luxury and Pineapple & Pearls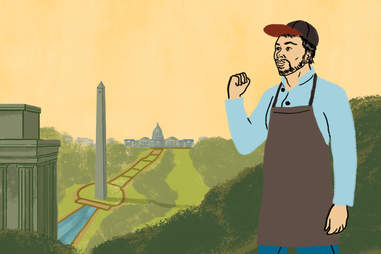 Daniel Fishel/Thrillist
Those who came before have paved the way for epic new heights
"The DC food scene has witnessed a boom in the last five years for a multitude of reasons. Don't forget -- before this boom we still had amazing ethnic cuisines, most notably Ethiopian and Vietnamese. But we also had Michel Richard, Jose Andres, Bob Kinkead, Ann Cashion, Jeff Buben, Todd Gray, Roberto Donna, and a number of other chefs driving the smaller contingent of Modern American restaurants. The boom happened when these chefs cultivated a new wave of cooks. That new wave of cooks, along with the opportunity for cheaper real-estate options, created a new dining scene in a city growing to be more cosmopolitan.
"The problem with New York's dining scene is a lack of space and money. It's squeezing restaurateurs into tiny spaces and profit margins -- essentially ensuring failure over a given period of time. DC, on the other hand, is growing and thriving. The skyline is full of cranes, and those cranes are bringing opportunity. The homegrown movement is one the residents of this city want, and want to succeed." -- Michael Friedman, chef, The Red Hen and All-Purpose Pizzeria
"What makes this city great is the long history of influential and astute chefs, like Michel Richard, Patrick Clark, and Jeffrey Buben, all of whom pioneered cuisine in America. DC has always been a great food destination and is now getting the recognition it deserves." -- Kwame Onwuachi, chef, The Shaw Bijou
We started Cava Grill… enough said
No, seriously. Enough said.
Maketto

| Rey Lopez
Our international cuisine is the subject of envy: Vietnamese, Ethiopian, Laotian, Lebanese, Filipino...
"The DC metropolitan area is one of the fastest-growing restaurant scenes, and as new restaurants open (hundreds!) they encompass a wide variety of price points and cuisines, so after you build up an appetite walking around the Mall, you really can find any type of food that you want." -- Carla Hall, celebrity chef; co-host, ABC's The Chew; cookbook author; competitor, Bravo's Top Chef
"As a chef, it's so important to always stay inspired. A huge part of that for me is always having a constant and current reminder of traditional and steadfast Southeast Asian dishes. My food at Maketto is not your typical Taiwanese or Cambodian cuisine -- it's my take, my perspective, and I feel very lucky to get to live in the best of both worlds in DC. We have one of the best communities that supports and appreciates great cooking, old-school and new." -- Erik Bruner-Yang, chef, Maketto
"Having a network of Asian and Asian-American foodpreneurs in our city who understand the pioneering efforts we're undertaking cannot be underestimated. They support us in too many ways to count. Often the people who spend 12 or more hours a day pouring their love into the food we eat are overlooked, but this is what makes DC so special to us. Southeast Asian food in particular has a great diversity in flavors, textures, and rich colors. We're excited that DC is willing to try 'new' foods like our falooda or cold Burmese noodle salads, which for us are really comfort meals and snacks from our childhood rooted in centuries of tradition. We're truly happy to be a part of the growth of Southeast Asian cuisine in the city we call home." -- Simone Jacobson, co-founder and CEO, Toli Moli
"Guests expectations vary and are really based on region, making both food scenes unique in their own way. I can speak for my experience in the DMV; I feel we have a good representation of our Southeast Asian cuisines and it keeps on growing." -- Seng Luangrath, chef and owner, Thip Khao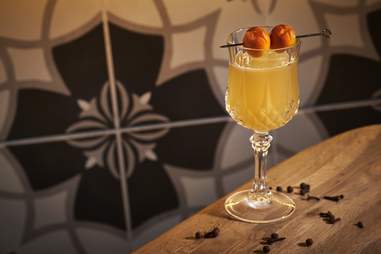 Pepita

| Greg Powers/Courtesy of Pepita
We've found a niche
"Fine dining in New York has done very well. The Michelin Star restaurants there shine and perform at high levels every day. DC I would say actually has a higher level of upscale casual restaurants. They seem to be more of the leaders in our dining scene." -- George Pagonis, executive chef and partner, Kapnos, Kapnos Taverna, Kapnos Kouzina
Our chef community is supportive and collaborative
"The biggest thing that DC has going for it compared to New York, and most other places I've been, is how tight our restaurant community is. The number of close friendships in this city, the huge amount of collaboration, the way everyone embraces and helps out with everyone's charitable events, I think that's a pretty rare thing, and it's easy to take for granted when you've been here for a while." -- Mike Isabella, Mike Isabella Concepts (G by Mike Isabella, Graffiato, Kapnos, Kapnos Taverna, Kapnos Kouzina, Pepita, Requin, and Yona)
"DC has the tightest community of chefs -- we're all great friends here, supporting each other's moments of successes and growth. Charity events happen every month, and we all run to participate and support the causes we all find so important. Whether it be a city-wide benefit like Chefs for Equality for HRC or Sips & Suppers benefiting Martha's Table and DC Central Kitchen, or on a smaller scale, an Osteria Morini Pig Roast benefiting Brainfood, every chef is thrilled and honored to participate with dishes executed at the highest levels. The love for one another's talent and innovation, I think, is the one ingredient that makes DC stand out… This city is smaller than NYC, but that makes it intimate. And the creativity and fellowship could not be any stronger -- it's reflected in the deliciousness of our dishes." -- Alex Levin, executive pastry chef, Osteria Morini
"I have grown to love the mutual respect among chefs within the DMV. We have a strong community thriving on mutual admiration for all aspiring and successful chefs, where we can boost and support each other and share ideas." -- Austin Fausett, executive chef, Proof
"One of the things I admire in the DC food scene is the sense of community and the collaborative energy. In spite of the competitive nature of this industry, it's refreshing to have such camaraderie." -- Robert Wiedmaier, RW Restaurant Group (Marcel's, Brasserie Beck, Mussel Bar & Grille, Villain & Saint, Wildwood Kitchen, Brabo, Lock 72 Kitchen & Bar, and Boulevard Tavern)
Sign up here for our daily DC email and be the first to get all the food/drink/fun in town.