Gourmet pizza, wine, and beer in SoMa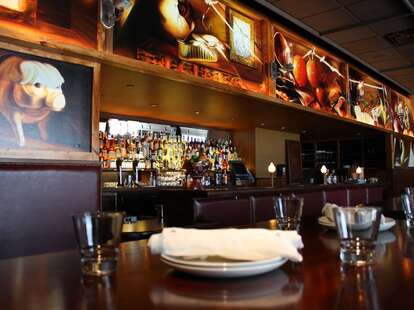 When you're super excited about something, sometimes you've just gotta let the world know in every way possible, which is why that unlimited paging plan is paying off in spades...SPADES! Not afraid to let you know they do pizza, Zero Zero.
From the talent behind Picco, ZZ's an unabashed celebration of Neapolitan-style pizza: the joint's central elements are its spectacular wood-burning oven (visible from both the plush, black leather booths and dark wood bars that occupy up- and downstairs) and fiery light fixtures, which play on the 'za-obsessed theme driven home by the fact that it's named for the flour they use (wrong again, Robert Parish). The ten specialty pizzas are named for SF streets, e.g., the Geary (hog island clams, garlic, soppresata, Pecorino, and Calabrian chilies), the Market (mortadella, peppers, onion, basil), and the Fillmore with mushrooms, leeks, three cheeses, garlic, thyme, and inexplicably no fried chicken. Then there's plenty of non-za, from a range of bruschettas, to crispy chicken thighs with chili/vinegar/caraway yogurt dipping sauce, to fettucini with fennel sausage, pesto, n' summer squash, also what Branson kids play when it's too windy for yachting. And their horses are sick
Washing it all down's a list of 75 or so vinos (with 10 on tap), 18 brews, and a specialty cocktail program that prominently features massively boozy bowls o' punch, which you'll let everyone know you're excited about by not sharing with anyone.