Home Bartending Hacks for Your Teeny Tiny Apartment
Maybe you're living the grand life someplace where twentysomethings can afford to own real estate and enough space for their dogs to run freely in the backyard while they mix cocktails for guests in the formal dining room. Or maybe you're like me, forking over your entire paycheck to live in a sketchy third-floor walk-up on the unfashionable end of Brooklyn, working out of a bedroom without a closet. But just because you're living that #brokeAF life, your home bartending game doesn't have to suffer. These hacks will teach you how to make the most of your minuscule space as you crank out cocktails like a pro.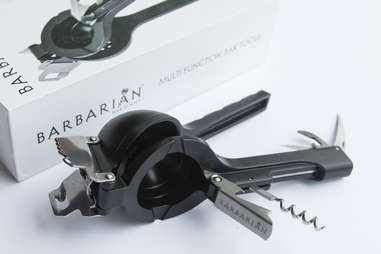 Ditch all those tools for the Swiss Army knife of bartending
You just barely squeezed the toaster next to the Keurig in a kitchen built for elves. You have room for just one more gadget, but thankfully, one is all you need. The sleek, compact Barbarian multi-tool is the bar tool to rule them all, combining a citrus press with a jigger, corkscrew, zester, bottle opener, can lance, channel knife, citrus knife and a 1-inch knife (you can never have enough knives). While you really should have a bar spoon because its twisted shaft allows for fluid stirring, a long teaspoon will get the job done, albeit a little less gracefully. If you're planning on muddling some mint into a Whiskey Smash, no need for another tool—the butt end of a wooden spoon does the trick beautifully.

Use a Mason jar as shaker, strainer, infuser and drinking glass
The day the internet can't come up with another use for a Mason jar, we'll know the end is nigh. Mason jars give a nice, tight seal for shaking cocktails or infusing spirits. Some cocktails like the Caipirinha can even be sipped straight from the jar after mixing. Straining is where it gets a little trickier. If ice is all you're trying to block out of drink, you can remove the ring from the lid and use the metal plate to trap large ice cubes in the jar. For finer ingredients like pulp, the Mason Shaker from W&P mimics a cobbler shaker with a built in strainer in the lid. W&P also sells a Mason Tap, which allows infusions to be poured directly into a cocktail from the jar. Or if you're feeling DIY, just poke holes in one of your metal plates and call yourself a maker.
Save fridge space by suspending mixers mid-air
Since your roommates need plenty of space in the fridge for their rotting leftovers, there's no room for your bottles of juices, syrups, sodas or beers. The BottleLoft uses magnetic strips to hang bottles from the underutilized space on your fridge's ceiling. Store syrups in sauce bottles with metallic lids, alongside bottles of ginger beer and tonic water. Plus you'll feel like you went all wingardium leviosa on your beverages.
Use floating shelves for stemware and bottles instead of a liquor cabinet
Shelves with slots for hanging glassware upside down can double the storage of every shelf. These are typically sold as "wine-stem racks" like this one from Crate & Barrel. The best part is you're not constrained to the surface area of your bar—you can put up as many shelves as your wall space or landlord allows.
Make your furniture do double duty as a bar
Yes, vintage bar carts and austere armoires look super fancy, but let's be real—if you still consider cereal a viable dinner, you're not at that stage of your life yet. Consider buying an end table with a hidden bar inside, like this Elixir Mini Bar from CB2. Or just turn a chest (any old thing from Target or the curb across the street will do) into a coffee table/bottle storage hybrid. If you mainly use the same two or three bottles, the Wallbanger bar folds right into the wall, taking up practically zero space. You can even turn the outside of it into art to admire when you're done mixing up your drink.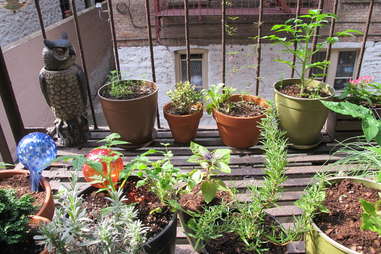 Put your fire escape to work with a mini herb garden
There's no room for potted plants in the tiny hallway you call a living room, and buying fresh herbs is highway robbery, so make the most of your fire escape. The metal deck is great for tiny potted plants of mint, rosemary and basil, and the rails work for hanging planters. Just make sure you leave enough space for people to exit in case of an actual fire. With minimal effort (especially if it rains frequently), you'll be on your way to Mojito-ville in no time. Don't have a fire escape but have good natural light? Tea tins make excellent upcycled mini planters perfect for fresh herbs. No windows? Maybe it's time to revisit the Craigslist apartments section.