7 Unexpected Juice and Spirit Pairings You Need to Try
Marsa Chafetz / Supercall
We all know that orange juice blends seamlessly with vodka and pineapple juice is rum's best friend, but what about other juice and spirit combos? We sat down with a wide selection of spirits and every type of juice we could find at the grocery store and armed with nothing but our intuition, started mixing in order to discover the unexpected, two-ingredient cocktail gems we hadn't been drinking. The results surprised us, so they'll definitely surprise you.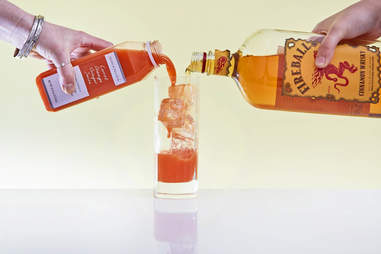 Marisa Chafetz / Supercall
The squarest of juices meets the hypest of spirits in this unlikely duo. Together, healthy carrot juice and sweet, spicy Fireball whisky taste like a holiday side dish. The combo tastes like warming winter spices with a mellow, easy finish. It's not a bad way to get your vitamin A.
Marisa Chafetz / Supercall
Yes, it rhymes and, yes, the two liquids are similar colors, but that's not the only reason this twosome works. The herbaceous green Chartreuse gives the vegetal juice some delicious sweetness as well as complex, garden-fresh flavors.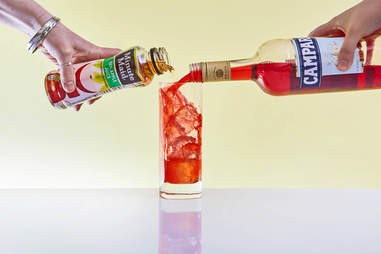 Marisa Chafetz / Supercall
If you like Negronis, you need to try this combination. It's like a lighter version of the intensely boozy Italian cocktail, one that you can guzzle down on a sunny day. If you are open to adding a third ingredient to the mix, top the mix off with sparkling water for a spritzy, bittersweet refresher.
Marisa Chafetz / Supercall
Grapefruit + Disaronno
Adding the popular amaretto brand to a glass of grapefruit juice creates the liquid equivalent of a sugared and caramelized grapefruit half. It's toasty and creamy and would definitely work as an easy but unusual brunch cocktail.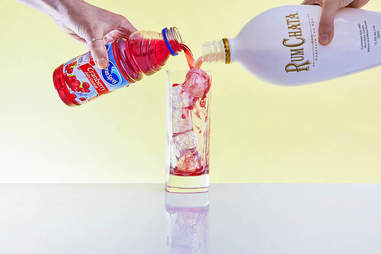 Marisa Chafetz / Supercall
It might look like Pepto Bismol, but this creamy cocktail is actually delicious and tangy. If you liked strawberry milk as a child, this is the much better grown-up version you need to try.
Marisa Chafetz / Supercall
On its own, pomegranate juice can be way too intense and sweet, but this is a much tastier way to get your antioxidants. Whiskey tempers that sweetness and enhances the fruit's earthy depth. On the flip side, the pomegranate juice cuts the harshness of the whiskey, making this a great starter cocktail for whiskey beginners.
Marisa Chafetz / Supercall
If you like sweet, you'll love this. Orange juice and spiced rum come together to taste like a creamsicle. Shake this combo up and enjoy it for dessert.