One steamy afternoon in Palm Springs, CA, golf legend Arnold Palmer and a few pals broke from a course-design project they were working on to go have lunch. According to Palmer, who told the story to ESPN, the mercury was pushing 115 degrees, and he wanted to quench his thirst with a special drink his wife often made at home. "Could you do me a favor?" he asked the server. "I want an iced tea, but I want about, oh, a third or a quarter of it filled with lemonade." When the server got to the next table, a woman sitting there said she wanted the same thing, and she attached the famous golfer's name to the soon-to-be-famous summer refreshment.
The name certainly stuck, as everyone knows, but what most people don't realize is that the late, great Arnold Palmer wasn't only an iced-tea-and-lemonade kind of guy. He was also the kind of guy who enjoyed a drink at the 19th hole—his favorite being Ketel One Vodka on the rocks with a twist. He was such a fan that he eventually became an official endorser of the fabled Dutch vodka.
With the 2017 edition of the Arnold Palmer Invitational presented by MasterCard teeing off in March (it's the first one since the great man's death), and with summer just around the corner, we joined forces with Ketel One to deliver four easy ways to ace your vodka game. Take a look:
Arnie's Signature
Like the man himself, who won 62 PGA tournaments without ever losing his down-to-earth charm, this drink is pleasingly uncomplicated. Ketel One Vodka on the rocks with a twist was Palmer's go-to order, and as he neared 70 years of age, his wife, Winnie, got in touch with the Nolet family, distillers of Ketel One, and asked if they would help celebrate Palmer's milestone birthday. They obliged, teeing off a friendship between the Nolets and the Palmer family that continues to this day. In 2017, to honor the golfer's legend and their relationship with him and his family, Ketel One will make a $100,000 donation to Palmer's Arnie's Army Charitable Foundation.
But back to Arnie's Signature drink—it's easier than a gimme putt:
• 1.5 oz Ketel One Vodka
• Pour vodka over ice in a rocks glass.
• Garnish with a lemon twist, kick back, and resume exaggerating the length of that drive you hit on 17.
The Tee Time
Arnold Palmer probably wasn't the first person to combine iced tea and lemonade, but he set the standard. Similarly, Ketel One is not the first vodka to add a new dimension to an iced-tea-and-lemonade. But this crisp, refreshing-tasting version elevates the traditional drink with a style born of the Nolet family's 325 years of distilling expertise.
Here's the recipe:
• 1.5 oz Ketel One Vodka
• 1.5 oz iced tea
• 1.5 oz fresh lemonade
• Pour the Ketel One Vodka over ice in a Collins glass, add iced tea and fresh lemonade, and stir.
• Garnish with a lemon wedge, and savor this easy spin on a classic, along with your warm-weather leisure time.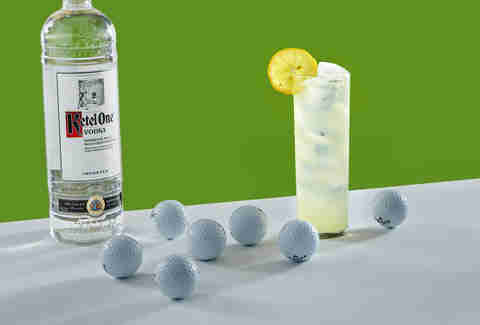 The Ketel One Lemonade
Leonardo da Vinci once said that "simplicity is the ultimate sophistication." This two-ingredient cocktail could hardly be simpler: it's one part Ketel One, two parts fresh lemonade. Sip one and reminisce how sophisticated it was of you to lay up short on 11 and make par instead of going for the green and risking bogey.
You can whip up a Ketel One Lemonade in less than 60 seconds:
• 1.5 oz Ketel One Vodka
• 3 oz fresh lemonade
• Pour Ketel One Vodka and fresh lemonade over ice in a Collins glass. Stir. Garnish with a lemon wheel. Simple. Sophisticated.
The Ketel One Bloody Mary
In the 2017 Drinks International Annual Bar Report, Ketel One was tabbed as the vodka most frequently used by bartenders for a Bloody Mary. But don't take a global spirits authority's word for it—mix this one up and see if it doesn't yield a world-class Blood Mary. The Ketel One Bloody Mary is a little more involved than our other three ways to step up your vodka game, but it'll definitely make a savory addition to your next brunch.
Here's the skinny:
• 1.5 oz Ketel One Vodka
• 3 oz Ketel One Bloody Mary Base*
METHOD
*Ketel One Bloody Mary Base: 
Mix the following in a large pitcher, stirring enough to dissolve the salt:
1L tomato juice
4 oz lemon juice
4 tsp salt
1 tsp black pepper
1 tsp smoked paprika
5 tbsp horseradish
3 dashes Worcestershire sauce
7-10 dashes hot sauce
Combine 3 oz of the Ketel One Bloody Mary Base with 1.5 oz Ketel One Vodka in a mixing glass with ice. Shake, then fine strain into a Collins glass filled with ice. Garnish with a celery stalk, olive, lemon wedge, or bacon.
Please Drink Responsibly.
KETEL ONE Vodka. Distilled from Wheat. 40% Alc/Vol. © 2017 Double Eagle Brands, B.V. Imported by Ketel One USA, Aliso Viejo, CA.