The 7 Best Bloody Mary Mixes You Can Buy
The Bloody Mary is the perfect brunch cocktail to wake you up, but preparing said Bloody with all its seasonings is not an ideal task first thing in the morning. It's hard to decipher a long list of ingredients through bleary eyes, and in your half-conscious state, you could easily confuse the horseradish for mayo and the celery salt for cinnamon—creating a cocktail that will surely wake you up, but not in a good way. Skip the hassle by using a premade Bloody Mary mix. Unlike a Daiquiri or Mai Tai, which we believe you should always make with fresh ingredients, a good Bloody Mary mix is a respectable replacement for a homemade version. You just have to be sure to pick one of these quality bottlings.
Bow down before Ubons, barbecue sauce maker turned Bloody Mary mix master. This is the gold standard of Bloody mixes. With a pleasant tingle more from tangy vinegar than peppery spice, the mix will easily attract fans of both spicy and mild Bloodies. Upon first sip, the vinegary bite is balanced perfectly with sweetness, the vegetal flavor of pickled jalapeños and green peppers, and a touch of smoke. This mix will send you to umami heaven.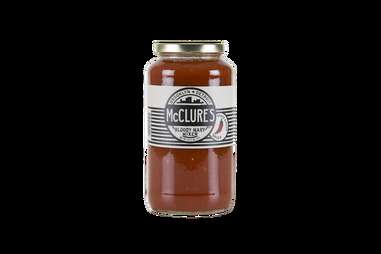 The small hot pepper logo on the jar of McClure's is barely noticeable, nor does the name give any indication of spice. Regardless, this mix from McClure's has a peppery heat that will please anyone who finds Ubons tepid. But the spice certainly isn't out of control. The pickle masters at McClure's enhance the flavor, rather than the raw heat, of the peppers with a good amount of pickle juice, but the truly outstanding taste here comes from dill, which washes the entire palate in a grassy, refreshing wave.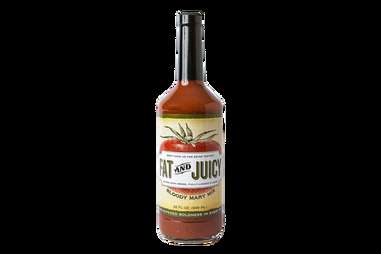 One tasting panel member actually gave this one an 11/10. The mix smells a little like ramen noodles—like when you lean your head over a savory bowl of rich broth and inhale deeply. The flavor is clean and umami-packed with lots of pureed vegetables and fresh-picked tomatoes.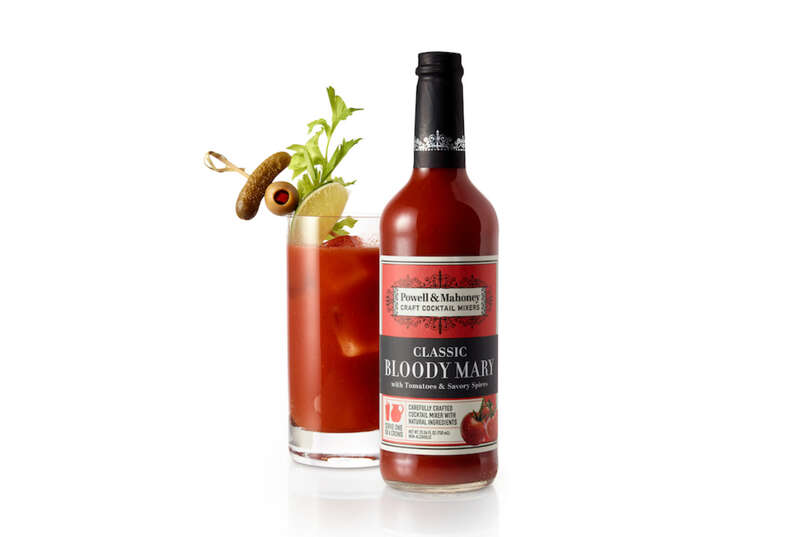 A lot of Bloody mixes feel heavy beneath their bevy of spices, but Powell & Mahoney's is light and delicate. Bright like a tomato at peak season, the mix expertly combines savory, spicy and sweet flavors without thickening the mix into an incredibly filling gut bomb. You can drink a full Bloody made with Powell & Mahoney and still have room for brunch afterward.
The Charleston Veggie bottling delivers on its promise of vegetable flavor. It tastes as if you blitzed a tomato-vegetable soup in the blender until it was nearly smooth. Celery leads the way, giving the mix a clean grassy flavor, while relatively chunky spices provide a satisfying texture. There's a touch of something bitter on the initial taste, which some of our panelists enjoyed and others disliked. But Charleston really shines on the silky, savory aftertaste, which leaves you with a long lasting grin (and Bloody mustache).
Some Bloody Marys are closer to meal replacements than brunch pairings. If you want a savory cocktail to fill you up, look no further than Ubons BBQ. Whereas the Hot & Spicy balances the palate-coating flavors of Ubons barbecue sauce with pepper and a pickle, the BBQ Mix tastes like Ubons famous sauce slathered all over roasted tomatoes. It's sweet and slightly vinegary, and it's as dark and nearly as thick as barbecue sauce. Any fan of Kansas City (or wet Memphis style) barbecue will absolutely love this mix.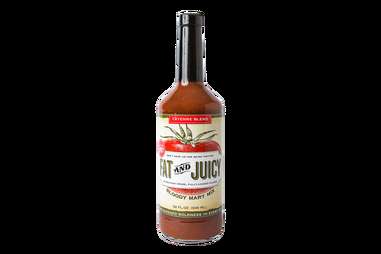 In addition to its phenomenal flagship bottling, Fat & Juicy also puts out two spiced versions, one with cayenne and one with chipotle. For our money, we'd go with the Cayenne, which provides a really pleasing spice that builds slowly as you sip. A nice jammy tomatoey texture anchors the mix, and while the vegetal flavor won't knock your socks off, the round, luscious taste provides a nice base for the peppery spice.