Wade through the sea of bottomless deals and outrageously garnished drinks, and you'll find a few delicious cocktails that not only go with brunch but elevate it. The next time you're brunching for the sake of enjoying brunch—and not just catching a buzz—choose from one of these perfect brunch meal and cocktail pairings.
Recommended Video
'Last Week Tonight' Writer Josh Gondelman Takes Shots, Talks About Working For John Oliver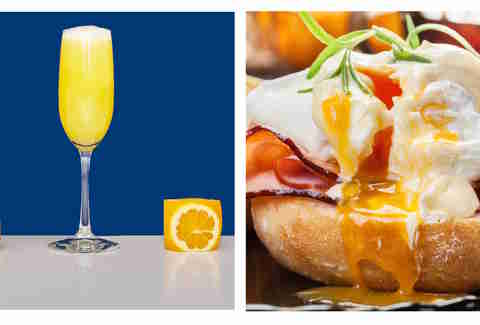 Mimosa + Eggs Benedict
Ordering a Mimosa and eggs Benedict doesn't make you basic—it makes you classic. The bright orange juice in the boozy brunch staple brings out the hint of lemon in the rich, buttery hollandaise sauce, while the spritzy sparkling wine cuts through the creamy sauce and oozy poached egg, giving your mouth all the feels it could ever want.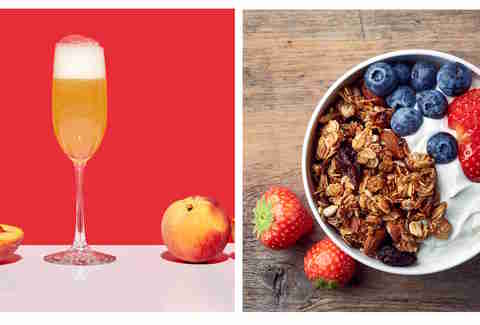 Bellini + Greek Yogurt and Granola
A healthy, berry-packed breakfast parfait with blueberries, strawberries, raspberries, vanilla Greek yogurt, granola and pecans is best enjoyed with the Mimosa's peachy cousin, the Bellini. A combination of peach purée and sparkling wine, the Bellini's restrained sweetness goes hand in hand with the honeyed grains while elevating the bounty of berries.
Your taste buds won't know how to handle this umami explosion. Between the spicy Cajun shrimp and the tomato-based vodka classic, it's a sonic boom of savory. Scoop up some creamy grits for a buttery break, then dive right back into the Tabasco-drenched fray.  
You might not think of the Old Fashioned as a brunch drink, but when paired with the equally unlikely brunch classic of chicken and waffles, it's a great way to start the day. If your C&W order is made with classic, crispy chicken, order a piquant rye Old Fashioned. But if your Belgian stack comes with already spicy chicken, opt for sweet, soothing bourbon instead. These two go together so well, in fact, that we combined them into one brilliant brunch drink. Behold, the Chicken and Waffles Old Fashioned.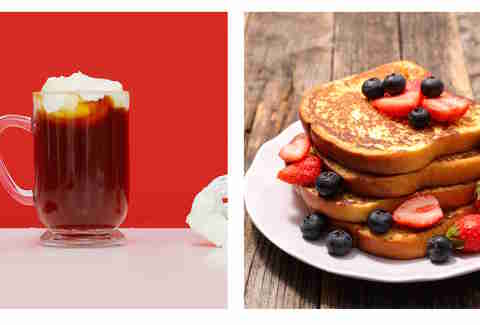 The Jameson-spiked coffee cocktail and the eggy, maple-tinged toast make for a delicious brunch combination. Both sweet, and both great with whipped cream, Irish Coffee and French toast will give you just what you need to take on the day (drinking).
Sangria + Blueberry Pancakes
Whether or not you believe that blueberry pancakes beat their banana-flavored counterparts, you'll definitely be swayed when you pair the berry-speckled flapjacks with Sangria. Still don't agree? Add a scoop of vanilla ice cream. It's everything you could ever want (cake, ice cream and wine), all before 2 p.m.
The only pairing for a hearty dish of steak and eggs is a spicy, spritzy, savory Michelada. The beer base refreshes, while the hot sauce and salty rim act like condiments for the steak. This duo is a powerhouse workout for your taste buds. Post-brunch nap highly recommended.