5 Springtime Bitters to Brighten up Any Cocktail
A few dashes of aromatic bitters can take a cocktail from blah to a bountiful bouquet of flavor, but that doesn't mean you should only reach for that trusty bottle of Angostura. With winter thawing and warm weather upon us, now is the time to experiment with springtime bitters. Made with fresh herbs and seasonal fruits, these five fantastic bitters will inject a little bit of April showers and May flowers into any cocktail.
This lavender-flavored bottling focuses all of its attention on the flower, making for a highly concentrated floral flavor and aroma. Add a few dashes to a light and bright cocktail, like a Mojito or Aviation, or use it generously in our Lavender Gin Fizz cocktail, which calls for these bitters both in the drink and as a garnish.
While bergamot, a tart citrus fruit native to Italy's Calabrian coast, can be eaten fresh, most people are more familiar with it as a flavoring agent in Earl Grey tea. In these bitters, Miracle Mile combines fragrant bergamot oil with orange, Summit hops and herbs to create these bitters, which work best with clear spirits like gin and pisco. Try them in a gin-based Martini, garnished with an orange twist.
A richly earthy blend, these Dandelion & Burdock bitters take inspiration from a traditional mead dating back to the 1300s. They have woody notes with hints of honey, citrus and floral dandelion. The brand recommends mixing the bitters with vegetal tequila or smoky mezcal, as well as high-quality sloe gin. Use it in a Sloe Gin Fizz, an Eclipse or in a refreshing tequila cocktail like a Siesta.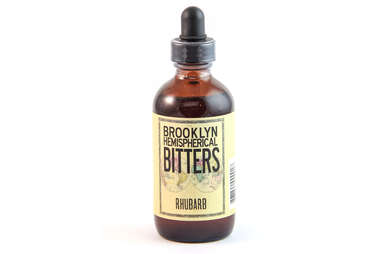 Rhubarb is an early spring crop, making it a perfect choice to spring-ify darker, winter classics. The tart, bitter and herbaceous flavor of these bitters pairs well with amaro-based cocktails, like a Black Manhattan, a Bensonhurst or even a lighter, spring-appropriate Aperol Spritz. The fruit-forward flavor is also a welcome addition to sours like a Daiquiri or Margarita—or simply dashed into some soda water.
Savory herbs are also in season during spring, and these thyme-flavored bitters from Addition are exactly what your vodka-based drinks need. Their savory flavor gives a Vodka Martini added depth and compliments a Dirty Martini wonderfully. And, of course, you can't go wrong adding these bitters to any thyme-garnished cocktails, such as the Porkchop, the Kimoto or the Harry Rico.