Islands can provide dream vacations. They're relaxing and give a sense of getting away from the world for a bit. It also happens that some of the most interesting spirits in the world are made on islands. Escapism plus going to the birthplace of your favorite whisky, rum or gin? That's a trip we can get behind. We rounded up eight essential island distilleries worth visiting. They all have tours, and most provide something more than a few free drinks (although that's always part of the deal as well). Keep these in mind while planning your next island getaway.
 
Scotland
Recommended Video
The Best (and the Rest): Best Easy Ramen Hacks and Winter Beers
The Isle of Arran is known as "Scotland in miniature" because of the way the landscape shows all the features of the entire country in just 167-square miles. There are castles, rugged land, beaches and, naturally, a distillery. It's a journey to get there involving multiple buses, walking and a ferry, but it's worth the trip. The distillery is one of a handful of independent distilleries in Scotland, has won awards for its distillery experience from Scottish Field Magazine and Drinks Business, and hosts visitors year-round. You might decide that you like the distillery and the whisky so much you want to own an entire cask of it for yourself. You can for just over $8,300, giving you an excuse to keep coming back to the island to check on your cask baby as it ages for 10 years.
Like the Arran distillery, Highland Park is one you don't want to miss—if you can get there. Located on the Orkney Islands, the distillery is the northernmost in Scotland. The wind-swept islands have almost no trees due to the climate, creating a peat unlike any other. It's barren appearance might be one of the reasons that in 325 B.C. the Greek explorer Pytheas wrote that when he reached the Orkneys he had reached the edge of the world. The distillery draws on the island's Viking heritage while making award-winning whisky. It's one of a handful of scotch producers that malts its own barley, and a visit wouldn't be complete without seeing the barrels for yourself. A variety of tours range from a short Viking heritage experience to a guided tasting of rare bottles. You can take the ferry there from the mainland (keeping in mind that the waters around Orkney have more shipwrecks than just about anywhere in the world), or you can take a short flight.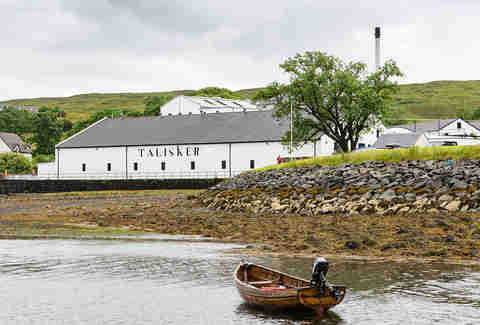 True scotch lovers know Islay. Even people who don't like scotch probably know Islay, or at least the big peaty whisky that it's famous for. They might be less familiar with the other islands off the coast of the Highland region of Scotland. The islands are not an officially recognized region, but the whisky produced there is like a middle ground between Highlands scotch and Islay scotch. Talisker, on the Isle of Skye, is one of the most picturesque places to taste that middle ground. The distillery butts up against the shores of Loch Harport with views of the Cuillin mountain range nearby. If you can pull yourself away from staring at the landscape, tours of the oldest distillery in Skye end with a single malt tasting.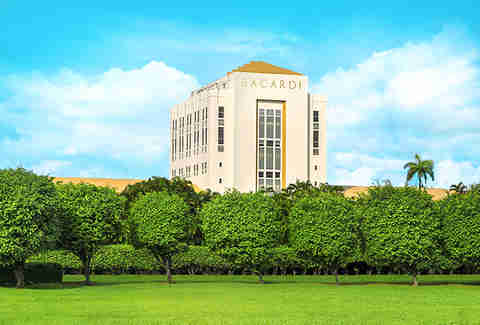 Bacardi is one of the most recognized names in rum. And while any opportunity to go to Puerto Rico is a trip you should take—there is plenty of history, culture, food and rum—tacking on a visit to Casa Bacardi is a must if you're in the area. It's just a short trip from Old San Juan to the distillery, which also houses a waterfront bar. Tours range from a historical overview to a tasting tour to one that lets you bottle your own Bacardi straight from the barrel. Afterward, you can return to the cocktail bars of Old San Juan or hit Jungle Bird Tiki Bar in La Placita with a new respect for the island's spirit.
Appleton Estates revamped its original Nassau Valley visitor center in the beginning of 2018. All of your senses are engaged when you visit, from the sights of the mountains to the smell of raw rum. Tours show you how Jamaican rum became one of the most well-known in the world with examples of different types of distillation. Visitors even get to juice their own sugarcane and sample some white rums straight off the still. A restaurant with a jerk pit and bar is onsite for you to get your fill before heading off to explore the rest of the island.
If rum is your spirit of choice, then no island distillery experience would be complete without a trip to rhum agricole country. The Rhum Clément distillery on Martinique is in the birthplace of rhum agricole, the French style of rum production that uses sugarcane rather than molasses. Clément is more than just a 125-year-old distillery; it's a snapshot into Martinique history and culture. It's a registered French historical landmark with galleries that exhibit local Caribbean artists and an inviting botanical garden. You'll learn something when there, even if what you learn is that you really like funky rhum agricole. Before heading home, each person gets a special Rhum Clément bottle.
You know Hawaiian hula, sunshine and pig roasts, but do you know the island's original spirit, okolehao? Island Distillers, just a short drive from Honolulu, is the only distillery making true okolehao from the root of the ti plant. The distillery also makes vodka, coconut vodka and a hibiscus vodka. As of April 2018, the distillery has an onsite tasting room and tours, giving you a peek into what it's like to make liquor in paradise.
Tasmania is made up of a group of islands just south of Australia. Its location is like if you took the longitude of Scotland and flipped it upside down. And just like Scotland, award-winning whisky is being made all over the region. Sullivans Cove on the main Tasmanian island is a standout. It makes whisky and brandy in small batches with 100 percent Tasmanian ingredients. The French Oak cask was voted the best single malt whisky in 2014 at the World Whisky Awards, beating out more well-known distilleries in Scotland and Japan. Other expressions, like the Single Cask, continue to win awards. Tours of the distillery run seven days a week and offer a behind-the-scenes look at how such highly regarded whisky is made.