7 Mobile Bars You Need at Your Next Party
While we're happy with any type of bar that's serving up delicious drinks at a party, there's something special about a classy bar on wheels. Enter the traveling bar, a recent phenomenon that has people buying up vintage vans and transforming them into charming, wandering watering holes. While these seven mobile bars make appearances at things like concerts and film festivals, you can hire them for your own party, be it a wedding, corporate event or just to ball out during a house bash.
Dreamed up by the Bubble Bros, aka Joe Bruce and Ben Broad, this three-wheeled Piaggio has been converted into the sparkling wine bar of your dreams. The Prosecco Van rolls into all kinds of UK-based events, from weddings to massive music festivals like Glastonbury. You too can hire their professional, friendly team to fill flutes at your next gathering, or check out their calendar to see where they'll be posted up next.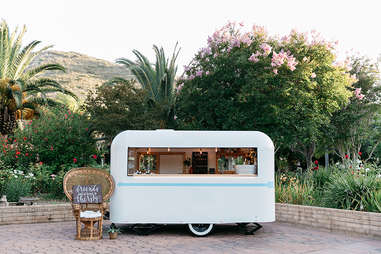 If you're throwing a party in San Diego or Los Angeles and are in need of a cute way to booze up your guests, Hello Penny's vintage 1946 trailer is at your service. You can rent the Penny Bar solo, or hire a fully licensed staff to take care of the heavy lifting so you can relax and enjoy your day. They'll do everything from popping bottles and mixing pretty cocktails to arriving with an array of lawn games like Corn Hole and Mega-Jenga.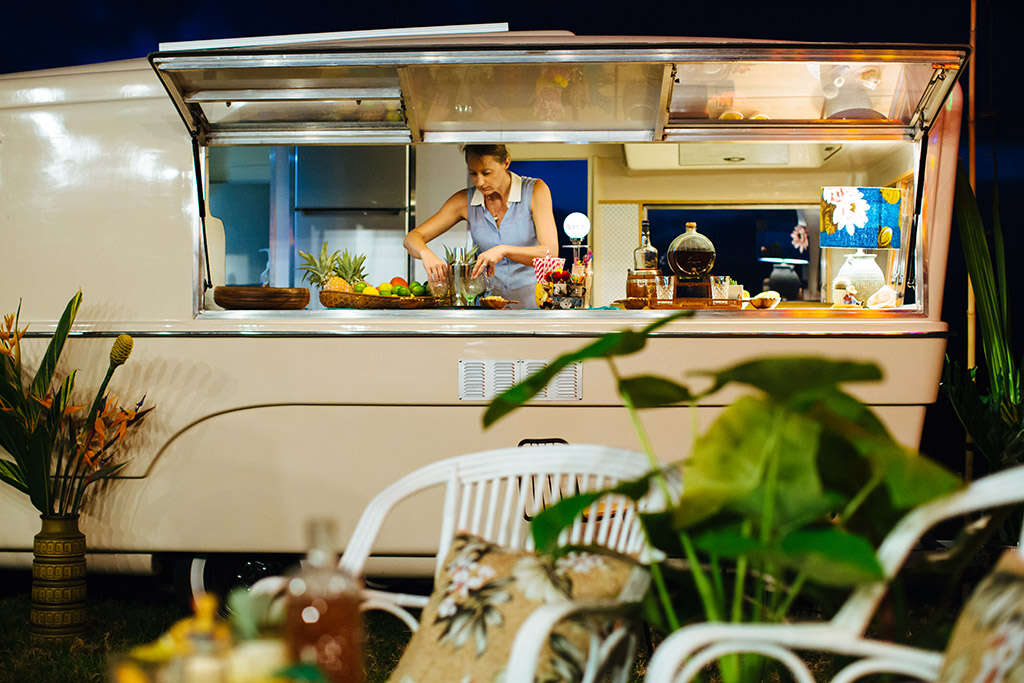 Not only is this converted 1968 Olympic Riviera Caravan cute as a button, it's also an environmentally-friendly way to fuel your party. It's equipped with a solar-powered battery bank that can power The Canavan for 10 hours, which includes a refrigerator, freezer, lighting, sound system, ice boxes and hot water station. They'll even bring along tasty canapés to serve alongside your drinks if you so desire.
This sleek airstream trailer travels the United States serving thirsty cocktailians at all kinds of events, from Art Basel in Miami to Tales of the Cocktail in New Orleans. And the owners will bring their 20 years of cocktail experience to you, too, whenever you may be in need of an expertly crafted libation. Think drinks like Strawberry Rhubarb Sours or Lavender Palomas, along with draft cocktails to keep the party going without any delays.
When you convert a 1970s VW Camper Van into a mobile bar and name it Olive, it easily becomes the belle of every ball. They'll create a bespoke menu tailored to your needs, whether that means craft cocktails, Champagne or simply an array of shots. Book them to arrive with a fully-stocked bar, or bring the booze yourself and leave them to supply the barmen, ice, glassware and garnishes.
The idea for Box Seventy Seven clicked when the creators found a 1977 Citroen HY van on a farm in France, and they realized it could do so much more than haul horses, sheep and goats. Seven months later, their mobile cocktail bar became a reality. They're completely brand neutral, so you (or they) can stock the bar to your liking.
The Slow & Low Whiskey Lounge doesn't just serve drinks—it also gives imbibers a plush place to hang out while enjoying the brand's delicious whiskies. The van has a cool rock and roll vibe and travels the country, popping up at events like book launches and music festivals. If you love what they do, they might be available to pop by your event, too.